FSW Painting Professor Dana Roes pinch hits in August as T.G.I.M. celebrity judge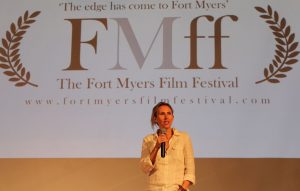 Part of the fun of attending the Fort Myers Film Festival's monthly T.G.I.M. screenings is the opportunity to bump into acquaintances and rekindle old friendships. For example, artist and FSW studio art professor Dana Roes was in attendance at the August 2018 T.G.I.M.
For her, it was a triumphant return to the Davis Art Center, where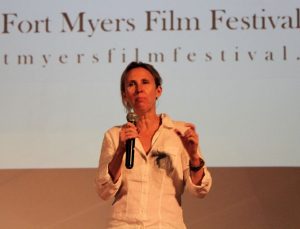 she had curated a show in the Capital Gallery in April. Titled Border(less), the wildly popular exhibition consisted of a collection of work produced by portfolio painting and conceptual art class student Amy Boomgaard, Joshann Burdick, Martha Delacruz, Peter Engdahl, Alejandro Gomez, Holly Hagan, Alyssa Hartford, Dalton Howard, Lewesa Major, Shannon O'Regan, Grant Syllaba, Jose Vanegas and Barbara Ann
Wikoff.
But for everyone else who turned out for the August T.G.I.M., it represented a chance to learn more about one of the Southwest Florida's most accomplished and fascinating art luminaries.
It happened because celebrity judge and News-Press photo-journalis Kinfay Moroti couldn't make it to the screenings that night because he was covering slain officer Adam Jobbers-Miller's funeral earlier in the day. So when T.G.I.M. co-host Eric Raddatz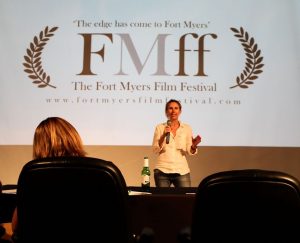 asked for a volunteer to take his place on the judging panel, FSW colleague and celebrity judge Dr. Wendy Chase conscripted Roes, who gamely accepted the challenge. Although it was her first time as a T.G.I.M. judge, she did a good job providing her own unique insights into the films that FMff screened for the audience on August 6.
Roes is an abstract artist who explores psychological and material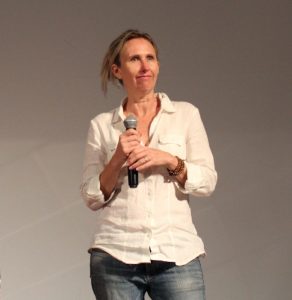 space within her compositions. Her emphasis on "the notion of voids, missing pieces, inaccessible or unknowable spaces" clearly influenced her approach to dissecting and analyzing film. "Whether it is the psychological space of a lie, the mysterious space of multiple realities, or the indescribable space I feel when I close my eyes and face the sun, it is resistance to containment and the urge towards expansion that drives my work."
Dana has an MFA in Painting from the University of Pennsylvania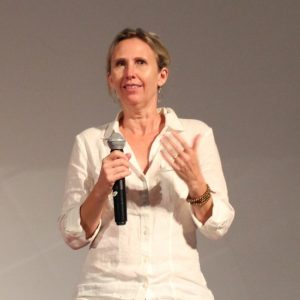 and has received several notable awards including a Fulbright Fellowship and a Skowhegan School of Painting and Sculpture Residency. Her work has been included in numerous exhibitions throughout the States as well as in Sweden, Australia and China. She has been featured in solo exhibitions at the Gallery Listamistodim in Iceland, the Fay Gold Gallery in Atlanta, the Larry Siroli Gallery in Chelsea and the Bob Rauschenberg Gallery in Fort Myers, Florida.
Speaking of the Bob Rauschenberg Gallery, did you know that
Dana is within six degrees of Yoko Ono? It's true. She gained that proximity to the conceptual artist and musician when she accompanied Florida SouthWestern State art students Josue' Charles, Christopher Lacoste and Leila Mesdaghi to Iceland with a box containing wishes for peace that were harvested from two Wish Trees that were included in Yoko Ono Imagine Peace exhibition in the Bob Rauschenberg Gallery between January 24 through March 29, 2014. Those wishes joined more than a million others that Yoko has placed in time capsules in the base of the John Lennon Imagine Peace Tower that have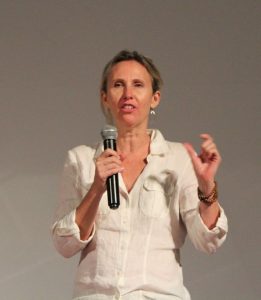 been collected by the artist from her Wish Trees since the early 1990s.
Her current series, Holding Fast, investigates the coexistence of various modes of experience. Rather than being preoccupied with transitional states and the indecipherable, these paintings resonate with the acceptance of radical difference. The muscle in this work resides in its formal challenges of balancing chroma, hue and composition in a way that elicits acceptance and neutrality rather than the pull of emotion.
To see Roes' work, go here.
Many cineastes appreciate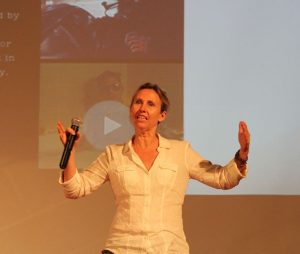 the chance to rub shoulders with the celebrity judges, filmmakers and fellow film lovers who turn out for T.G.I.M. on the first Monday of each month between August and February. There are always lots of local luminaries in the crowd, and sometimes there's the added benefit of getting to hear from a surprise celebrity judge like FSW Art Professor Dana Roes.
August 25, 2018.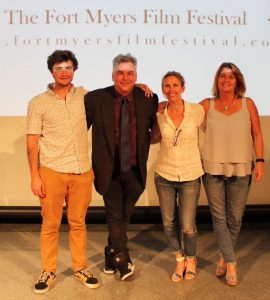 RELATED POSTS.