Lords of the Forest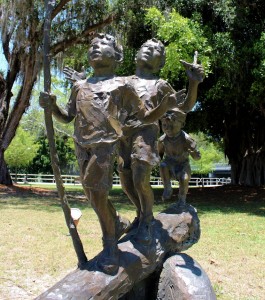 Lords of the Forest is a 72 x 84 x 40 inch figurative bronze sculpture that is located in a field to the northeast of the Liles Hotel in Riverside Park in historic downtown Bonita Springs. It is one of three bronze sculptures that was purchased by the City of Bonita Springs' Art in Public Places Board in 2007 from Colorado sculptor Jane DeDecker (the other two being Setting the Pace and The Ties That Bind). At the time, they joined the Secret Bench of Knowledge as the only sculpted pieces in Bonita Springs' public art collection.
DeDecker often casts a limited number of sculptures in the same edition. Bonita Springs' Lords of the Forest is one of a total of 21 castings of the piece.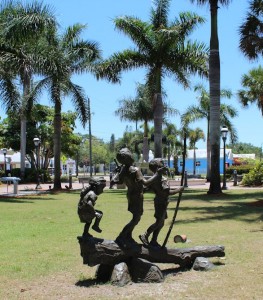 Part of Jane DeDecker's artistic genius is her ability to select a moment to which all of us can relate on a personal level. These moments span all generations, depicting universal scenes. In this work, DeDecker captures the feeling of discovery, wonderment, power and camaraderie that children often experience in their special, secret place, whether that's a secluded brook or glade, sundrenched mountaintop or, as here, moss-covered forest floor.
For more information about sculptor Jane DeDecker, please click here.