Robert Cottingham's 'Rolling Stock Series No. 7, for Jim'

Among the more recognized names in Florida Gulf Coast University's portable works collection are Salvador Dali, James Rosenquist, Joself Albers and Robert Cottingham. His 1991 screen print, Rolling Stock Series No. 7 for Jim, is located in the north end of the main hallway on the first floor of the Campus Support Complex.
Rolling Stock Series No. 7 for Jim is a hand-colored etching, collograph and monoprint measuring 187 x 74.3 cm. It is part of the artist's Heralds and Rolling Stock railroad series. Like many of Cottingham's other paintings and prints, Heralds and Rolling Stock elevate a decaying aspect of the American landscape into a heroic symbol of America's past.
About His Art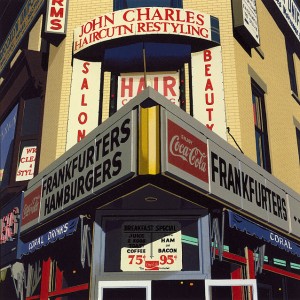 Robert Cottingham is widely considered to be one of the most important of the original American photorealist painters. But interestingly, the artist never considered himself a photorealist, but rather a realist painter working in a long tradition of American vernacular scenes. He has also described himself as a closet abstractionist because of the way he selects and separates forms in different contexts. Many of his paintings and prints depict the architecture and commercial signage of downtown America from the 1940's and
1950's that have now all but disappeared. He tends to work in series, with other favored motifs including railroad boxcars, letter forms, cameras and typewriters. Many of his paintings convey an interest in topography and lettering, as well as an awareness of the psychological impact of certain isolated words and letters. In his facades, for example, he employs advertising techniques he learned during a brief career as an adman to produce words of enigmatic and comical resonance such as Art, Ha or Oh. "My interest in these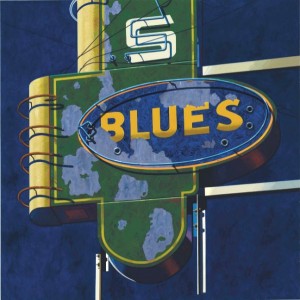 commercial curiosities," he says, "stems from my Brooklyn upbringing, my fascination with letter forms as symbols, and my interest in the use of language as a means of persuasion."
Like many 20th-century artists, Cottingham uses photography as a starting point for his pictures. Despite the remarkable perfection in his rendering of images and the relentless "realism" of the photographs that are the basis of his compositions, Cottingham is a creator rather than a copier of American signs. He considers his camera a "high-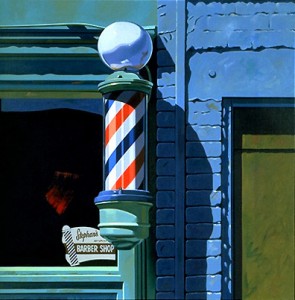 speed sketchbook," and shoots hundreds of slides that serve as precursors to a formal composition.
Cottingham work evinces an enlarged sense of scale reminiscent of James Rosenquist, while his interest in text conjures comparisons to Robert Indiana and Jasper Johns. But the artist himself viewed his work as a continuation of the legacy of Pop artists such as Andy Warhol, who also had a background in advertising. He draws inspiration from the paintings of Piet Mondrian, Edward Hopper, Charles Demuth, Stuart Davis, and Marsden Hartley.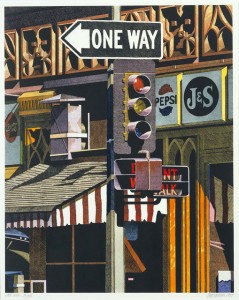 Cottingham also became an energetic and highly skilled printmaker. "Printmaking is an alternative art world," Cottingham once remarked. "For me, it provides a perfect opportunity to escape the solitude of the painting studio. I relish the spirit of collaboration and experimentation of the print shop, the trial and error procedures, the happy accidents, and the inevitably unpredictable results that this process offers. In addition to all this, printmaking makes visual ideas more accessible."
His first introduction to the media occurred in the early 1970s. In conjunction with an exhibition of contemporary art in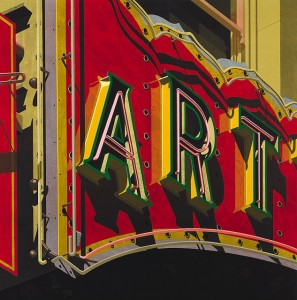 Kassel, Germany in 1972, Cottingham and several other photo-realist artists were invited to make an edition of prints. This introduction coincided with a resurgence of interest in the field by a new generation of contemporary artists. Since that time, there has been a lively interplay between painting and printmaking, with paintings often leading to prints and the prints affecting the way he approaches his paintings by suggesting new applications and relationships of color and scale. For example, his painting Art became the basis for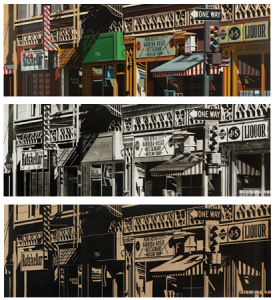 a print edition Cottingham issued more than 20 years later, and his 1972 print Fox became the inspiration for a 1988 painting.
Cottingham often produces prints in several incarnations. The same images can appear in black and white as well as color in various media, with each of the versions emerging as a distinctive work of art. His canvas Barrera-Rosa's, for example, generated 45 separate works in watercolor, acrylic, gouache, ink, graphite, woodcut, linoleum cut, etching, lithography and oil.
A Word About the Artist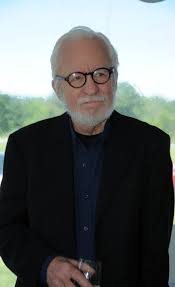 He studied art at Brooklyn's Pratt Institute and began a brief career in Graphic Design, which later inspired him with his painting of American urban signage. His first solo show was in 1971 at the O.K. Harris Gallery in New York. Since that time, he has exhibited in numerous seminal group shows throughout the United States, France and Germany. A retrospective exhibition of his prints traveled from 1986 through 1991 to thirteen national venues, including the Nelson-Atkins in Kansas City, the Herbert F. Johnson Museum of Art at Cornell in Ithaca, New York, and the Lyman Allyn Art Museum in New London, Connecticut. In 1993, Cottingham began his ambitious project, An American Alphabet, completing 26 canvases in three years, as well as a corresponding series of watercolors and drawings.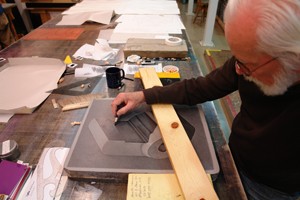 Cottingham has taught at the Art Center College of Design in Los Angeles (1969-1970) and the National Academy of Design in New York (1991). He was the artist in residence at Wesleyan University in Connecticut from 1987 to 1992. In 1990, he was elected into the National Academy of Design as an Associate Academician, becoming a full Academician in 1994. His work has been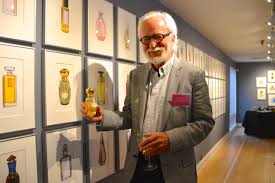 included in such significant group shows as Documenta in Kassel, Germany in 1972, and exhibitions at London's Serpentine Gallery in 1973, the Centre national d'art contemporain in Paris in 1974, Whitney Museum of American Art in New York in 1978, Samsung Museum of Modern Art in Seoul in 2001 and the Deutsche Guggenheim in Berlin in 2009. A retrospective of his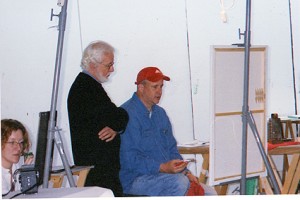 print work took place at the Smithsonian American Art Museum in 1998.
Cottingham's work can be found in the permanent collections of the National Gallery of Art and Smithsonian American Art Museum in Washington, the Orlando Museum of Art, and the Seavest Collection of Contemporary American Realism at the University of Virginia Art Museum.