Vote Yes! for Harness Racing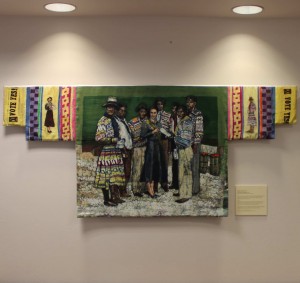 Vote Yes! for Harness Racing is a 2010 batik and mixed media painting on silk that resides in Conference Room 309 in Academic Building 5 at Florida Gulf Coast University. It was purchased in 2011 with funds provided by the Florida Art in Public Buildings program, an initiative started in 1979 pursuant to section 255.043 of the Florida Statutes which earmarks 0ne-half of one percent of the amount the legislature appropriates for the construction of state buildings for the acquisition of public artworks.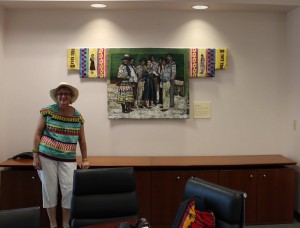 The painting was created by Naples artist Muffy Clark Gill, an award-winning mixed media artist who works in the ancient, process-oriented technique of batik. Vote Yes! for Harness Racing is from her "Florida Indian Tribe" series, which she began in 1990.
The series is grounded in painstaking research into copious historical documents, photographs, newspaper clippings,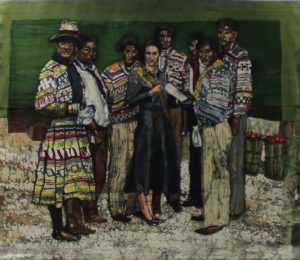 postcards and oral histories of the life and work of Florida's earliest settlers, the Seminole and Miccosukee Indians. Informed by a wealth of intriguing historic data and back stories, the series affords viewers a fresh historical perspective into the two Indian tribes that continue to inhabit and impact south Florida, preserving and interpreting their folklore in a new and refreshing way.
This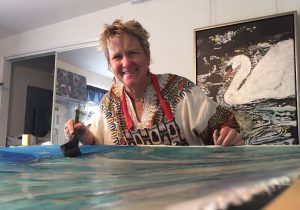 painting is derived from a photograph that was taken in October, 1929 by Gleason Waite Romer that is now a part of the Miami-Dade Public Library Romer Collection. "I was drawn to the image because of the smarmy woman trying to influence these Seminole men to sign her voting petition," Gill reveals. "I'm not sure that they even knew what they were signing, but it was interesting to
see the contrast between her modern black and white outfit with stiletto heels in comparison to the bright colors worn by the Seminole men and also showing some of the men bare footed while wearing modern attire."
Gill presents the work in the style of a vintage 1910-1930 shirt popular among Seminole men. With fabricated patchwork "sleeves" extending on either side of a central panel, the painting measures 36 inches tall by 72 inches wide.
About Muffy Clark Gill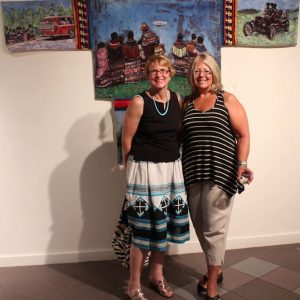 During a career spanning more than two decades, Muffy Clark Gill has enjoyed 21 solo exhibitions (including shows at such prestigious venues as the Marco Island Historical Museum, Wirtz Gallery in the First National Bank of of South Miami, Falciglia Gallery at International College, the Conservancy of Southwest Florida and the Art Lab at Florida Gulf Coast University) and been included in 66 state, regional and national juried and invitational exhibitions and festivals throughout Florida. The latter have produced more than 45 individual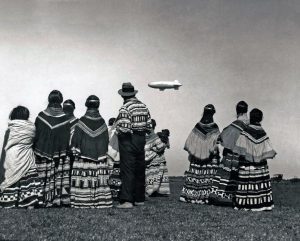 awards, including Best in Show, merit and purchase awards conferred by internationally-renowned professionals in the contemporary art field such as Diane Cambier, Bonnie Clearwater, Elaine Gustafson, Donald Kuspit, Ned Rifkin, Faith Ringgold and Daniel Stetson.
Gill's work can be found in the permanent collections of the Naples Philharmonic Center for the Arts, Collier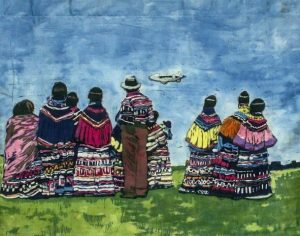 County Museum, Golisano Children's Museum of Naples and Museum of the Everglades, as well as numerous private and corporate collections including those maintained by Whole Foods, Northern Trust Bank and Lely Development Corporation. Her work has been reviewed in The Naples Daily News, Fort Myers News Press, Gulfshore Life Magazine, Bonita Living Magazine, The Journal of Surface Design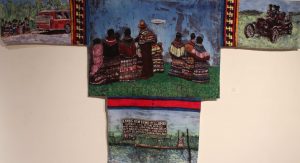 Association and WGCU Public Media's Expressions Magazine. In 2001, Gill was featured in the book Batik for Artists and Quilters by Eloise Piper (Hand Books Press) and in 1997, she received national recognition when her work was selected for the Top 100 National Arts for the Parks competition, a national traveling exhibition.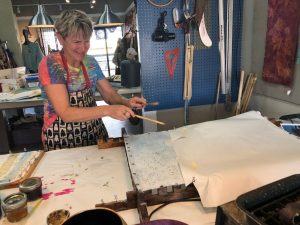 To date, Gill has had two works purchased through the Florida Art in Public Buildings Program, Vote Yes for Harness Racing and another for the Volusia County Courthouse in Deland.
Originally from Mountain Lakes, New Jersey, Muffy Clark Gill received her B.F.A. in Graphic Design from Boston University. She also completed the commercial art program at Morris County,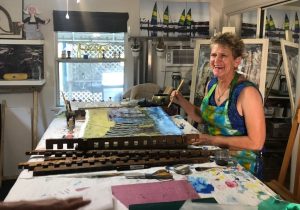 New Jersey and classes at the DeCordova Museum School in Lincoln, Massachusetts. She lives with her husband, Warren, and their black and white Scotch dogs and three cats on a fruit farm in Naples.
[N.B.: Top photo shows Gill with art consultant and former Naples Art Association Executive Director Barbara Hill at the 26th Annual All Florida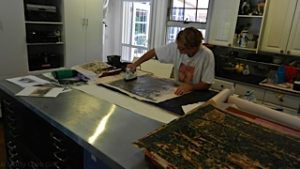 Show at the Alliance for the Arts on June 1, 2012, where Gill exhibited a painting based on a 1929 photograph of the Goodyear blimp flying over Opa Locha Florida from the Romer Collection.]
About Batik and Rozome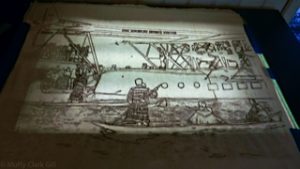 Batik or rozome is an ancient wax-and-dye resist process. It is a time-intensive, process-oriented technique in which the artist painstakingly hand paints images onto a cotton, rayon, silk or other fabric using hot wax and cold water dyes. The wax is then ironed off, with the completed painting then being stretched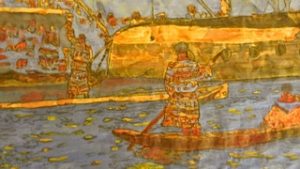 and framed or displayed as a wall hanging.
The first step in the process involves selecting the subject or photograph that Gill wants to portray in the central panel of her painting. Gill renders a line drawing either free hand or using Photoshop that she transfers to the fabric she is using "by hand to act as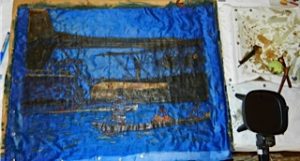 a road map to see where I will be waxing." Here, Gill is has chosen an image from the Florida Memory Collection taken in late 1930 or early 1931 of the inaugural flight of a Pan American Airways flying clipper plane at  Dinner Key in Miami.
Once the drawing is done, Gill transfers the image onto her fabric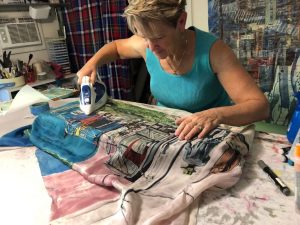 using a light table to help her trace the image onto her working surface. Gill then paints hot wax (the yellow-orange portions of the photo to the right) onto the fabric everywhere she wants white to appear in the finished work. That done, Gill then begins to slowly apply color using cold water dyes, waxing over each color to preserve it until she is ready to apply an overlay of the next, darker color.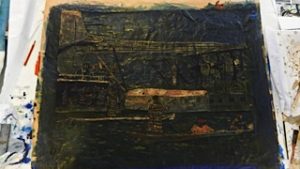 The photograph to the left shows the painting after Gill has added blue dye for the sky and water. (Notice her wax pan and tools on the right). The image of the plane and Seminole Indians attending the event are beginning to emerge, as is the floating barge that was later replaced by a permanent terminal that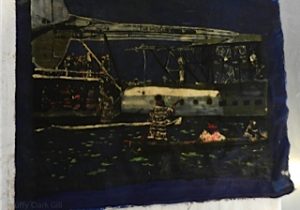 ultimately became Miami City Hall.
The painting process "is very complex, due to the number of color combinations and waxings that must be done in order to accomplish getting the information in front of me to look like what I have envisioned," Gill notes. She works from light to dark, trying to bring out as many details as she can, dying and waxing in successive applications.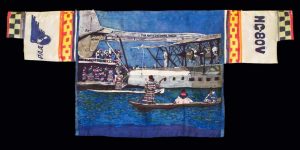 Once all the colors have been set, Gill "waxes out." This involves placing  sheets of newsprint over successive portions of the image, allowing the wax to absorb into the newsprint.  "I am often asked, 'How long does it take for you to create one of these paintings,'" Gill reports. "I actually loose track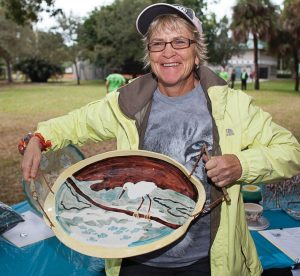 after a while," but in most cases, it takes more than 30 hours to complete one painting, and "this does not count the drying time between each layer of wax and dye."
Once the entire painting has been completely waxed, Gill then irons the wax out and sends the fabric to be dry cleaned. When the painting comes back from the dry cleaners, it is ready for its patchwork sleeves to be sewn on. Then the painting is ready to be mounted on acrylic rods and hung, whether in the artist's studio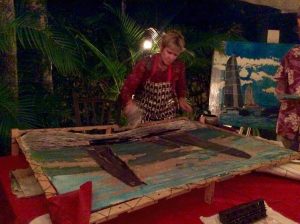 or at an exhibition of her work.
The preceding images show the development of a 2012 painting that Gill has titled NC-80V. It measures 27 by 61 inches, and will be included in The 20th Century Seminole Experience: Paintings from the Florida Indian Tribes Series, a solo exhibition of Gill's work by the Marco Island Historical Museum taking place October 2 through December 27, 2012.
Revised March 28, 2021.