Repairs to Civil War soldier in Centennial Park nearing completion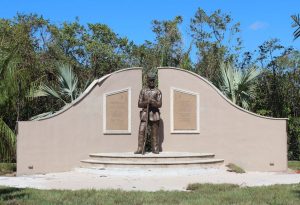 The Civil War soldier nicknamed Clayton has been in the news a lot lately. He was installed in 1998 on the eastern edge of Centennial Park East, but was moved about a thousand yards to the west when the park was redesigned to add the new Caloosa Sound Amphitheater. He was placed at the new site facing the river, as part of a planned river walk. But people objected to the north-facing
orientation, and he was lifted out of the ground and turned around on July 29th so that he now faces the entrance to the park. A new length of sidewalk was poured in front of Clayton, inviting visitors to interact with him up close and personal. But as the City worked to complete the re-install, Ian struck, damaging some of the coping on the westernmost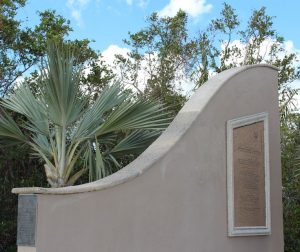 wall behind the statue and staining the back of the soldier with river mud and slime.
Well, the damage Ian caused has been fixed and the soldier has been cleaned up too.  The coping that tops the bottom step leading up to the soldier has also been re-installed, as have the plaques on either side of the soldier.
Some stucco repairs are still needed – below the coping on the bottom step and at the base of the walls that flank the soldier –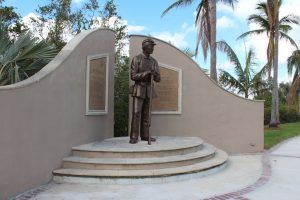 and the walls beg for a fresh coat of paint.
But Clayton is looking like his old self and once again commands a place of prominence in Centennial Park.
So next time your travels bring you to downtown Fort Myers, swing by and visit the USCT 2d Regiment Monument in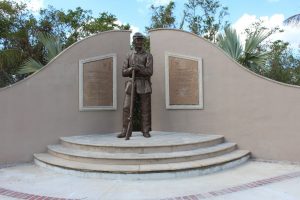 Centennial Park East. And if you'd like to hear what the piece represents and why the City's Beautification Advisory Board commissioned the late Don "D.J." Wilkins to design, cast and install the monument, there's an audio on Otocast that was recorded by Reginald Billups that shares all the behind-the-scenes stories relating to this public art installation.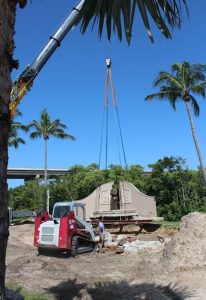 Other artworks in the vicinity include the Uncommon Friends fountain, The Florida Panthers in the median on Monroe Street and Fire Dance in Centennial Park West, which is currently being sanded, primed and repainted in time for the holiday season.
The USCT 2d Regiment monument and each of the City's other 40 outdoor public artworks are administered by a 9-member Public Art Committee (which consists of 7 voting members and 2 alternates) that was established by an ordinance that was adopted by the City Council in 2004. Members serve for three-year terms, are not compensated, and must either be a resident of the city, work in the city, or be a member of an arts board or committee that is located in the city. The Public Art Committee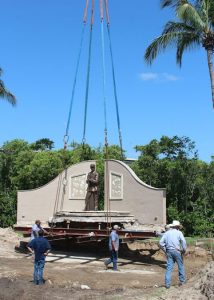 oversees the commissioning, review, installation and maintenance of public art within the City. It meets in public session in City Council chambers on the third Tuesday of each month. Its next meeting is November 15.
November 5, 2022.
RELATED POSTS.