Spotlight on 2022 Grant Recipient Show pop artist Pat Collins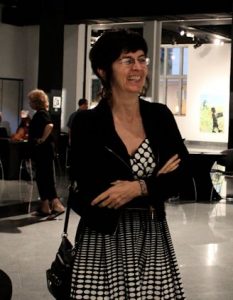 Pop artist Pat Collins creates mixed media works with a focus on painting & printmaking, including murals, interactive mixed media constructions/installations. Many of her artworks comment on current issues and human rights. For example, the pieces in her March, 2022 solo show, Action Reaction Interaction, in the Florida Gulf Coast University ArtLab combine those interests with social commentary on life during current times. In that regard, Collins writes:
"Combining a carnivalesque attitude with social commentary, I reflect on the challenges of communication in daily life and emotions triggered while navigating the landscape of issues, images and events encountered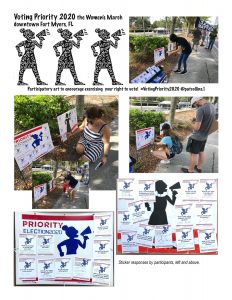 along the way. Working with stencils, silhouettes and cutouts of varying scale and materials, I layer, combine, and juxtapose elements, both physically and digitally, to activate the space. Be it the picture plane or the room, a stage is set for a cast of characters, symbols, and images in reaction to societal problems that surround us – racism, environmental urgencies, voting rights and disinformation – seeking to make connections both personal and universal with the viewer."
Born and raised in Massachusetts, Collins earned a BFA in Communications Design at Pratt Institute in Brooklyn, New York. During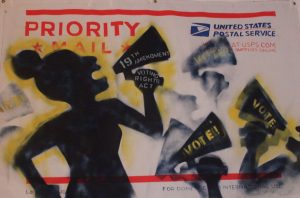 the time she lived there, Patricia's artistic development was influenced and energized by the artists, music, street art and DIY gallery scene in Manhattan's lower East side. When rising rents forced her to relocate, Collins came to Southwest Florida. Since then, her work has been exhibited twice at the John & Mable Ringling Museum of Art in Sarasota, the Florida Museum for Women Artists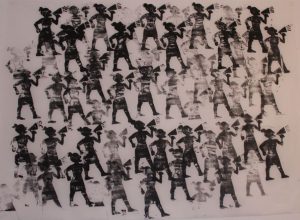 in Deland, Scope Miami, the Morean Arts Center in St. Petersburg, and other venues.
Collins has exhibited her work in numerous group and solo shows. The latter include Past Present, Future Tense at the Collier County Museum of the Everglades; Visual Rhythms in the Sidney & Berne Davis Art Center; and My Name Is Art at Howl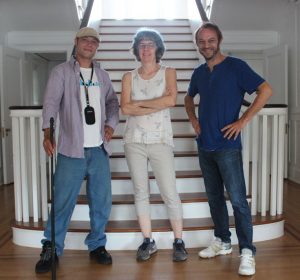 Gallery, Ft. Myers, FL.
Patricia's limited edition artist book, Urban Anxieties, is in MoMA Queens Artists' Books collection.