River Basin Mural Project continues despite Hurricane Ian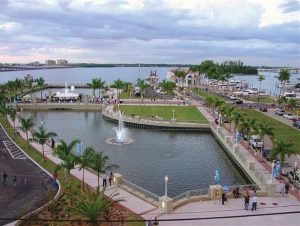 In August, the City's Public Art Committee launched an ambitious mural project in collaboration with the Community Redevelopment Agency and Fort Myers Mural Society. Depicting portraits and scenes that recount Fort Myers' historic relationship to the Caloosahatchee River, the murals will be installed on the 44 concrete stanchions and 4 obelisks that anchor the decorative railing which encircles the detention basin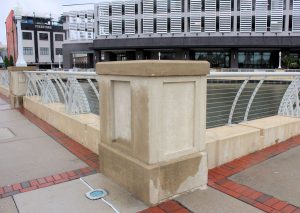 overlooked by the Luminary Hotel. In spite of Hurricane Ian, work on the murals is nearing an end, with installation expected to begin right after Thanksgiving.
The murals will be installed in one-inch-deep insets on the face of each stanchion and the four obelisks. The architects who designed Phase 1 of the Riverfront Redevelopment Plan included the insets for the express
purpose of holding art. Thanks to funding from the CRA, the Public Art Committee is now able to take advantage of the opportunities afforded by the insets (which include lights embedded in the sidewalk to light the art at night).
Some 41 artists are participating in the projects, including (in alphabetical order): David Acevedo, Rod Acosta, Cesar Aguilera, J.P. Almonacid, Israel Alpizar, Lorrie Bennett, Sanaa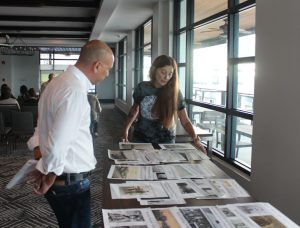 Bezzaz, Pat Collins, Annie Crouch, Sherry Lynn Diaz, Ruben Dimas, Victor Dotres, Claudia Goode, Carolyn Gora, Holland King, Bill Kreutz, Donna Kreutz, Tim Lowry, David Meo, Leila Mesdaghi, Lesley Morrow, Eric Riemenschneider, Ava Roeder, Davis Rost, Tom Rost, Roland Ruocco, Erik Schlake, Sam Taylor, Diane Tormey, Monika Urbanski, Brian Weaver, Dawn Webb, Wendy White and Alex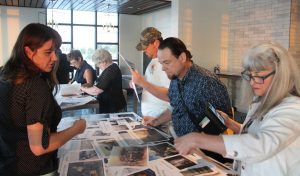 Wilkerson.
Each mural will be based on historic photographs, postcards and advertising that the artists selected in September from a group of roughly 100 images that were provided by a five-member selection committee and approved by the City's Historic Preservation Commission. While the artists are free to interpret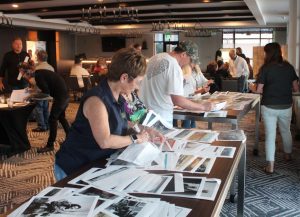 the images they selected in their own unique artistic genre and style, they must be historically accurate and demonstrate a high degree of technical merit and proficiency.
A number of the stanchions and two of the obelisks were damaged by the surge generated by Hurricane Ian. A number of the artists participating in the project also suffered damage to their homes and studios as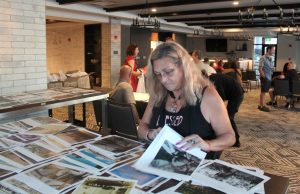 a result of the storm. In recognition of the latter, artists now have until November 18 to complete and submit their completed murals, which are being rendered on mural cloth that has been provided for that purpose. The murals will be installed on the stanchions and obelisks that were not affected by the storm beginning the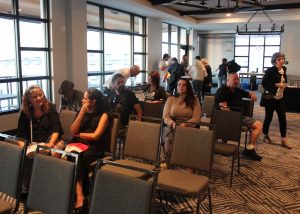 week of Thanksgiving. The murals that are intended for the damaged stanchions and obelisks will be installed as the stanchions and obelisks are repaired.
The Fort Myers Mural Society's Executive Director Shari Shifrin expects installation on the undamaged stanchions and obelisks to be completed by the end of December.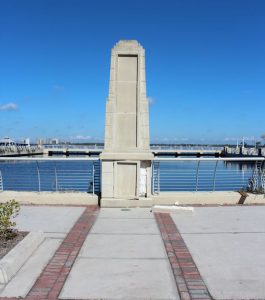 The completed murals will recount how Fort Myers developed from cow town into a thriving port city at the turn of the 20th century that was dominated by wooden piers and marginal wharves jutting hundreds of feet into the Caloosahatchee River. This part of the City's autobiography has faded from the memories of even the town's oldest natives and long-time residents. Newer arrivals have no idea that Fort Myers even had a waterfront from 1850 to 1950 or that, for example, it was possible during much of this one-hundred-year span to catch trophy-size tarpon here in the river or that until 1907 the riverbank originally meandered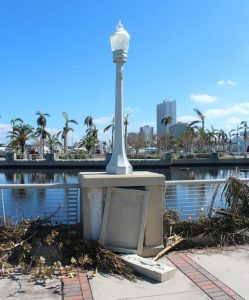 20 to 30 feet south of Bay Street.
When completed, the mural project will convert the drab concrete stanchions and obelisks into a colorful, eye-catching walkable outdoor art and history museum that is expected to lure visitors downtown, keep them there longer and drive paying customers into downtown eateries, pubs, cafes and retail stores, not to mention performances at Florida Rep and exhibits at local galleries and art centers.
The outdoor art and history museum envisioned by the Public Art Committee and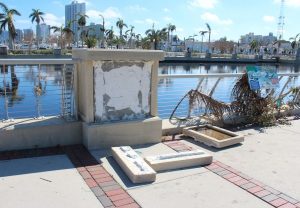 CRA will not only appeal to out-of-towners and an exponentially-growing number of heritage and cultural tourists from around the globe, but enhance the visitor experience of everyone staying at Luminary and other area hotels, coming to town for conventions and business meetings, attending performances and concerts at the Rep, Davis Art Center and newly-completed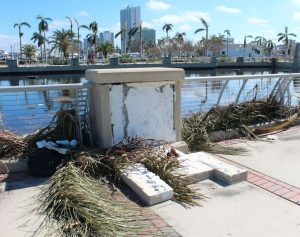 amphitheater, and who visit the River District for Art Walk, Music Walk, ArtFest Fort Myers, the Fort Myers Film Festival and similar events.
The murals will also provide viewers with picturesque backdrops for selfies and photo ops that will drive social media and increase word of mouth.
The completed mural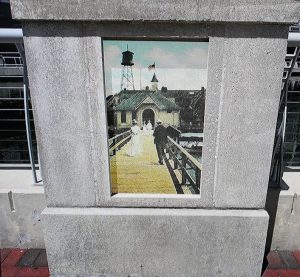 panels will be affixed to the concrete via a bonding agent in a six-step process that convert each mural cloth into a tile-like panel that is resistant to damage from UV sunlight, moisture and even graffiti. According to studies being conducted in Los Angeles and Philadelphia, this process can enable murals to last without fading for 30, 40, even 50 years with minimal annual maintenance.
Viewers won't even have to tap an icon or arrow to listen to these audios.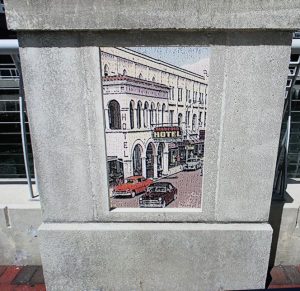 That's because Otocast will be toggled so that the audio will automatically come on once a user comes within six feet of a mural panel.
While Otocast will enable anyone and everyone to structure self-guided walking tours of the basin, True Tours plans to introduce a guided tour in the Spring for folks who like that personal touch.
Watch this space for future developments, including announcements as murals are installed and added to the Otocast mobile phone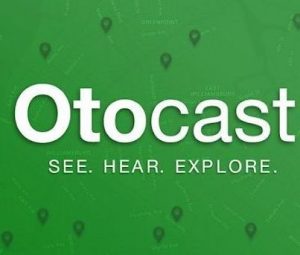 app.
November 6, 2022.
RELATED POSTS.
Art Committee launches 54-panel mural project that till turn river basin into outdoor museum