Spotlight on River Basin muralist Cesar Aguilera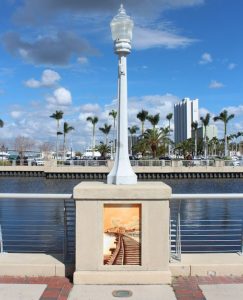 At the basin adjoining the Luminary Hotel, there's a realist depiction of the Lee County Packing House as it appeared in 1913, about a year before it burned to the water line on January 30 the following year. It is the work of one of Fort Myers' best known artists, Cesar Aguilera.
Many know Aguilera through his mixed media paintings, but he is also accomplished in drawing, painting, sculpture, film, special effects, make-up, costume design, fashion design, acting and even performance art. His mixed media pieces not only embrace traditional media such as oils and acrylics, but such unconventional materials as coffee, bleach, discarded technology and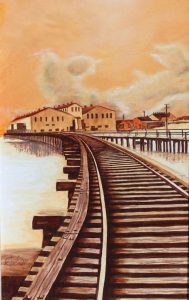 found objects of every ilk and design.
Originally from Quito, Ecuador, Cesar is a guiding force in the Southwest Florida art scene. In 2015 he received the Gulfshore Life Emerging Arts Leader award. He is the art curator of the Sidney and Berne Davis Art Center's Grand Atrium and Capital Gallery, Muralfest organizer, and co-founder of Artsemble Underground, which he created with Brian Weaver in 2016 in order to bring art to the people. Their passion for making art more accessible to people throughout Southwest Florida manifests itself in myriad forms, and the spray-painted murals depicting themes of inclusion, love, honor, and diversity allow the duo to make a permanent mark on the community.
"With Artsemble,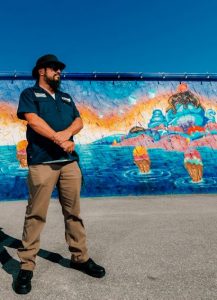 I always wanted to do something with art that was more than the gallery, because art was so inert just on a wall," said Aguilera. "So, with art, I wanted to create action. I wanted to create a difference in the city."
Artsemble is responsible more than two dozen public art murals throughout Southwest Florida, including the extensive mural walls found at the I Will Mentorship Foundation's Urban Community Farm in the Dunbar community, All Out Bail Bonds on Martin Luther King, Jr. Boulevard in downtown Fort Myers, the LaBelle memorial wall honoring fallen Florida Fish & Wildlife Conservation officer Julian Keen, the walls inside Oak Hammock Middle School's cafeteria and the exterior of the Cape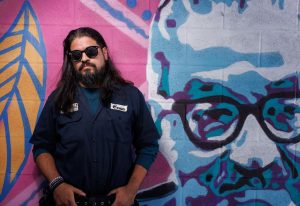 Coral Art Center.
Cesar is also the creator of Paionia in 2011, a wearable art brand that focuses on using discarded materials, mostly computer parts and discarded technology, in an effort to create a sustainable consciousness in what we wear.
Also an aspiring filmmaker,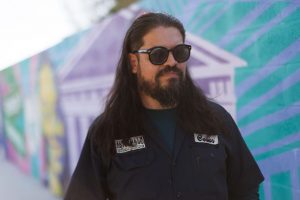 Aguilera's short horror, Bubbles (starring local portrait artist and fellow muralist Eric Riemenschneider), was screened at the 7th Annual Fort Myers Film Festival in 2017 after making its world premiere at Thank God for Indie Monday (TGIM) the previous November.
July 23, 2023.