Lorrie Bennett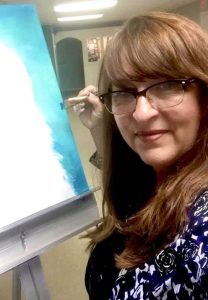 Lorrie Bennett is one of 39 artists who have painted murals for the River Basin Mural Project being conducted by the City's Public Art Committee, Community Redevelopment Agency and Fort Myers Mural Society. Lorrie has painted two River Basin murals – one of Seminole Chief and feared warrior Billy Bowlegs and the other of Uncle Marion Hendry's Grocery Store at the northeast corner of Hendry and Front Streets.
Lorrie describes herself as a self-taught intuitive, contemporary, and expressive mixed media artist and illustrator who, from an early age, had an affinity for drawing and painting. For Lorrie, creating has always been a journey of experimentation and exploration.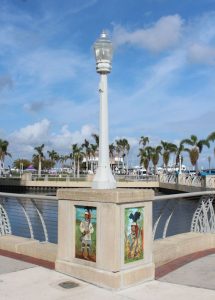 Bennett works in many different mediums and materials including acrylics, watercolors, ink, pastels, graphite, charcoal, image transfers, textiles, and vintage ephemeral papers, such as wallpaper, book pages, maps and sewing patterns (some over a century old). Lorrie often incorporates mark-making patterns and textures into her art, using found objects such as rolled up cardboard, bubble wrap, bottle caps or plastic cards.
"The excitement is the process of combining paints, drawing, mark-making, and collaging while choosing what to add, to cover up and what to leave untouched," says Lorrie.
Drawing inspiration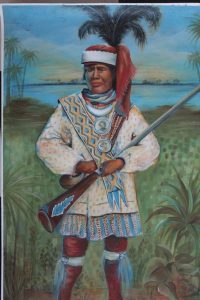 from the John Muir quote "And into the forest I go to lose my mind and find my soul," Lorrie often blends figurative and nature together in her paintings. On the figurative side, Lorrie's paintings express bold strength and beauty while, at the same time, telling intimate stories. The multiple layers of textures and ephemeral materials that peek throughout areas of the final piece draw the viewer closer, adding to story.
Bennett's artwork has been included in numerous exhibitions throughout Southwest Florida and can be found in private and corporate collections around the world, and has been featured in numerous publications including two adult coloring books: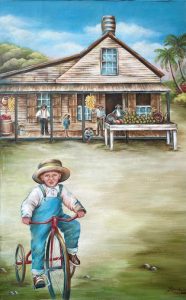 Inkspirations: Fruit of the Spirit and Inkspirations: Fruit of the Spirit for Moms.
Bennett has also illustrated several children's books, including a children's counting book available throughout the U.S. and online named Dreaming of Fort Myers. Her art was also chosen for the cover and inside pages of The Beauty of Zentangle, which recognized and presented 137 tangle artists worldwide.
To find out more about Lorrie and her art, please visit www.LorriebBennett.com. You can also follow Lorrie at Instagram.com/LorrieMBennett, Facebook.com/LorrieBennettStudios and on Twitter @LMBcre8.
January 20, 2023.