Spotlight on River Basin muralist Ruben Dimas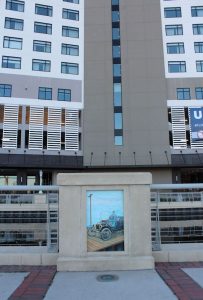 Mural #44 at the river basin adjoining Luminary Hotel depicts Henry Ford sitting in a Model T that he presented to his friend and neighbor Thomas Edison on the occasion of the latter's birthday in 1916. It was rendered by Ruben Dimas.
Dimas is an automotive artist born and raised in Fort Myers, Florida. He specializes in automotive illustrations, graphic design, and product design for the auto industry. His passion all things automotive started, interestingly enough, with his dad scolding him to hold the flashlight correctly underneath an old Ford truck.
"Through him, I entered the automotive mechanic space, working on passenger and large
diesel Semi trucks," Ruben recounts. "Ultimately, this led to an art class studying the old masters in the heart of Italy, which gave way to a Bachelor's Degree and full time career in fine arts."
You can find Ruben's portfolio and an updated resume of what he is doing today by visiting https://rubendimas.myportfolio.com or following him on Instagram @Ruben.designs.