Spotlight on River Basin muralist LadyLight
The artist known as LadyLight has painted two of the River Basin murals: #16, which is an aerial view of Fort Myers' piers in 1927 and #26, the Coca Cola Bottling Plant that briefly set up shop on the City Pier.
LadyLight is an emerging artist with a passion for testing the limits of creativity. After discovering the joys of painting at a "girls' night out" party in 2016, her ideas today are born of dreams and intuition, hence the name "TheiLuminArtist 1." With a creative background in interior design and custom window treatments, her medium is acrylic on canvas and her genre surrealism, with a flair for color and fun, as evidenced by her familiar signature "LL in Script."
LadyLight has exhibited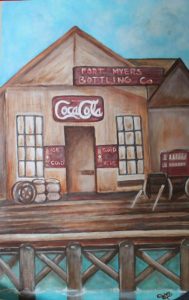 work throughout Southwest Florida. She was the winner of the DAAS Co-Op 2018 Plein Air Event. Her greatest joy artistically is "connecting others with their own creative skills."
Prior to relocating to Southwest Florida in 1994, she lived, worked, drew inspiration from and enjoyed a "very eclectic life" in New York City, which was her birthplace.
You can follow LadyLight on Facebook @iLuminArtist1.
July 28, 2023.