Spotlight on River Basin muralist Davis Rost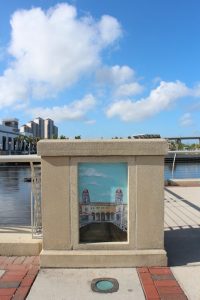 Mural #38 depicts the entrance to Fort Myers' fabled Pleasure Palace. It was painted by Riverdale High and Full Sail University grad Davis Rost.
As an artist, Rost has concentrated on screen printing while seeking to establish a reputation and brand for his work on Instagram. His main passion, however, has been trailblazing his music career. In 2021, he and music collaborator, Nathan Lopez, formed the band Cosmic Caravan. Since then, they have played countless local venues and events, most notably at the Annual Edison Ford Garden Festival and the downtown Fort Myers Music Walk every third Friday of the month.
You can follow Davis on Instagram @mello_fello and @cosmic_caravan.
July 30, 2023.