'Almost, Maine' provides charming peek at love American style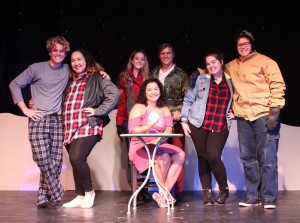 Prepared to be charmed this weekend when the Alliance Youth Theatre transports Southwest Florida to the mythical town of Almost, Maine, where nine couples fall into – and out of – love under the northern lights on a clear, moonless night. Featuring shrewd writing by playwright John Cariani and evocative musical transitions compliments of director Carmen Crussard, Almost, Maine puts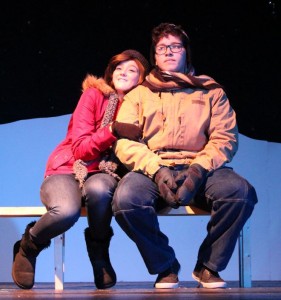 future stars of local community theater and indie films on display as they bring to life in the tradition of Love Actually and Valentine's Day some of Americana's most satisfying romantic clichés.
Who are these rising stars? They are Dede Duffy, AJ Gross, Wyatt Madonna, Elizabeth Mora, Tatum O'Donnell and Robert Rosso.
Duffy (The Little Mermaid at Ida Baker, The Addams Family) is a senior at Ida Baker. A senior in the NFMHS Performing Arts program, Gross (Peter & The S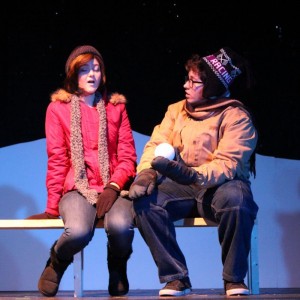 tarcatcher, Big River, Oliver, 13 The Musical, Sweeney Todd, MacBeth) is bound for NYU Tisch next year, where he intends to major in film acting. A North Ft. Myers High grad, Mora (Sweeney Todd, Rock of Ages) is now a frosh at Florida Gulf Coast University. A senior enrolled in North Fort Myers High's thespian program, O'Donnell is appearing in her seventh Alliance Youth Theatre production. Madonna has appeared previously in Sweeney Todd, Dogfight, and James and the Giant Peach, and Rosso is making his Alliance Youth Theatre debut.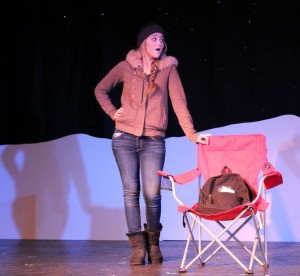 Together, the six divvy up 21 different roles. Individually, they show great emotional range within each whimsical vignette. In the aggregate, their performances are characterized by enthusiasm, excellent comic timing and a heartfelt authenticity that permits the audience to invest itself in the characters who flit across the stage like shooting stars and comets against a cold starry backdrop.
Several of the sextet's performances warrant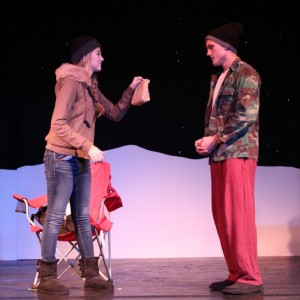 special mention.
Tatum O'Donnell is endearing in "Her Heart," where she plays Glory, a hiker who cradles her broken heart, turned to stone, in a brown paper bag. She has set up a tent in a stranger's front yard to wait for the northern lights. According to Sami legend, the lights represent the souls of the departed and Glory needs to ask her husband's forgiveness for causing his death. When she told him that her new, artificial heart didn't want him anymore, he ran blindly into the path of an ambulance coming i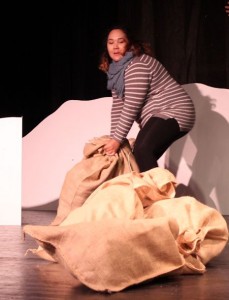 nto the ER. It takes mad, crazy skills to make a premise as preposterous as this believable, but O'Donnell pulls off the feat through a combination of sweet naivete and vulnerability. AJ Gross adds to the incredulity as the homeowner who spies Glory from his bedroom window and is instantly smitten. A repairman by trade, he's just the guy to fix Glory's shattered hear.
Equally memorable is Elizabeth Mora's portrayal of Gayle, a young lover who returns burlap sack after burlap sack of the love her boyfriend has given her because he hasn't proposed to her even though they've passed the point in their relationship where that's what people do.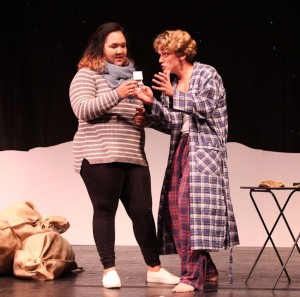 The look on her face when he hands her just a single small canvas bag in return is priceless, as is her patent embarrassment when she discovers the secret that resides inside.
AJ Gross and Robert Rosso display a feel for slapstick as best buddies who repeatedly crash to the ground as they confess that they've fallen (literally) in love with each other.
Dede Duffy and AJ Gross take slapstick into the stratosphere as Marvyln and Steve in "The Hurt," a vignette in which they bash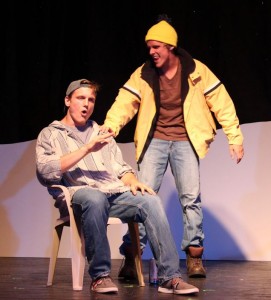 each other with ironing boards and notebooks. Trapped in a contentious, loveless relationship with someone else, Marvyln is constrained to hold her pain inside. Afflicted with congenital analgesia, Steve cannot feel physical pain or any emotion until her kiss changes his condition, for good or for bad.
There's even a striptease, Maine-style, which Dede Duffy and AJ Gross attack with New England vigor in "Seeing the Thing," an encounter between a strong, arm-wrestling, plywood-slinging woman and the not-so-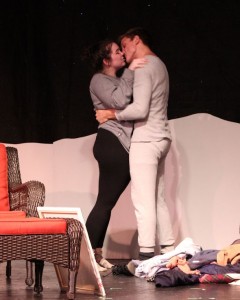 tough artistic young man who's in love. Gross' character, Dave, is chagrined and befuddled that Duffy's Rhonda cannot make out the subject of a painting he gives her – a heart he's rendered in Pointillist style.
While many of the scenes in Almost, Maine end on a positive note, with hope for a future filled with love and commitment, there are a few that embrace the bleak landscape of love unrequited ("Sad and Glad" and "Story of Hope") and the wasteland of love's end. In the latter category is "Where It Went," which turns Wyatt Madonna (Phil) and Elizabeth Mora (his wife, Marci) loose to express at the top of their lungs the anger, f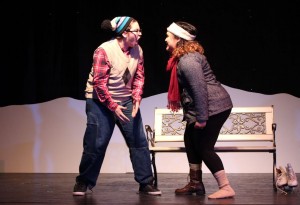 rustration and despair couples confront when love fades under the daily grind of work, childrearing and life's daily tasks and they wait for the other shoe to drop, namely their relationship's sad and painful end.
Also enjoyable is the way the cast moves props and makes set changes between each scene to the a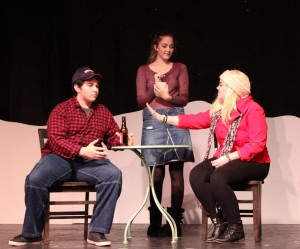 ccompaniment of a playlist that underscores the theme of the vignette that just ended. Adelle's "Someone Like You" for "Sad & Glad," Leona Lewis' "Bleeding Love" for "This Hurts," "Don't Know Why" by Norah Jones for "Story of Hope" and Coler Me Badd's "I Wanna Sex You Up" for "Seeing the Thing" are particularly inspired choices and add to the contemporary feel of the overall production. Just one quibble: James Taylor's "Handy M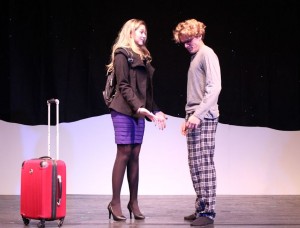 an" (I fix broken hearts, I know I really can") might have been a better choice for "Her Heart" than Ingrid Michaelson's "The Way I Am," but that may just be an age thing.
To be sure, Almost, Maine is lighthearted fare woefully short on character development and arc. But the stories are tenderhearted, the acting crisp and the storylines as funny as they are predictable. But given the d
estruction, disruption and depression we've experienced in the aftermath of Harvey, Irma and Maria, we've earned a fanciful distraction. And for anyone who remembers the awkwardness and uncertainty of our first true love, Almost, Maine also offers an air of nostalgia.
And speaking of Irma, director Carmen Crussard and her dedicated young cast deserve kudos for staying the course notwithstanding the seemingly insurmountable obstacles the storm placed in their path. The show was originally slated to open two weeks ago.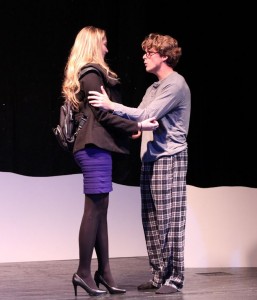 Further, it was no easy task finding the time, place and will rehearse and prepare for performances at some future, unspecified date. Young actors need the community's support to practice their craft and hone their skills and talent – all the more so under the circumstances that prevailed in the lead up to this show.
There will be just two performances of Almost, Maine. The first is at 8:00 p.m. on Saturday, September 30; the other at 3:00 p.m. on Sunday, October 1. General admission is just $10, and you can purchase your tickets online or at the box office. You will not only be rewarded with a worthwhile evening of theater. You'll be supporting a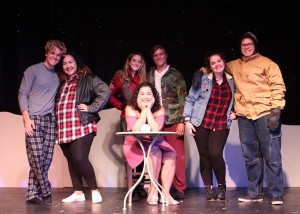 new generation of actors who will hopefully grace local and regional stages in the years that stretch out ahead.
September 26, 2017.
RELATED POSTS.
'Almost, Maine' gives Director Carmen Crussard chance to foster serious young actors