For many reasons, 'Heathers' is so very must-see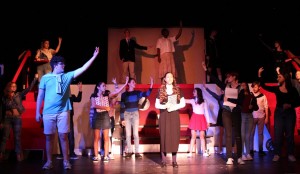 Alliance for the Arts Youth Director Carmen Crussard has lost her mind! On an uncompromising mission to develop young theatrical talent here in Southwest Florida, Crussard is directing a production of Heathers the Musical. With a cast of 31 actors whose ages range from 15 t0 19, this is Crussard's and the Alliance Youth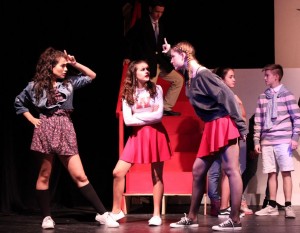 Theater's most ambitious undertaking yet.
With a book, music and lyrics by Laurence O'Keefe (Bat Boy, Legally Blonde) and Kevin Murphy, Heathers the Musical is based on the 1989 cult classic film of the same name by Daniel Waters. Under Crussard's energetic direction, the musical blends strong vocals, complex dance choreography and youthful enthusiasm to animate a timely but troubling plot not at all in keeping with the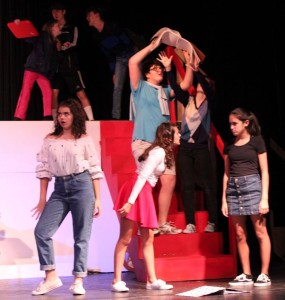 holiday season.
Although you might reasonably expect the musical to be about, well, Heather Heather McNamara (Yellow Heather), Heather Duke (Green Heather) and Heather Chandler (the Red Queen), Heathers the Musical actually tells the story of Veronica Sawyer, a senior at fictional Westerberg High. Veronica is a Brainiac with a defective moral compass who is willing to say and do anything to be cool like the clique of it-girl Heathers who run Westerberg. They're unattainable,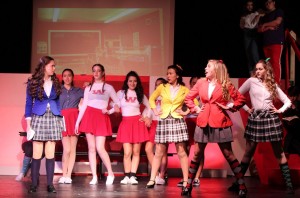 unaffected and unabashedly unkind, choosing to mock and bully their kingdom into submission.
When Veronica uses her skills as a forger to get the Heathers out of detention, she impresses the Red Queen (Heather Chandler), who lets her into their exclusive sorority. Veronica quickly learns that rush is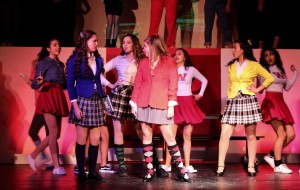 hell and lasts way longer than just one week. She also discovers that she doesn't have the stomach for bullying the gal pals who used to be her friends. Being the Red Queen's be-atch-in-waiting is just so very.
Enter dark and dangerous Jason "J.D." Dean. A mysterious newcomer, he impresses Veronica by handling Westerberg jocks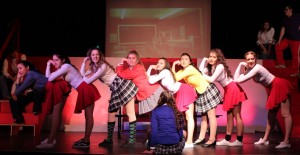 Kurt Kelly and Ram Sweeney in slow-mo with a lunch tray while the student body looks on aghast. As satisfying as the jocks' come-uppance might appear at first blush, Veronica's approval only serves to unleash a murderous strain bent on taking down all the school's bullies …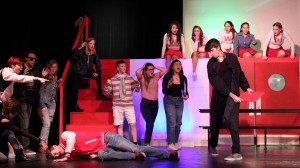 and putting them six feet under.
With raw, edgy, and culturally relevant numbers like "Beautiful," "Candy Store," and "Yo Girl," Heathers is fast becoming a fan favorite among community theaters and high schoolers everywhere. "Dead Girl Walking" is full of smart insights into Veronica's conflicted
soul, "Seventeen" a beautiful anthem, and "My Dead Gay Son" so not PC that it's just so very.
To an actor, the vocals are sensational – from Maya Senecharles singing "Shine a Light" as hippie teacher Ms. Fleming and Nayda Baez's rendition of "Kindergarten Boyfriend as Veronica's kicked-to-the-curb nerdy bestie Martha "Dumptruck"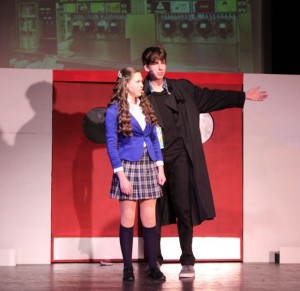 Dunnstock to Chloe Lamb's Red Heather Chandler in "Candy Store" and Jesse D'Araujo as Ram Sweeney's dad singing "My Dead Gay Son." But (as you'd expect), Isabelle Blanco as Veronica and Simon Lynch as J.D. are exceptional. Individually, their voices are richly riveting in a Gracie Slick/Paul Kantner (Jefferson Airplane) sort of way, but their Act Two duet is so sweetly soulful that it induces the audience to forgive the lovers' transgressions – well, almost.
Crussard and choreographer Christopher Dean Anderson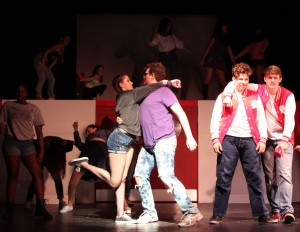 deserve huge kudos for the dance numbers. Although the Foulds Theatre stage is wide, it's not wide enough for a cast of 31, and Anderson, in particular, has been careful to keep the ensemble spread out and equally dispersed across the boards. The slow motion, freeze-frame segments of dance routines such as those in "Oh No" are brilliantly staged, especially considering the experience level of many of the actors dancing in the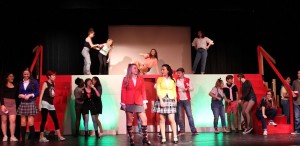 ensemble. What he and Crussard are able to accomplish is nothing short of remarkable.
While it's simply not possible to single out everyone in this big, ambitious production, Blanco is perfect as a wannabe Ms. Popularity and both believable and sympathetic as she comes to
the realization that her first love is a sociopath capable of serial, if not mass murder. Speaking of which, Simon Lynch turns in a positively chilling performance as the tortured D.J. With tall, rangy good looks, he conjures parallels to a young Johnny Depp or Billy Burke (both of whom, incidentally,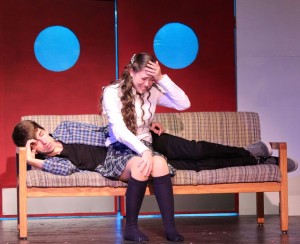 started out as rock musicians).
But don't be lulled into a false sense of complacency. There's a deadly serious underbelly to this full-on Broadway musical. Thematically, the show deals with the serious issues that gave the movie its cutting edge: school bullying, teen sexuality, campus shootings, bomb threats and suicide epidemics. "After 25 years of horrific school violence," noted Variety when the musical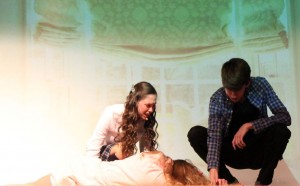 first came out in 2014, "J.D.'s terrorist persona and homicidal activities are actually more chilling today than they were when the movie came out [in 1989]."
For so many reasons, Heathers is so very must-see.. But you will only have four opportunities to see this sprightly 2-hour show. Performances are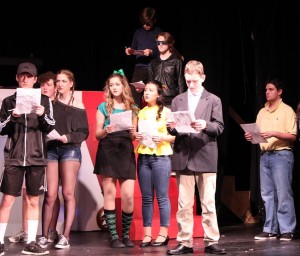 3:00 and 8:00 p.m. on Saturday, December 9, and Sunday, December 10.
Contact the Alliance for tickets at http://www.artinlee.org or by calling 239-2787.
December 7, 2017.