'Hunchback' a singing, staging tour de force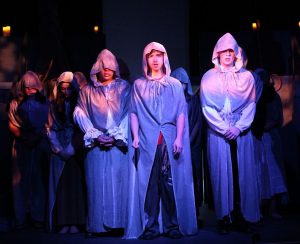 The Hunchback of Notre Dame opened last night in the Foulds Theatre. It is another wonderfully-staged, densely-packed musical produced by Alliance Youth Theatre Directors Carmen Crussard and PJ McCreedy, whose past credits include such blockbuster shows as Heathers the Musical, Spamalot and Calvin Berger. Faithfully adapted from Victor Hugo's classic novel by Peter Parnell, The Hunchback of Notre Dame faithfully recounts the tale of one man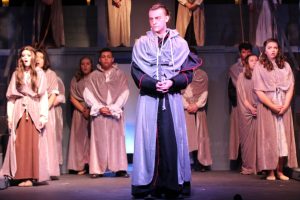 with a deformed body and another with a deformed soul.
The musical tells the story of Quasimodo, a partially-deaf hunchback who observes the panorama of 15th century Paris from his perch in bell tower of the famed cathedral of Notre Dame. Held captive by his devious caretaker, archdeacon
Dom Claude Frollo, Quasimodo finds kindness from only the beautiful and clever gypsy, Esmeralda. But Quasimodo isn't the only one captivated by her free spirit. Frollo and a handsome captain by the name of Phoebus de Martin are equally enthralled. As the three vie for her attention, Frollo embarks on a mission to destroy the gypsies (who he regards as heathen criminals) – and it's up to Quasimodo to save them all.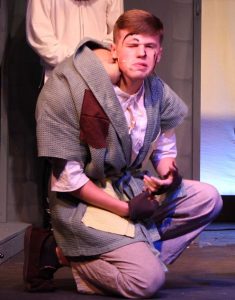 Harvey Evans (the scarecrow in Wizard of Oz, Tarzan in the eponymous musical and the Artful Dodger in Oliver) plays Quasimodo and does a terrific job of portraying his character's physical deformities and the loneliness, torment and deep emotional pain associated with his resultant ostracism from a cold and callous population. (It's a variation on a theme expressed last month by another Foulds Theatre production, vis: The Elephant Man, which told the story of Joseph "John" Merrick.) Evans conjures a sensitivity and tenderness that enable the audience to see that we are Quasimodo. In spite of our own physical and emotional scars and ugliness, like Quasimodo, we just want to be loved.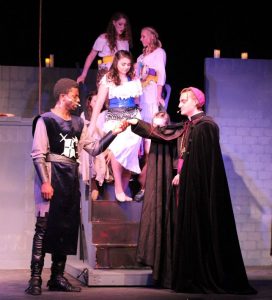 Florida SouthWestern State College dual enrollment student Nathan Ross (Spamalot, Heathers the Musical, School of Rock) plays archdeacon Dom Claude Frollo. As villains go, Frollo is about as conflicted as they get. While outwardly pious, he is given to violent outbursts of emotion that include lust, revenge and murder. For the role, Ross assumes the countenance and demeanor of a man so totally lacking in human compassion that he ruthlessly wields power without any qualms under the guise of divine ordinance. In the latter scenes, his voice literally booms with smug, self-righteous officiousness. His is a most memorable performance.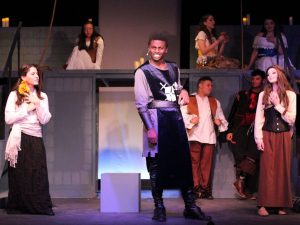 Welder Lordeus (King Arthur in Spamalot, Richie Walters in A Chorus Line and Lord Evelyn in Anything Goes) tackles the role of Frollo's polar opposite, Captain Phoebus. He is fiercely principled, refusing to follow orders he considers both illegal and morally reprehensible. He is passionate and emotional. And as played by Lordeus, Phoebus has more in common with the gypsies he's been ordered to round up than with Frollo and the powers that be.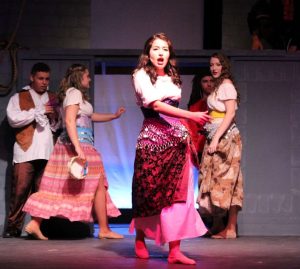 But the real star of The Hunchback of Notre Dame is beautiful and beguiling Yuliana Garcia (Ms. Andrew in Mary Poppins and an ensemble member of Heathers the Musical). She doesn't just play Esmeralda. She becomes La Esmeralda, one of literature's most tragic figures, a street smart gypsy teen painfully naïve when it comes to matters of the heart. Ironically, she is as defined by her looks as Quasimodo is by his. And it is her looks that make her the target of licentiousness, racism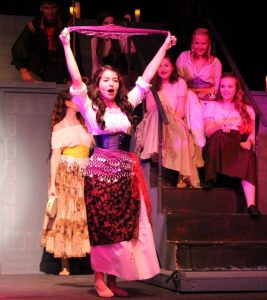 (she's a gypsy) and accusations that she's a sorceress. But the key to Garcia's portrayal of Esmeralda is the vulnerability she brings to the character. In so doing, she makes every single person sitting in the audience care about her and what happens to her as the play progresses.
Of course, The Hunchback of Notre Dame is a musical, and each of these actors and their cohorts in the ensemble has a rich and powerful voice that does justice to the sweeping, classically-influenced and uncommonly complex score by composer Alan Menken and lyricist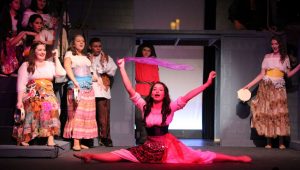 Stephen Schwartz. The show is replete with songs and musical numbers that soar above the gargoyles and spires of the venerable Parisian cathedral. Particularly noteworthy are Evans and Ross' rendition of Sanctuary, Evan's performance of Out There and Heaven's Light, Garcia's God Help the Outcasts and Ross's showstopping Hellfire.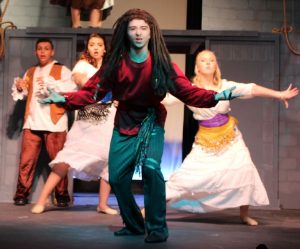 Unlike traditionally upbeat Disney fare (like Beauty and the Beast, Lion King and Aladdin), the tone and tenor of this show is more akin to Les Miserables. That makes Hunchback a viable alternative to the holiday-themed shows playing everywhere else throughout Southwest Florida. But in addition to good acting, exceptional singing and superlative choreography and staging (compliments of Lauren Perry), another reason to see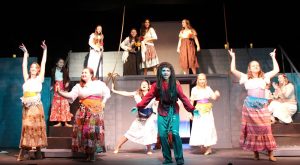 this show is the remarkable job done by Carmen Crussard and PJ McCready.
Other adjectives spring to mind, such as stunning, staggering and mindboggling. This duo seems to relish big, bold productions that require large casts, complex blocking and massively-intricate song-and-dance numbers.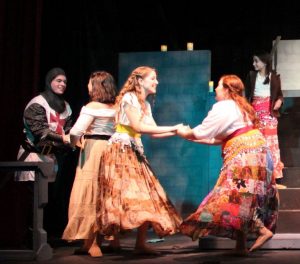 But in so doing, not only to they provide Southwest Florida audiences with highly-entertaining and surprisingly polished shows, they give a medley of young actors brimming with raw talent unparalleled musical theater experience. The Hunchback of Notre Dame carries on and further executes this tradition.
Remaining performances are December 7 and December 9 at 7:30; December 1 at 2:00 and 7:30 p.m.; and December 2 at 2:00 p.m. Tickets are $10 presale,
$20 adults or $15 students/seniors. Purchase online today or call 239-939-2787.
December 1, 2018.