Belle Theatre's 'Newsies' joyful, uplifting song-and-dance extravaganza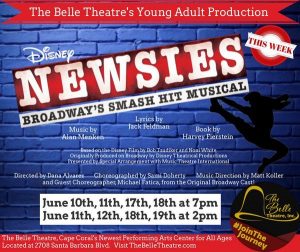 Newsies the Musical is coming to Cape Coral's newest playhouse, the Belle Theater on Santa Barbara Boulevard. Adapted for the stage from the popular Disney film, Newsies features a poignant book by Harvey Fierstein (Torch Song Trilogy, Kinky Boots: The Musical), lyrics by Jack Feldman (Thumbelina, Pretty in Pink), music by legendary composer Alan Menken (The Little Mermaid, Beauty and the Beast, Aladdin, Little Shop of Horrors, The Hunchback of Notre Dame) and choreography from Melody Lane's own Sami Doherty. Inspired by the true story of the 1899 Newsboys Strike, Newsies is a joyful, uplifting and highly entertaining musical capturing the strength that young people have when they join together to stand against injustice.
The musical revolves around the charismatic figure of Jack Kelly, a rebellious newsboy who dreams of a life as an artist away from the big city. But when powerful publisher Joseph Pulitzer hikes the price of "papes" hanging Jack and his ragtag team of newsboys out to dry, there is nothing left to do but "open the gates and seize the day." Led by Jack, "new guy" Davey and young, independent newspaper reporter Katherine Plummer, the scrappy Newsies form a union and organize a strike against Pulitzer and his New York World newspaper. But can a group of idealistic newsboys win against a foe as powerful and politically-connected as Joseph Pulitzer?
While Menken's music is tuneful, even exhilarating, Feldman's lyrics are designed to tell the story that unfolds across the stage. Still, a number of Menken/Feldman's songs have achieved iconic status, including the power ballad "Santa Fe," "Carrying the Banner," the show-stopping "Seize The Day," "Watch What Happens" and, of course, "King of New York." There's even a touching love song between Jack and Katherine, "Something to Believe In."
But Newsies is first and foremost a dance extravaganza, and this show not only reflects Sami Doherty's energetic and inspirational choreography and uncompromising attention to detail, but the entire cast had the benefit of a one-day workshop with Cape Coral native Michael Fatica, who was in the cast of the original Broadway production. And tap dance fans are especially in for a treat. "King of New York" is worth the price of the ticket on its own.
Newsies plays at the new Belle Theatre June 10-19. For more information or tickets, please visit thebelletheatre.com/newsies.
Belle Theatre is located at 2708 Santa Barbara Blvd. in the Cape adjacent to Anytime Fitness.
June 7, 2022.