'Odd Couple Female Version' promises jokes, zingers and comedic insights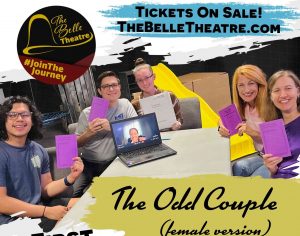 The Odd Couple Female Version comes to Belle Theatre in the Cape September 2nd through the 11th.
In this 1985 revision, the leads become Olive Madison and Florence Unger. The former is messy, untidy and completely unconcerned with the state of her apartment. The latter is obsessively clean, tidy and preoccupied with hygiene. Can these polar opposites really co-exist as roommates? Well when Florence shows up at Olive's apartment after being dumped by her husband, good-hearted Olive invites Flo to move in, neuroses and all. Not surprisingly, Olive's easy-going outlook on life almost immediately clashes with Florence's highly-strung neurotic tendencies, testing the limits of their friendship. But when Olive organizes a double-date with the Costazuela brothers, their differences come to a head and sparks fly.
Joke for joke, Simon's female version has more laughs and comedic insights into the difficulties of divorce and the value of real friendship than the all-male version audiences are accustomed to seeing. But if hilarious one-liners are your jam, you're in for a Bonne Maman cornucopia.
Tyler Young directs this uproariously funny comedy.
Go here for play dates, time and ticket information.
August 8, 2022.