'Heathers Teen Edition' play dates, times and cast list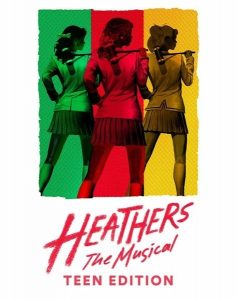 Play:  Heathers the Musical Teen Edition
Book, Music & Lyrics:  Kevin Murphy and Laurence O'Keefe (Bat Boy, Legally Blonde); based on the 1989 cult classic film written by Daniel Waters
Genre:  Musical, Dark Comedy
Theme:  The show deals with themes of teenage angst, popularity, and the consequences of our actions. Intended for ages 14-18, this version of the show has been adapted to be more suitable for a younger audience, with the removal of some of the more mature themes and language.
Synopsis: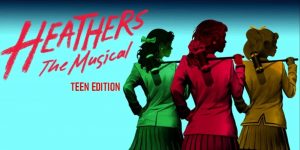 Veronica Sawyer, a beautiful brainy teenage misfit with a defective moral compass, hustles her way into the most powerful and ruthless clique at Westerberg High: the Heathers, an unattainable, unaffected and unabashedly unkind trio who mock and bully their kingdom into submission. But before she can get comfortable atop the high school food chain, Veronica falls in love with the dangerously handsome new kid J.D. When Heather Chandler, the Almighty, kicks her out of the group, Veronica decides to bite the bullet and kiss Heather's aerobicized butt… but J.D. has another plan for that bullet.
Accolades:  Heathers received two Drama Desk nominations (Outstanding Music and Outstanding Actress in a Musical) and two Lucille Lortel nominations (Outstanding Lead Actress in a Musical and Outstanding Choreography).
Historical Note: The first performance of Heathers The Musical was September 2010 at Joe's Pub in New York City, followed by a run at the Hudson Backstage Theatre in Los Angeles in 2013. Heathers returned to New York Off-Broadway in March 2013 at New World Stages under the direction of Andy Fickman and ran through August 4, 2014.
Director:  Tyler Young
Cast:
Veronica Sawyer:  Cat Turner
JD:   Ethan McKay
Heather Chandler (The Red Queen):  Addison Baker
Heather McNamara (Yellow Heather):  Maliyah Mattis (Runner up for Outstanding Performance in a Female Identifying Role at the 2023 High School Musical Theater Awards)
Heather Duke (Green Heather):  Emily Feichthaler
Martha Dunnstock:  Dakota Johnican
Ram Sweeney:  Justin Price
Kurt Kelly:  Brycton Archer
Ram's Dad/Officer McCord:  Joshua Malpica
Big Bud Dean/Coach Ripper/Veronica's Dad/Kurt's Dad:  Chris Treece
Ms. Fleming:  Julia Styner
Veronica's Mom/Principal Gowan:  Tracy Weaver
Beleaguered Geek (Boy 1)/Officer Milner/Ensemble:  Ethan Mohring
Preppy Stud (Boy 2)/Ensemble:  Zach Hendra
New Wave Girl (Girl 1)/Ensemble:  Annika Milhous
Stoner Chick (Girl 2)/Ensemble:  Katie Crater
Young Republicanette (Girl 3)/Ensemble:  Danica Cobian
Ensemble/Hipster Dork:  Nicole Hardman
Ensemble:  Maddy Burns, Maya Foster, Ava Jennings, Gaby Rivera, Sophia Treece and Rachel Weaver
Play Dates and Times:  Heathers the Musical Teen Edition runs July 27-30 with:
7:30 p.m. performances are Thursday through Sunday, July 27-30; and
2:00 p.m. matinees are Saturday and Sunday, July 29 & 30.
Running Time:  2 hours with 15 minute intermission
Place: The Belle Theatre, 2708 Santa Barbara Blvd, Cape Coral, FL 33914
Information:  For more information, please visit thebelletheatre.com.
July 20, 2023.