Broadway Palm bringing 'the other Phantom' to the stage December 29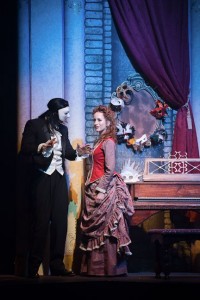 The Broadway Palm Dinner Theatre is bringing to the stage Yeston & Kopit's Phantom December 29, 2016 through February 11, 2017. Directed by Brian Enzman and choreographed by Amy Marie McCleary, Phantom stars Troy Bruchwalski as the Phantom and newcomer Maxwell Porterfield as Christine.
The musical has an interesting pedigree. At the time they decided to adapt Gaston Leroux's timeless love story into a musical, Yeston and Kopit were unaware that Andrew Lloyd Webber was doing the same. In fact, the duo was putting the finishing touches on Phantom and making plans to take their project to Broadway when Variety magazine announced that Andrew Lloyd Webber was about to open The Phantom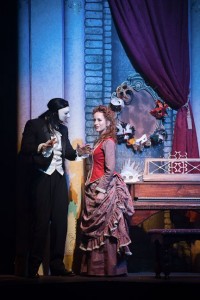 of the Opera in London. Although the two versions were different, Yeston and Kopit's backers had no desire to compete with the man who'd brought Cats to Broadway. They pulled their financial support.
But quality work has a way of finding its way to the stage, and many believe that Yeston & Kopit's Phantom is more passionate, emotional, and enchanting than Webber's musical. More operetta-like, it more accurately pays homage to the time (the 1890s) and place (Paris) in which the story is set. Since it was first brought to the stage at Houston's Theatre Under the Stars in January of 1991, Phantom has been produced worldwide more than 1,000 times, developing its own loyal following in the process.
Like the 1910 novel, the musical tells the heartbreaking story of a disfigured musical genius by the name of Erik and his muse, a beautiful ingénue named Christine Daae. Their musical affair unfolds deep in the catacombs of the Paris Opera House, where the Phantom finds salvation in Christine's breathtaking voice and plots to make her the star of the opera in place of the new owner's wife, Carlotta, whose voice the Phantom finds more grating than great.
Troy Bruchwalski is currently on stage at
Broadway Palm in Irving Berlin's White Christmas, where he plays the role of showman Bob Wallace. Troy holds a Bachelor of Music in Opera from the Cleveland Institute of Music and is currently pursuing his NASM Personal Training certification. His other credits include Father in Ragtime National Tour, King Arthur/Sir Lionel in Camelot National Tour, Freddy-Eynsford Hill in My Fair Lady, Javert in Les Miserables, Shrek in Shrek: the Musical and Gaston in Beauty and the Beast.
Maxwell Porterfield is a classically-trained soprano whose dynamism and energy have enlivened stages throughout the United States. Highlights from the more than twenty roles in her repertoire include Blonde in The Abduction from the Seraglio, Zerlina in Don Giovanni, Pamina in The Magic Flute, Despina in Cosi fan tutte, Frasquita in Carmen, and Julie Jordan in Carousel.
December 19, 2016.
RELATED POSTS.