Broadway Palm's 'Chicago' is everything you'd expect – and much, much more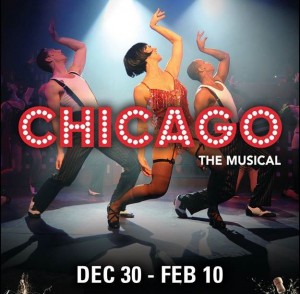 We live in an age of cynicism. Facts no longer express indisputable truisms, but rather malleable statements subject to alternative construction. In their quest for the next sensational story, the Press is easily manipulated. Just give them some razzle dazzle and they'll say anything you want. The public, of course, is complicit in the charade. Barely able to eke out a paycheck-to-paycheck existence, the masses live vicariously through amoral and oft-duplicitous politicians, entertainers and other celebrities who enjoy the power, punch and pizzazz they can only dreaming of possessing.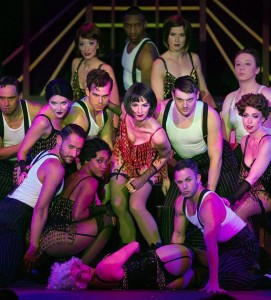 No, this is not 2018 America. It is the world of Chicago the Musical, on stage now through February 10 at the Broadway Palm Dinner Theatre.
The story revolves around a 1920s wannabe cabaret star by the name of Roxie Hart, who's sleeping around on her goodhearted but simpleminded husband, Amos. When one of her lovers decides he's dumping her first, Roxie puts three bullets in his chest. When Amos learns that she's been cheating on him, he throws Roxie under the proverbial bus, leading to her arrest and incarceration. In jail, the fiery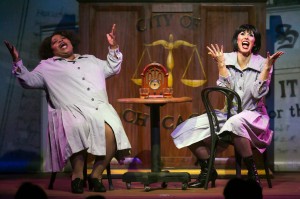 redhead meets the jailhouse matron, Mama Morton, and six infamous murderesses. All but one admits they did the deed, but equivocate their guilt by claiming that their victims "had it coming."
Indeed, the men who were whacked were a despicable aggregation – although one man's only transgression appears to be that he popped his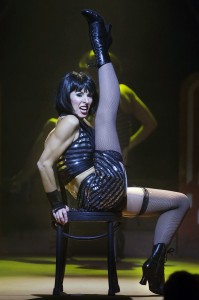 chewing gum a little too loudly. Annie (portrayed by sultry local fav Sami Doherty) poisoned her boyfriend after discovering he was married to six other women ("one of those Mormons, you know"). It was three other girlfriends and a boyfriend that caused Mona (portrayed by Danielle Barnes) to off her errant boyfriend. And extreme jealousy did in June's husband, Wilbur. "I was standing in the kitchen carvin' up the chicken for dinner, minding my own business, and in [he] storms in a jealous rage," June (played by Morgan McGhee) tells the audience. "'You been screwin' the milkman,' he says. He was crazy. And he kept screamin', 'you been screwin' the milkman!" And then he ran into my knife. Ten times."
But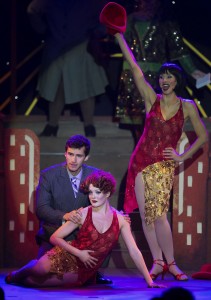 among her new cellmates is someone who's not only an entertainer, but a double murderess. Preparing to plead temporary insanity, Velma Kelly claims she doesn't recall what happened when she returned from getting some ice and discovered her husband, Charlie, and her sister, Veronica, practicing Move Number Seventeen from the sisters' vaudeville act, the Spread Eagle.
Only Hungarian immigrant Kaitlin Hunyak (endearingly played by Moscow-native Svetlana Khoruzhina) is actually innocent. But she is the first victim of the musical's lethal cynicism, maintaining that "Uncle Sam is fair and just" right up to the time she does her state-imposed Hungarian rope trick and becomes the first capital offender to ever be executed in Chicago.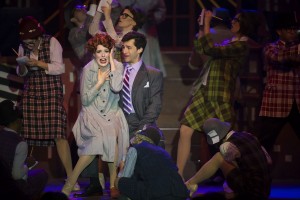 Poor Kaitlin Hunyak, whose name means "pure loser," an ironic appellation that no doubt fills present-day Dreamers and Haitian and Salvadoran earthquake refugees with foreboding and trepidation. Now, as then, the justice system is rigged against immigrants, particularly those who aren't fluent in English or conversant with the American system of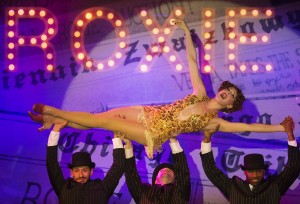 jurisprudence.
And herein lies the genius of Fred Ebb and Bob Fosse (who provided the book for the musical) coupled with the brilliant direction of M. Seth Reines and choreography of Amy Marie McCleary. The musical's heavy, sometimes suffocating cynicism and irony is at all time counterbalanced, if not countermanded,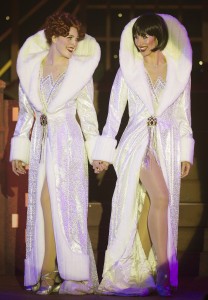 by sophisticated, minutely-synchronized double standards like "Me and My Baby," "When Velma Takes the Stand" and "Razzle Dazzle."
Each time the orchestra and performers threaten to drown out the drumbeat of the musical's overarching themes, Ebb and Fosse throw in a number such as "Roxie" or "Class." In the former number, the self-aggrandizing Roxie explains how her actions are driven by her lust for attention and fame. Although the latter was meant as an indictment of Americana in the Roaring Twenties, it also aptly captures the socio-political zeitgeist prevailing in the United States today.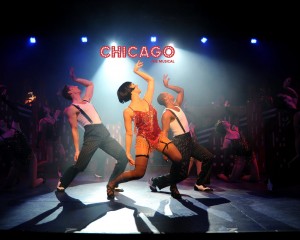 But it's the denouement of Chicago in which we experience the penultimate exercise of unbridled misanthropy. Spoiler alert! All the gals in the hoosegow get off (except Kaitlin Hunyak). Roxie and Velma parlay their villainous notoriety into a shameless stage show that only partially quenches their thirst for fortune and fame. And Roxie and Velma's slick-as-snot lawyer, Billy Flynn, notches two more victories and adds to his bloated reputation, about which he sings, "I don't like to blow my own horn, but believe me, if Jesus Christ had lived in Chicago today and he had five thousand dollars and he'd come to me, things would have turned out differently." Aside from Hunyak (who loses her life, of course), only Roxie's husband, Amos, and sob sister Mary Sunshine go away losers. The first loses both his wife and his money; the second is exposed as both a charlatan and a cross-dressing man.
Amy Marie McCleary's name has already been mentioned in the context of the choreography for the show. But after a four-year absence from the stage, McCleary also stars in the role of Velma. Her performance is nothing short of a tour de force. As expected, her dancing is impeccable, wresting the eye from her castmates in the ensemble with her crisp, fluid movements and Fosse-inspired posturing of hands, wrists, pelvis and sinuous legs. But her voice is even stronger than her dancing, and that's saying a ton! She flourishes in this role.
But just as Roxie Hart refuses to accept second billing to Velma Kelly, Sarah Mae Banning is Amy Marie McCleary's equal in every particular. She has a lovely singing voice, especially in the higher ranges, together with crazy-mad acting skills. But her dancing is on a par with McCleary's, which is evident during the finale, where the duo dance in synchronicity, reprising the act that the two murderesses have forged together in the aftermath of their improbable acquittals.
Daniel A. Lopez excels in the role of Billy Flynn. When you play the role of an attorney, it's not necessary to do much to earn the audience's loathing and approbation. But as Flynn, Lopez is particularly greasy – like a singing and dancing William Kunstler, who holds the dubious distinction of being the most hated lawyer in all of America.
Illy Kirven knocks it outta Wrigley as the Keeper of the Keys, the Countess of Clink, the Mistress of Murderess' Row, Matron Mama Morton.
Although his character was the biggest loser (if you don't count Hunyak and all the hapless men who the prison molls poisoned, stabbed or gunned down), Brian Kalinowski in the role of Amos Hart is clearly the audience favorite. Perhaps because it's so unexpected, his solo rendition of "Mr. Cellophane" is a stand-out, twanging the audience's heartstrings like a $16 million vintage Stradivarius violin.
It would be irresponsible not to give a long and loud shout-out to the dancers, both male and female. Sami Doherty continues to impress. Like cult class Center Stage's Jody Sawyer, she's just one of those dancers you can't take your eyes off of, no matter how good the other dancers might be (and in Chicago, they're all really, really good). But Kiersten Benzing (Liz), Morgan McGhee (June), Svetlana Khoruzhina (Hunyak) and Danielle Barnes (Mona) are terrific in their own right, as are the boys and girls in the ensemble, including Nathaniel Burich, Kathleen Carter, Ryan Featherstone, Cole Francum, Keith Patrick McCoy and Kerry Lambert.
From McCleary, Banning, Kaawaloa and Kirven to the dancers just named, the entire cast of Chicago dares the audience to look at them. And in return, they make love to us at one stroke and openly regard us with murder in their eyes at the next. They'd make Bob Fosse proud of their performance. Which explains why you'll be glad you came the show, as well. The production contains everything you've come to associate with Chicago down through the years – and much, much more.