'Rise Up, O Men' play dates, times and ticket info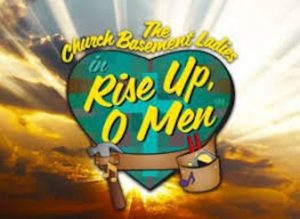 Play: Rise Up, O Men
Playwright: Greta Grosh, Dennis Curley
Synopsis: This is the sixth in the Church Basement Ladies series. In this episode, attention shifts to guys, who have a plethora of their own problems to resolve. There's Karin's husband, Elroy, a farmer by the name of Carl, a revered World War II vet named Arlo and, of course, the pastor, E.L. Gunderson. As they discuss piles of scrap lumber, the benefits of weld versus solder, looming retirement, rival Protestant denominations and Pastor Gunderson's really bad jokes, the menfolk unwittingly disrupt the ladies, who are hurrying to complete preparations for the church's 1964 centennial celebration. It's a recipe for hilarity that Broadway Palm serves up with relish and a side of panache.
Director: TBA
Cast: TBA
Play Dates and Times: March 1 – April 29, 2018, with evening, twilight and matinee performances available Tuesday through Sundays.
Where: Broadway Palm Dinner Theatre, Royal Palm Square, 1380 Colonial Boulevard, Fort Myers, FL 33907
Cost: Ticket prices range from $39 to $59 with discounts for groups of 20 or more.
Info: Tickets are now on sale and can be reserved by calling (239) 278-4422, by visiting BroadwayPalm.com or by stopping by the box office.