Female version of 'Odd Couple' is high energy, high octane entertainment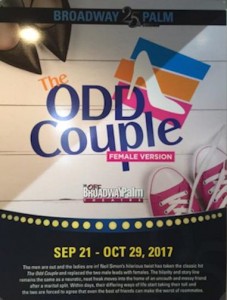 Neil Simon's The Odd Couple: Female Version is on stage in the Off Broadway Palm through October 29. It stars Katie Pankow as punctilious Florence Unger and Kelly Legarreta as Olive Madison, who couldn't be bothered hanging up a coat when the arm of a chair or floor will do. Out of desperation, each woman is willing to overlook the other's faults and proclivities. Recently separated, Florence needs a place to stay. Although she has a posse of friends, Olive is actually lonely and can use a little structure in her disorderly life.
The play is an adaptation of the original version, in which the leads were a very believable cigar-smoking, poorly-dressed New York sportswriter by t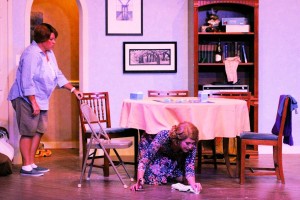 he name of Oscar Madison and a very neurotic, near-OCD, persnickety photographer by the name of Felix Unger. Their personalities don't easily transfer to their female counterparts, but fortunately Pankow and Legarreta make up for the obvious deficiencies in Simon's Female Version character types.
T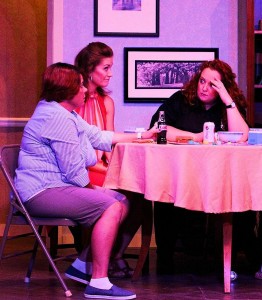 he play opens with Olive and the girls playing a hotly contested game of Trivial Pursuit. Simon's substitution of the Chris Haney and Scott Abbott board game for poker incensed New York Times theater critic Walter Kerr at the time. "No one plays Trivial Pursuit with the intensity, the fervor, the very savagery that men can bring to an evening of poker," he proclaimed when Female Version first debuted.
But Simon can be forgiven for choosing Trivial Pursuit for his gender-swapping update of the Male Version he'd written 20 years earlier in a different time and culture. It's interesting to note that after they'd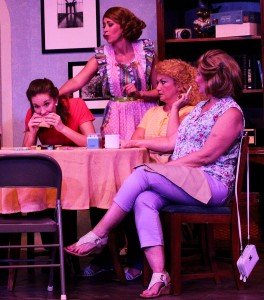 obtained the licensing rights to the game in 1983, Selchow and Righter launched a major marketing and publicity campaign that turned TP into a global phenomenon that resulted in the sale of more than 100 million copies in 26 countries and 17 languages generating some $2 billion in sales. TP was the rage in 1985 when Simon wrote his adaptation. Too bad he didn't embark on the project a year later, then perhaps he could have chosen Scruples instead.
Truth is that the game of TP taking place on the Off Broadway Palm stage when the show first opens seems s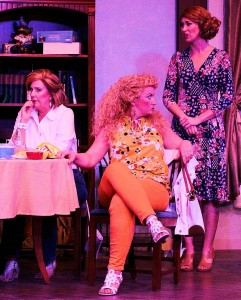 edate, tame, even a bit tedious. Perhaps that's a reflection of how difficult it is for a man, even one as gifted as Neil Simon, to write compelling girl-talk dialogue. Or it may just be a function of the material being somewhat dated.
But then Florence enters the room, and blurts out that she's so despondent over separating from her husband that she's taken some pills, in fact a whole bottle of pills. In the next instant, all hell breaks loose as Olive and the posse run helter skelter across the apartment and into the off-stage bathroom into which Florence has disappeared to throw up. It's at that pivotal moment that the Female Version audience realizes it is in for two hours of high-energy, high octane high jinx.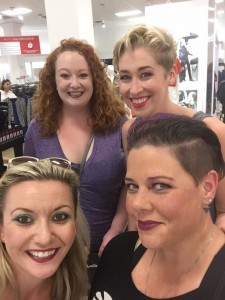 Excitement and enthusiasm are contagious, and Pankow and Legarreta, and their talented castmates, Dena Galyean, Shannon Connolly, ML Graham and Melissa Whitworth are patient zero for the infectious laughter that ensues.
Katie Pankow is wonderful as the neat freak Florence Unger. Florence is so compulsively clean, it's easy to imagine her arranging the clothes in her walk-in closet by color, not to mention shoes, make-up and anything else in the orbit of her existence that lends itself to classification. But Pankow and director Paul Berniers add a fascinating wrinkle. Their version of Florence Unger is also a hypochondriac,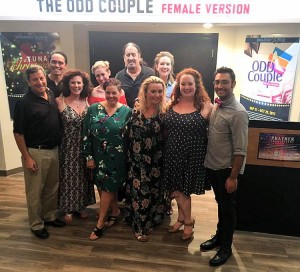 complete with stiff neck, back problems, bursitis, sinus problems and an aversion to perfume. But for as funny as she is as a neatnik, it's better when Katie's mad, like when Flo's bird burns black because Olive is late and doesn't bother to pick up the phone to tell her to hold off on putting the goose in the oven.
Pankow's character also traverses the greatest character arc. Over the course of the play, Florence Unger sheds the cocoon of low self-esteem and lack of self-confidence and turns into a Blue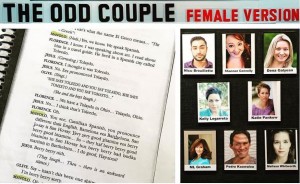 Morpho Butterfly, completely independent and fully cognizant of her sex appeal and attractiveness to the opposite sex.
Kelly Legarreta does well with an admittedly tough character assignment. Not that women are any less inclined to be slobs than men. But Olive Madison is a study in inconsistencies. She's randy and outspoken, but a soft touch when her ex-husband calls for a loan. Projecting a hardboiled exterior, she's a marsh mellow inside.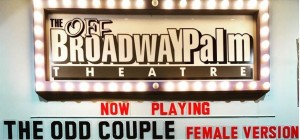 She's not only solicitous where where Florence and her deadbeat ex are concerned, she wants to protect every member of her TP posse like a mother hen. Although it seems incongruous for Olive to hold her tongue no matter how slight the provocation, L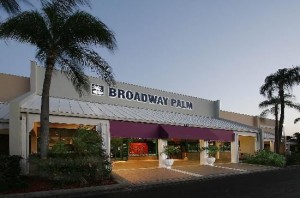 egarreta's passive-aggressive behavior toward her disinfecting roomie is priceless. But even Olive has limits, and the scene in which she dumps Florence's pots and pans into her suitcase and tells her to get out will leave every overwrought and flummoxed wife, mother and girlfriend scrounging their closets for their Delsey, Samsonite and Briggs & Riley.
Shannon Connelly is refreshing as Mickey, the sure-footed cop, and ML Graham keeps it real as the super-sophisticate in the group. It's not just her mastery of the yellow, purple and green categories (in case you've forgotten, that's history, Arts & Literature and Science & Nature). She's dating a doctor, and what could be better unless he's a plastic surgeon to boot?
Dena Galyean adds to her reputation for always bringing "it" to the roles she plays. She has a knack for expressing virtually any (and every) emotion with no more than the flash of her fiery eyes and the set of her pouty lips. This time, she plays Sylvie, a wife who's become jaded by her husband's disinterest – and bitchy from nicotine deprivation brought about by her determination to quit smoking. With Florence hovering and Olive on edge, the TP posse is no substance-abuse support group! But while across town in Outside Mullingar, Rosemary Muldoon is freezing her eggs, Sylvie's announcement that one of hers has been pollinated gives rise to one of the most tender scenes of the entire evening.
It's always fascinating to watch a highly intelligent actor play a complete ditz, so it's small wonder that the audience falls in love with Vera, played by Melissa Whitworth. The ex-Mary Poppins does a formidable job, portraying Vera as obtuse rather than just one-dimensionally vacuous. Whitworth is just one of those actors you can't get enough of, even in a the role of a cute and well-meaning simpleton.
Every show has a scene stealer, and those parts go to Nicu Brouillette and Pedro Kaawaloa, who play Manolo Costazuela and his brother, Jesus. The audience doesn't meet them until the first scene of Act Two. Though outnumbered by the women, they match them in entusiasmo. While their misunderstanding of English words and idiom is funny, it's the sight gags and posturing that's truly hilarious – as when they throw their heads backwards in laughter with the precision and choreography of synchronized swimmers.
While The Odd Couple: Female Version may be lighthearted fare, the cast performs their roles with such energy, enthusiasm and chemistry, you'll be glad you invested the time and spent the dime to see this show.
October 9, 2017.
RELATED POSTS.