Melissa Whitworth plays role of Vera in 'Odd Couple: Female Version'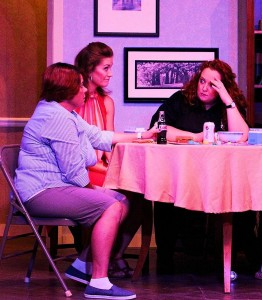 On stage now through October 29 in the Off Broadway Palm Dinner Theatre is The Odd Couple: Female Version. You know the story. A neurotic neat freak moves into the home of a messy, uncouth friend following a marital split. Within days, their differing lifestyles and outlooks on life begin to clash as they ruefully discover that even the best of friends can make the worst of roommates.
Melissa Whitworth plays Vera, a literal-minded girl who always seems to be a few beats behind the conductor. Playing a character who is a bit slow to get a point that everyone else understands instantly is quite a departure from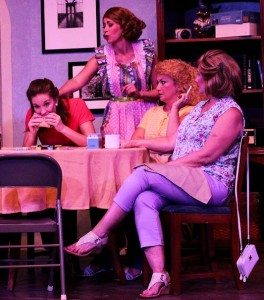 Whitworth's last role. She ended last season in the lead of Mary Poppins the Broadway Musical, where she received rave reviews from Broadway World's Emily Yorgey, Florida Weekly's Nancy Stetson and The River Weekly's Di Saggau. [Read what they said here.]
Melissa made her Off Broadway debut last season in the role of Carol in Another Night Before Christmas. She has also appeared at Delray's Show Palace Dinner Theatre as Cindy in SUDS: The Musical (directed by SUDS alumni Steven Flaa). Other favorite credits include Princess Fiona in Shrek (at Theatre Winter Haven, for which she received a Broadway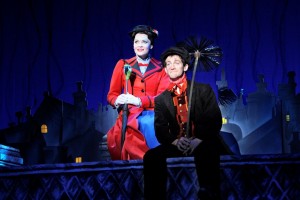 World Orlando Best Actress nomination) and Elizabeth in Young Frankenstein (at Entracte Theatre in Delray).
Three seasons ago, the 5-foot-8-inch green-eyed performer was honored to sing as part of the Orlando Cabaret Festival at Mad Cow Theatre in their "It Was a Very Good Year" Series. Prior to t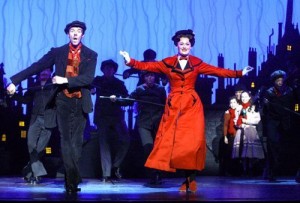 hat, she performed in St. Charles, Missouri with the Center Stage Theatre, at Florida State University, and on Cape Cod with the College Light Opera Company, where she received the Mrs. Box Office Award for "outstanding contributions to the company." Favorite credits there include The Drowsy Chaperone (the Drowsy Chaperone), The Student Prince (the Grand Duchess Anastasia), and Lee Hoiby's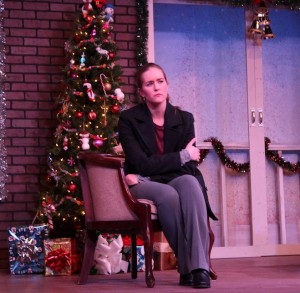 one-woman opera, The Italian Lesson. Whitworth has also appeared in The Music Man, South Pacific, Anything Goes and the female version of The Odd Couple.
Whitworth graduated from the Florida State University College of Music in 2013 and has been teaching and performing since that time. She has worked as an actor for Universal Studios with performers playing everything from wizards and to a' cappella singers (the scariest). Most recently, she received a Broadway World Orlando nomination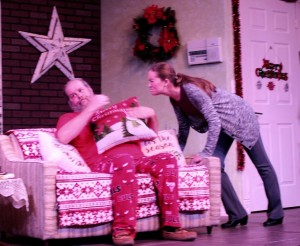 for her work as Thomas Jefferson in 1776 at the Mad Cow Theatre (which presented the show with an all-female cast). Regional credits include Chekhov's Three Sisters (in the role of Olga), How I Learned to Drive (as L'il Bit), and The Next Fairy Tale (as Glinda).
September 22, 2017.
RELATED POSTS.