Broadway Palm brings 'Greatest Movie Musical of All Time' to main stage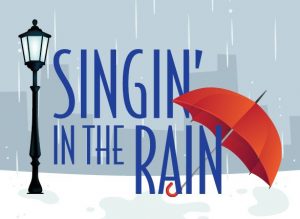 Beginning December 31, Broadway Palm Dinner Theatre brings the "Greatest Movie Musical of All Time" to the main stage. Hilarious situations, snappy dialogue, extraordinary dancing, a hit-parade score of Hollywood standards and a well-spun tale about the golden age of movie musicals make Singin' in the Rain the perfect entertainment for kicking off a brand spanking new year.
Set in Hollywood in the late 1920's, the story focuses on Don Lockwood, his sidekick Cosmo Brown, aspiring actress Kathy Selden, and Lockwood's silent film leading lady Lina Lamont, who's less-than-pleasant vocal tones make her an improbable contender for stardom in the new talking pictures. In fact, the show's a gentle satire of Hollywood's awkward transition from silent films to talkies,- all at Lina Lamont's expense. But then again, don't feel too sorry for the deeply narcissistic villainess you'll love to hate.
Make no mistake. Broadway Palm's enchanting, entrancing live adaptation of the classic film that made  Gene Kelly, Debbie Reynolds and Donald O'Connor household names is, at heart, a song-and-dance extravaganza. Translating complex dance sequences from studio to stage will test the mettle of even the best choreographers, so it's a good thing that Palm has placed that challenge in the capable hands of Amy Marie McCleary, who quickly discovered that staging Act One of the two-act production is tantamount to staging a full-blown musical in and of itself!
With such memorable songs such as "Good Mornin'," "Make 'Em Laugh," "You Are My Lucky Star" and the show-stopping "Singin' in the Rain," nostalgia and good vibes will unquestionably be the order of the day through the course of the show's six-week run.
Choose from matinee, twilight and evening performances. Performances are Tuesday through Sunday evenings with selected matinees (there are two on Christmas). Tickets are and additional $10 per person added to the normal $50 to $75 ticket prices, with children and group prices available. Tickets are now on sale and can be reserved by calling (239) 278-4422, visiting BroadwayPalm.com (which includes a $3.00 service fee per ticket) or in person at 1380 Colonial Boulevard in Fort Myers.
December 21, 2021