'Things My Mother Taught Me' play dates, times and ticket info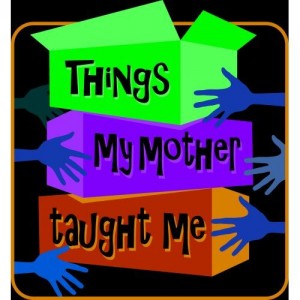 Play: Things My Mother Taught Me
Playwright:  Katherine DiSavin
Tagline:
Synopsis: Olivia and Gabe are moving into their first apartment together. They've just packed up all of their belongings and driven halfway across the country to start a new life together in Chicago. But their moving day doesn't go exactly as planned. Imagine their surprise when both sets of parents show up unannounced to help!
Play dates and times:
Matinees (11:45 a.m. lunch with showtime at 1:15 p.m.) are March 9, 11, 16, 18, 19, 21, 22, 23, 25, 28, 29 and 30, and April 6, 8, 9, 12, 13, 16, 20, 22 and 26.
Twilights (5:30 p.m. dinner with showtime at 7:00 p.m.) are Sunday, March 19 and April 9, 16 and 23.
Evenings (5:30 p.m. dinner with showtime at 7:30 p.m.) are March 9, 10, 11, 14-18, 21-25, 28-31, and April 1, 6, 7, 8, 11-15, 18-22, and 25-29.
Director: TBA
Cast: TBA
Reviews:
"Things My Mother Taught Me is superbly written…[it's] a wonderful, sentimental, true-to-life comedy about love and family, guaranteed to leave young and old with knowing smiles, because we've all had mothers of our own." – Intelligencer Journal
"Expect to fall head over heels for Things, a show with heart and humor…It is, quite simply, loveable." – Lancaster Sunday News
"When you move into a new apartment, don't forget to clean the top of the refrigerator and buy a new toilet seat. These are just a few tips from Things My Mother Taught Me, a hilarious show [that] had last Friday's audience laughing so hard that some of those in attendance had tears streaming down their faces…" – Charity Apple / Times-News
"[Things My Mother Taught Me] is entertaining and touching, enough to move the heart of the most reluctant romantic." – The Oakland Press
"Makes for one hilarious time…Things My Mother Taught Me has just about everything you'd want in a romantic comedy, all wrapped up with an appreciate-your-mother bow. You shouldn't miss it." – Quad-Cities Online
"This is a clever script with lots of laughs… "Things My Mother Taught Me" may be the most love-affirming comedy you're likely to see this season [and] it is a treat to see a play in which three couples love each other and value the things that make their partners special." – The Examiner
Things My Mother Taught Me was originally produced at the Rainbow Dinner Theatre in Pennsylvania in the Summer of 2012.
Ticket Info:
$55 evening dinner and show
$50 matinee dinner and show
$35 show only
$3 per ticket handling fee applies to online orders
discounts for groups of 20 or more
For more information or to order tickets, please visit http://www.broadwaypalm.com/box-office/general-info/.
March 2, 2017.
RELATED POSTS.