David Whalley plays murderously funny villain, Jonathan Brewster, in 'Arsenic & Old Lace'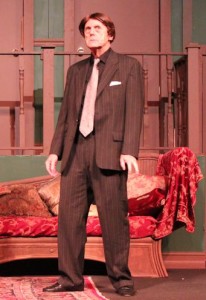 On stage for just three more performances at the Hinman Auditorium is the CFABS Players' production of Arsenic & Old Lace.
Every theater classic needs a villain, and in this frenetic, sometimes frantic 2-hour and 15 minute play, the villain's name is Jonathan Brewster. He's a sadistic serial killer whose body count stands at an even dozen victims. But as awful as that may be, he's only tied for the lead with his mercy-killing aunts, Abby and Martha, who serve the old men who come to their boarding house looking for a room with poisoned elderberry wine in order to spare them twilight years filled with loneliness and failing health. One of the funniest scenes in this black comedy occurs as Jonathan and his accomplice, Dr. Einstein,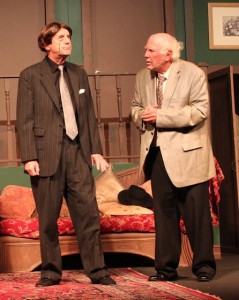 tabulate their victims and, to his dismay and disgust, Jonathan discovers that his aunts have killed just as many men as he has.
The role of the sinister serial killer is played perfectly by David Whalley, who bears the scars and bandages of Dr. Einstein's botched plastic surgery designed to prevent people from recognizing the escapee from a prison for the criminally insane. While not even Jonathan's family recognize him, he now looks like Boris Karloff in an Mafioso-style dark brown suit. But don't say that to Jonathan's doctored face lest you incite him to kill you too. To be sure, Jonathan Brewster is an unconscionable killer, but he is nonetheless vain.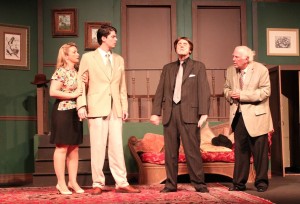 In addition to the situational comedy implicit in his role, audiences will enjoy Whalley's expressionless delivery of lines of dialogue filled with chianti-dry wit and deadpan humor and hips-thrust-forward body language reminiscent of a cocky Tommy DeVito from Goodfellas. This is David's debut with the CFABS Community Players. Whalley caught the acting bug after 40 years of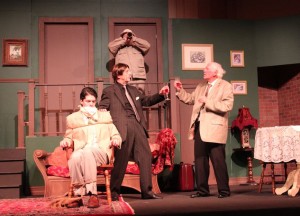 practicing medicine and has appeared as Richard, the lovesick lawyer, in Moon over Buffalo, as well as acting workshops and ETC readings at the Sugden.
Related articles
Published March 16, 2016