Juan Alejandro brings boyish enthusiasm and energy to role of Mortimer Brewster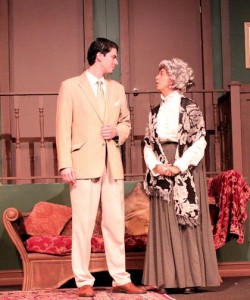 On stage now in the Hinman Auditorium is the CFABS Community Players' production of Joseph Kesselring's classic comedy noir Arsenic & Old Lace. Playing the lead in this show is Juan Alejandro.
Alejandro's character is a young theater critic by the name of Mortimer Brewster. "Somebody has to do those things," Brewster's aunts tell his girlfriend's father, a very proper minister who is concerned by his daughter's growing infatuation with both the theater and Mortimer himself. But the minister's daughter is more than infatuated. Elaine, deliciously played by Dena Galyean, is in love with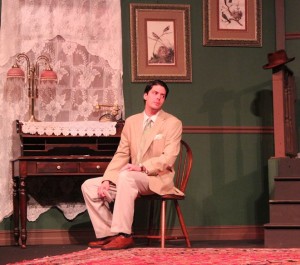 Mortimer and the preacher's daughter jumps at the chance to become Mortimer's betrothed when he proposes to her before discovering, to his horror and dismay, that his aunts have stashed a dead body in the window seat next to the dining room table of their luxuriantely-appointed boarding house. Faced with the truth about his murderous family and deranged chain of ancestors, he must not only find a way to break his engagement, but clean up the mess his aunts have created and find a way to keep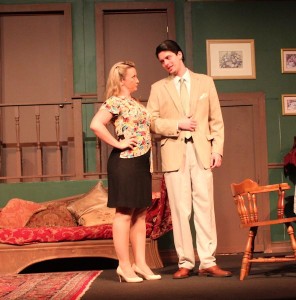 them out of jail.
Alejandro's smooth and debonair persona quickly disintegrates as he discovers the magnitude and depth of his family's insanity, and he is truly comical each time he plops on the window seat to process some new revelation only to bolt to his feet as he remembers that there's a corpse under his seat. A companionable combination of boyhood enthusiasm and energy, Alejandro evinces a mature sense of comedic timing and delivery. The double and even triple takes he gives upon discovering his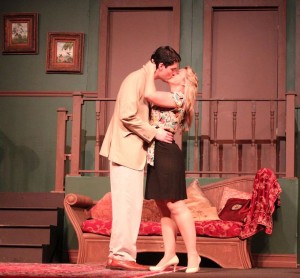 aunties' macabre hobby are as priceless as his myopic flatheadedness as he tells Dr. Einstein about the ridiculously stupid play he had to watch earlier that evening in which the hero allows himself to be tied up with the drawstrings from a curtain even as his brother creeps up behind him with the drawstrings from his aunts' dining room curtains.
True to the farcical nature of the play, Alejandro resists the temptation to over-romanticize his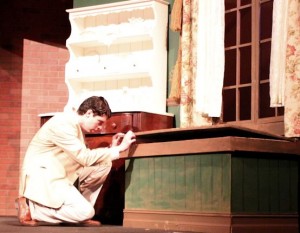 scenes with Elaine who, in typical preacher's daughter fashion, sizzles with barely-restrained desire bed tall, dark Mortimer. It does seem somewhat odd, though, that Mortimer shows virtually no reaction when Elaine tells him that Jonathan and Dr. Einstein were about to murder her in the basement of the old home. His failure to jump to Elaine's defense leaves the audience to wonder whether he's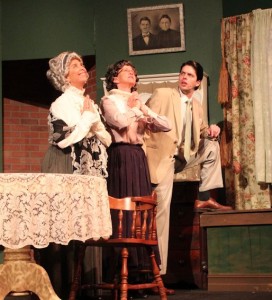 actually more concerned about his own reputation than with Elaine's safety and well-being. On balance, what's a little self-absorption in comparison to the psychopathic behavior of his brother and aunts? Still, a little more ardor and protectiveness on Mortimer's part could only serve to make him an even more endearing as a man truly caught in between a lethal family and the woman he loves.
Alejandro was last seen by local audiences in Theatre Conspiracy's production of Kayak in January, where he played the part of Peter Iversen alongside Lauren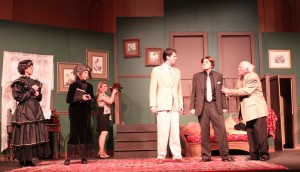 Drexler and Alex Holmes. Juan has also performed with the Naples Players and other theater groups in the Naples/Fort Myers area. His acting credits also include Septimus Hodge in Theatre Conspiracy's 2015 production of Arcadia, Ty in this season's Laboratory Theater 24-Hour Playwriting Project winner, The Bird Flew, Patrick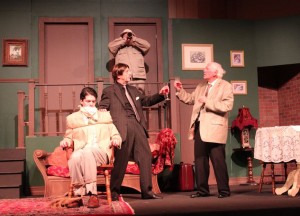 Chibas in Spinning into Butter, Steve Grimes in Good People at the Naples Players, and Percy Bysshe Shelley in Bloody Poetry at the FGCU Theatre Lab.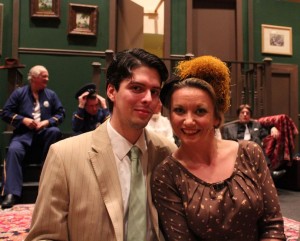 Published March 10, 2016.