Don't tangle with the girls of Cell Block 6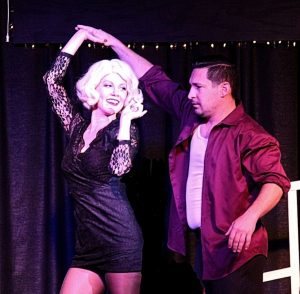 On stage at Cultural Park Theatre for just three more performances is Chicago, starring Lisa Kuchinski as Roxie Hart and Angela Pierre as Velma Kelly. The show has several high-energy, high-spirited numbers, including "All that Jazz" and "Razzle Dazzle," but one of the best in the entire show has to be cynical, satirical "Cell Block Tango."
Chicago revolves around a 1920s wannabe cabaret star by the name of Roxie Hart, who's sleeping around on her goodhearted but simpleminded husband, Amos. When one of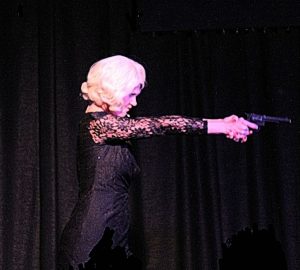 her lovers decides he's dumping her first, Roxie puts three bullets in his chest. At first, Amos covers for Roxie, but when the cop investigating the shooting tells Amos that the corpse belongs to the salesman who sold them their bedroom furniture, Amos figures out he's been two-timed and throws Roxie under the proverbial bus. Behind bars, the scrappy blond meets the jailhouse matron, Mama Morton, and six infamous murderesses. All but one admit they did the deed, bit they justify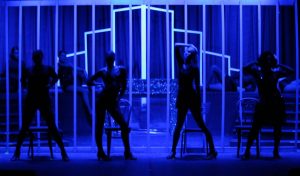 the killings by maintaining that their husband/boyfriend "had it coming." Indeed, the men who were whacked were a despicable aggregation – although one man's only transgression appears to be that he popped his chewing gum too loudly.
That guy was Bernie.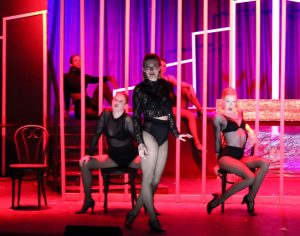 You know the type. Lazy, unmotivated, always laying around with a beer leaving rings on the coffee table. As if that weren't bad enough, Bernie was a gum popper on a nails-on-the-chalkboard magnitude. Well, Bubble Gum Bernie popped off one too many times. "So I said to him, I said, 'You pop that gum one more time," Lizzie warned with that don't-give-me-no-shit look in her steely blue eyes. Just to piss her off and show her who's boss,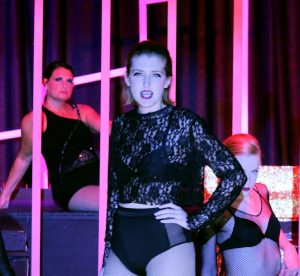 Bernie popped his gum again. What choice did he give her, I ask you? Lizzie took the shotgun down off the wall and fired two warning shots … into his head.
Jennifer Dube plays the part of Liz convincingly, her Robin's egg eyes flashing daggers at the audience as she recounts the fatal episode that landed her in Cell Block 6. Jennifer has appeared in multiple plays and musicals at Cultural Park over the past 11 seasons. She has also done time as both a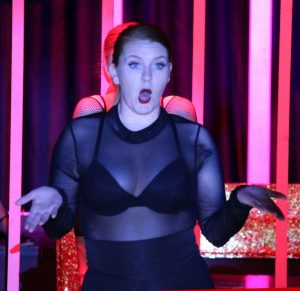 choreographer and dance captain; she also teaches dance and musical theater at Dance Dimensions of SWFL. It shows in the way she dances and in the fluidity of her movements.
Annie poisoned her boyfriend after discovering he was married to six other women ("one of those Mormons, you know"). Another blue-eyed beauty, Jacqueline Blanche plays the part of Annie, who's been wrongly accused. After all, it's not Annie's fault that the low-down, lying Ezekiel Young couldn't hold his arsenic, is it? It was a murder but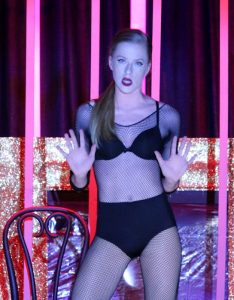 not a crime.
Besides, he had it coming.
Sydney Mixon plays the part of June, who is in jail for killing her husband, Wilbur. "I was standing in the kitchen carvin' up the chicken for dinner, minding my own business, and in [he] storms in a jealous rage," she explains. "'You been screwin' the milkman,' he says. He was crazy. And he kept screamin', 'you been screwin' the milkman!" And then he ran into my knife. Ten times."
In addition to modeling (she participated in last year's Art Walks the Runway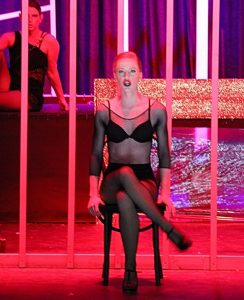 at the Sidney & Berne Davis Art Center), the slim Ida Baker High grad is an exceptional dancer. In fact, Mixon is one of those dancers you cannot help but notice even in the midst of crowded ensemble numbers like "All that Jazz," "All I Care About" and "Razzle Dazzle." With the acting and dancing skills she displays in Chicago, Southwest Florida theater audiences should be seeing a lot more of Sydney in the future … provided she stays away from the cutlery.
Maryann Connolly portrays Hungarian immigrant Kaitlin Hunyak, the girl on the block who's actually innocent. It appears that poor Hunyak only knows two words of English – not guilty. But her protestations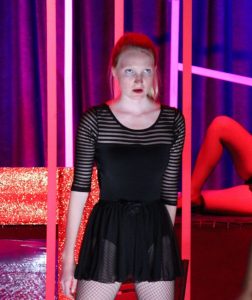 fall on deaf ears. Still, she doggedly believes that "Uncle Sam is fair and just" right up to the time she does her state-imposed Hungarian rope trick and becomes the first capital offender to ever be executed in Chicago. (The poor immigrant's name means "pure loser," an ironic appellation that no doubt fills present-day Dreamers, Haitian and Salvadoran earthquake refugees, and Central and South American asylum seekers with foreboding and trepidation. Now, as then, the justice system is rigged against immigrants – particularly those who aren't fluent in English or conversant with the American system of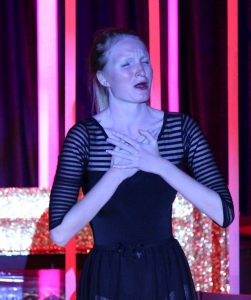 jurisprudence.)
The actor/singer/songwriter/model's acting credits include The Witch in Into the Woods, Rachel in Glee, Skuttle in Little Mermaid, Mrs. Potts in Beauty and the Beast and a child in Elf at the Barbara B. Mann Performing Arts Hall. Connolly was also a featured singer in the Break the Cycle Concert Series and recently released her first music video, "Roll the Dice."
The fifth resident of the women's cell block in the Cook County Jail is Mona.
She killed her low-down,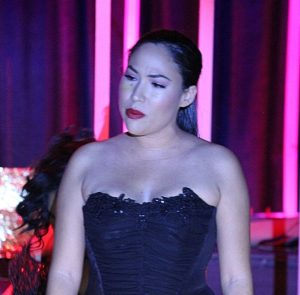 no-good over-sexed boyfriend after learning that he was four-timing her – with three other girls and a boyfriend. Nilda Tojanci (Jersey Girls) shine is the role, and has one of the best lines in the entire show: "I guess you could say we broke up because of artistic differences; he saw himself as alive, and I saw him as dead."
Go-to-Hell Kitty is wealthy, but money doesn't prevent her boyfriend from cheating on her. She kills him in her apartment after coming home and finding him with two women.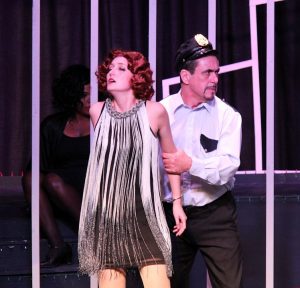 After the killing, she goes crazy, telling everyone to "go to hell." Tamicka Armstrong is Go-to-Hell Kitty. Tamicka is a former "choir kid" and karaoke aficionado with a decade's worth of experience in ensemble and solo work. In 2017, she relocated to Southwest Florida from Wyoming and after taking improv classes at the Alliance for the Arts, she decided to take a chance and audition at Theatre Conspiracy, winning the role and making her stage debut as Cindy in Greg Lam's 2017 New Play Contest winner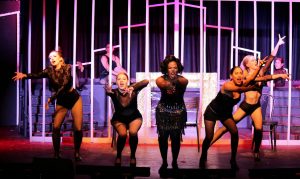 Repossessed.
Some productions accentuate the comedic aspects of the lyrics in a forced Vaudevillian kind of way. Director Gerrie Benzing resists this temptation, having her criminals deliver their punch lines in a snarky, matter-of-fact semi-serious way. The result is darker, more in keeping with the overall tone of the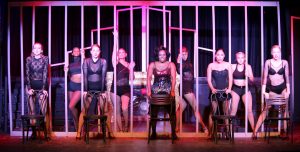 storytelling, and underscores the perspective that every character in the show has some kind of con going on.
Pop. Six. Squish. Uh uh. Cicero. Lipschitz.
You're going to love this number.
Come to think of it, you're going to love the whole damn show.
March 9, 2019.