Meet 'Putnam County Spelling Bee' actor Anne Chamberlain (Olive Ostrovsky)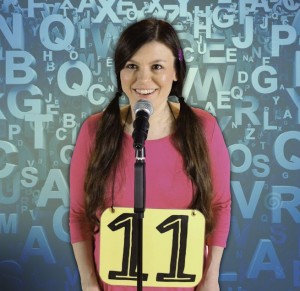 On stage now through April 12 at Florida Rep is the 25th Annual Putnam County Spelling Bee. From set to music to storyline and acting, this production is so heartfelt, engaging and outright hilarious that it deserves your attendance even if you only use your personal copy of Merriam-Webster's or the New Oxford American Dictionary as a door stop or to settle arguments on Scrabble night.
One of the spellers in this show is Olive Ostrovsky, played by Anne Chamberlain. It's Chamberlain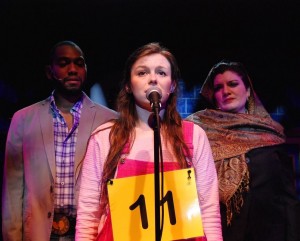 who has the most poignant song in the show. Olive's mom has been in an ashram in India for months, and the seat Olive's saved her dad remains empty. (Hell, the inveterate workaholic didn't even make the time to pay her $25 entry fee.) But the audience's heart breaks all the more as the poor, lonely girl relates in "The I Love You Song" that she'd quietly packed in hopes her mom would ask her to join her in Bombay and discloses that her angry dad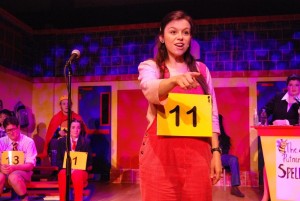 "takes out on me what he wants to take out on you." Turning chimerical, she fantasizes about having loving parents, who tell her they couldn't be prouder and that they love everything about her. Chimerical. C-H-I-M-E-R-I-C-A-L.
Chamberlain is a stand-out in the role, capturing her character's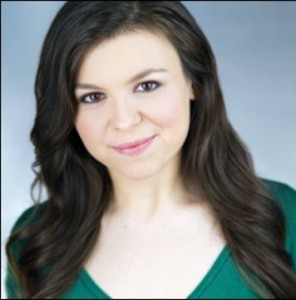 soft, heart-wrenching vulnerability in a way that makes her endure long after a victor is declared and the trophy awarded.
This is not Anne's first go around with Olive. She performed the part in the Broward Center for the Performing Arts' production of The 25th Annual Putnam County Spelling Bee.
Chamberlain is excited to work with Florida Rep for the first time. Recent credits include Carrie in Carrie: the Musical (Slow Burn Theatre), Athena in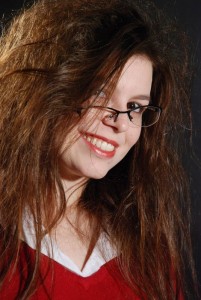 Rock Odyssey (Adrienne Arsht Center), Kathleen in Ragtime (Actors Playhouse), Josephine/Monica in Romance/Romance (Strauss Theatre), Natalie in Next to Normal (Slow Burn Theatre) and Cinderella in Into the Woods (Strauss Theatre).
Anne is originally from Miami and happy to come home to Florida during some of the coldest winter months in New York. She holds a BFA from the New World School of the Arts.
Find our more about Anne at www.annechamberlain.com.
March 31, 2017.
RELATED POSTS.