The reviews are in, 'Outside Mullingar' huge hit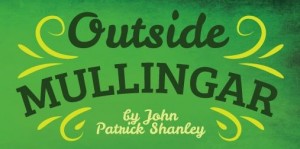 On stage at Florida Rep through October 22 is John Patrick Shanley's romantic comedy Outside Mullingar. Lyrically written, expertly acted and imaginatively staged, the show has received rave reviews during the course of its run.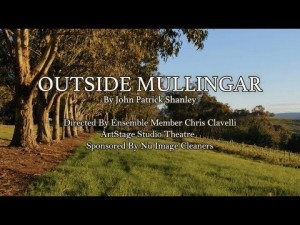 Florida Weekly's Nancy Stetson, for example, writes "Outside Mullingar is genius writing; Mr. Shanley walks that knife's edge between laughter and tears, breaking our hearts while also providing moments of unexpected hilarity. And [Director Chris] Clavelli and the cast nail that tone perfectly." In fact, Stetson postulates that Shanley has written "if not the perfect play, something damn near close to it," which Clavelli and Florida Rep have "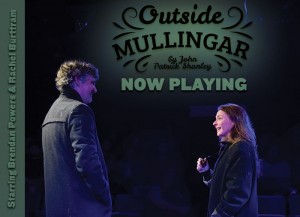 married with the perfect cast and direction."
Viki Boyle plays the part of Aoife Muldoon. "Ms. Boyle disappears into her character and mines comedic gold with her impeccable delivery," touts Ms. Stetson, who also admired the performance turned in by Marting LaPlatney, who plays rough and gruff Tony Reilly. But clearly the play belongs to leads R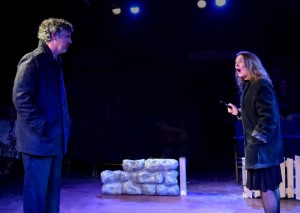 achel Burttram and Brendan Powers, who provide "electricity, a kind of simultaneous attraction/repulsion magnetism … as if they're motioning to one another, 'come here,' while simultaneously telling each other to go away." The tension is so delicious "you can almost hear the hum."
"The arts can be healing," Stetson concludes, "and for those of us who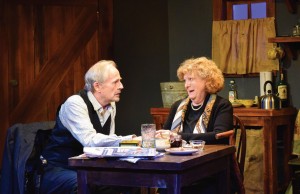 weathered Hurricane Irma, Outside Mullingar is a welcome balm – a story of love, longing and life, it provides hope and allows us to laugh in the face of death."
Broadway World's Emily Yorgey was equally complimentary.
"Outside Mullingar by John Patrick Shanley was, to sum it up in a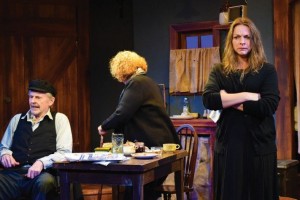 word, delightful," writes Yorgey in her September 22 review. "Florida Rep proves that you don't need a big cast to have a hilarious, sad, romantic and very engaging show. The cast, consisting of Viki Boyle, Rachel Burttram, Martin LaPlatney and Brendan Powers, is evidently quite incredible." Ms. Yorgey was also impressed by how flawlessly they stayed in character, perfect Irish accents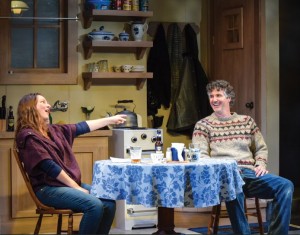 and all.
Yorgey agreed with Stetson's observations about the tension Rachel Burttram and Brendan Powers were able to build between their characters, as well as the emotional pull each one felt for the other. "It was beautiful, and definitely something unique to see in theater productions."
Another aspect of the play that Ms. Yorgey found appealing was t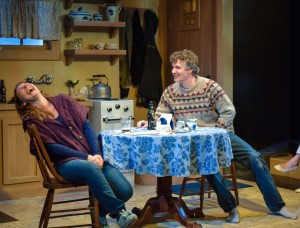 he balance the playwright achieved between humorous lines and solemn moments. "Some of the best one-liners in the show were delivered perfectly by Viki Boyle and Martin LaPlatney near the beginning of the production, but the hilarity never dissipated, even through the very end of the show. It was so enjoyable to watch …."
L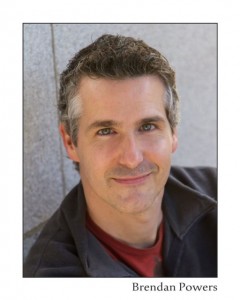 ike Nancy Stetson, Emily Yorgey appreciated Florida Rep's attention to detail. "In a scene where two of the characters were standing outside 'in the rain,' each of their coats looked like they had been rained on, and their hair was wet – and this is just the beginning of the small intricacies Florida Rep includes in their productions. Everything is intentional, and I love it."
You can read the full Broadway World review here.
Two other reviews bear mentioning. The first comes from local community actor Miguel Cintron, who most recently appeared in Theatre Conspiracy's production of Women in Jeopardy. He said, "Last night, I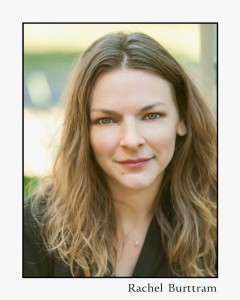 had the pleasure of seeing Florida Rep's production of 'Outside Mullingar,' and I'm still reeling from it this morning. I wish I had the words to appropriately describe Rachel Burttram Powers' and Brendan Powers' performance, but all that comes to mind are clichés like masterful and powerful, which still don't do it justice. Everything that was supposed to happen in a show, happened. I laughed a lot and cried a little. I was so incredibly moved buy this show. GET YOUR TICKETS. Do not miss this show. I promise, you will leave with a full, joyful heart."
Anne Dodd knows theater as both a director and actor. She called Florida Rep's production of Outside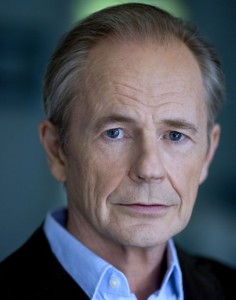 Mullingar a treasure. "Chris Clavelli's direction of this charming, beautifully written play is spot on. A solid cast led by Rachel Burttram Powers and Brendan Powers. For an Alabama gal, Rachel nailed the Irish accent. John P. Shanley's script is filled with Irish witticisms. This play is funny and touching and gentle, like the Irish mist. After two weeks of Irma, a night at the theatre transported to the Irish countryside was so appreciated. Rachel and Brendan pull at your heartstrings, make you laugh and definitely made me tear up."
Draw your own conclusions. Catch this show before it closes on October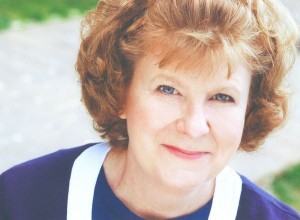 22.
You can read Art Southwest Florida's review here.
October 5, 2017.
RELATED POSTS.