The boys in the band in Fort Myers Theatre's production of 'Rent'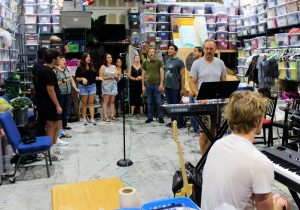 Jonathan Larson's score in Rent is special. How special? It inspired Lin-Manuel Miranda to write In the Heights. A score that amazing deserves a live band, and Fort Myers Theatre has happily obliged. Under the direction of conductor and keyboardist Chris Stalbaum, the four-piece group includes Michael Messina on guitar, Frank Sanders on keyboards and guitar, and Seth Balcer on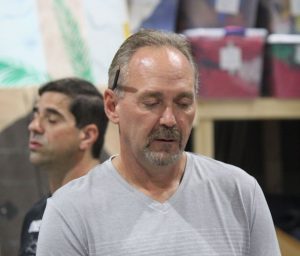 percussion.
Rent represents a special challenge for Chris and his orchestra. That's because as an operetta, "the music pretty much never stops from beginning to end." In addition, most Broadway musicals contemplate a much larger orchestra. By contrast, Rent was written for just four or five musicians, entrusting them with the responsibility of making the music interesting and exciting not only for the audience, but the performers as well.
A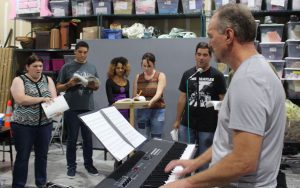 classically-trained pianist, Stalbaum has served as musical director dating back decades in more than 300 shows. Chris and his wife relocated to Southwest Florida from Northwest Indiana in January of 2021 and he now serves as IT Infrastructure Manager at Cypress Cove.
Michael Messina not only plays. He also teaches guitar. A product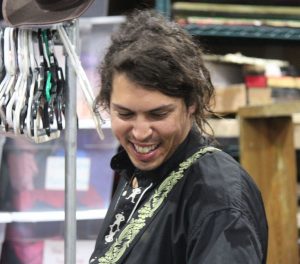 of Fort Myers Senior High, he also has the distinction of being Director Michelle Kuntze's brother.
Originally from Buffalo, New York and a product of Port Charlotte High, Frank Sanders is part of the Ave Maria Jazz Collective, a former timpanist at North Port Symphony and former percussionist with the Charlotte County Concert Band
Although behind the drums for Rent, Seth Balcer was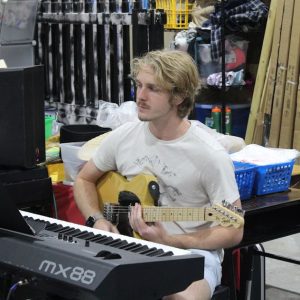 recently front and center at Belle Theatre in Cape Coral, where he starred in School of Rock as Dewey Finn, an energetic down-on-his-luck wannabe rock superstar. In School of Rock, his character is influenced by hard rock and heavy metal bands such as Led Zeppelin, Black Sabbath and Motorhead but, ironically, none of the groups who became synonymous with rock operas (such as The Who (Tommy, Quadrophenia, Lifehouse), Pink Floyd (The Wall) and Genesis (The Lamb Rock Opera)).
Rent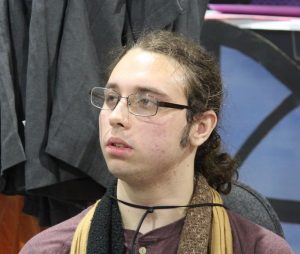 plays at Fort Myers Theatre August 6th through the 21st.
July 28, 2022.
RELATED POSTS.