Fort Myers Theatre's 'Anne Frank' promises living, lyrical, intensely gifted version of immortal diarist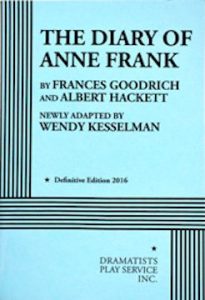 Anne Frank began a diary when she turned 13, just days before she and her family went into hiding in Nazi-occupied Amsterdam. Frances Goodrich and Albert Hackett transformed her diary into a stage play in 1955 that won both a Tony Award and Pulitzer Prize for Drama. More than 40 years later, Wendy Kesselman adapted their play for a generation that was finally able to confront the true horrors of the Holocaust. In her iteration of this timeless story, Kesselman interwove survivor accounts and newly-discovered writings from the diary to create a contemporary, impassioned story. Now, director Kristen Wilson and the Fort Myers Theatre bring his modern version of The Diary of Anne Frank to the stage in eight haunting performances that begin on August 13.
Most people today know the story of Anne Frank through the play and film penned by Goodrich and Hackett. It being the '50s, they excluded the young girl's evolving awareness of her budding sexuality along with her blunt, highly-critical observations about the adults with whom she shared the back room annex in which they were secreted from the Nazis. Kesselman's script not only adds these features back into Anne's highly personal account of their two years in hiding, but focuses on Anne's literary aspirations and her uniquely Jewish perspective on being the target of prejudice, pogroms and genocide that traces its origins all the way back to Martin Luther's "honest" 1543 "advice" concerning the treatment of Jews.
The latter aspect of Kesselman's accounting of Anne Frank's story has taken on added importance in 2021, when there are precious few Holocaust survivors left to recount the horrors of Shoah (less than 400,000 worldwide and 80,000 in the United States) and antisemitism and extremism is once again on the rise around the globe. The Anti-Defamation League documented as recently as May 20 a disturbing surge in online and real-world antisemitism, especially on social media platforms like Facebook, Instagram, Twitter and Tik Tok. Not surprisingly, this rise in anti-Semitic content has translated into verbal and physical attacks directed against synagogues, Jewish-owned businesses and individuals.
While Kesselman's play makes a concerted effort to incorporate aspects of the Jewish religion and culture (including Hebrew prayers) into the storyline, the themes of cultural and ethnic profiling and cleansing can be applied to marginalized populations everywhere. But this version of Diary unrelentingly focuses on the Jewish experience and the stark contrast between Anne's unflinching belief in the goodness of people and the ultimate fate of her and the other residents of that cramped Amsterdam annex. In fact, this play ends with Otto Frank graphically describing what happened to each of the members of his household.
Jayson Levy plays Otto Frank and the incomparable Gerrie Benzing plays his wife, Edith. Because their performances at audition and in rehearsal have been so powerful and compelling, Halle Heckman and Shennan Nelson have both been cast in the role of Anne. By dint of Kristin Wilson's direction, Kesselman's powerful script and Heckman and Nelson's compelling performances, the Anne Frank that will emerge from this Fort Myers Theatre production promises to be astonishingly honest, witty, lyrical and amazingly gifted – breathing new passion and meaning into her artistic hopes and aspirations: "When I write, I shake off all of my cares; but I want to achieve more than that. I want to be useful and bring enjoyment to all people, even those I've never met. I want to go on living even after my death!"
Indeed, this production echoes these very goals. It too strives not just to entertain, but to go on living after the show.
July 28, 2021.