Fringe Fort Myers wraps; announces Best of Venue awards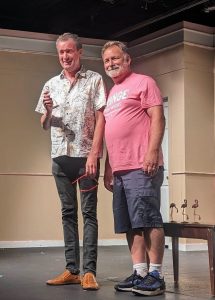 The first annual Fort Myers Fringe Performing Arts Festival wrapped on June 4th with an awards ceremony in which –
Frank Blocker in Southern Gothic Novel was chosen as Best of Venue for Off Broadway Palm;
Laila Lee in The Light Bringer took Best of Venue honors in the Alliance Classroom Theatre;
Dance Bochette Presents Future Perfect was named Best of Venue Foulds Theatre; and
tiny_Theatre Presents The Hunt for Milo Gatto was chosen as Audience Favorite.
The four-day festival brought together nine performing acts that featured 27 artists from around the world,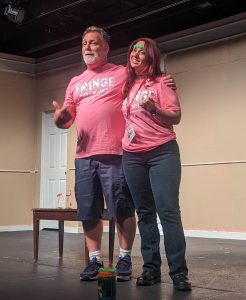 and drew more than 1,000 attendees, and sold out of buttons and t-shirts.
"We are incredibly grateful for the support this community has given our inaugural Fringe Festival," said Producing Artistic Director Bill Taylor. With that kind of support, we have definitely laid the groundwork for a festival that will continue to attract quality acts from around the world."
Kids Fringe held the youngest audience members' attention over the weekend. Nearly 150 families attended two special editions of Free Family ArtLab hosted by Alliance for the Arts (AFTA) instructors Veronica Tierra of Tierra & Friends and Tiani Rosado.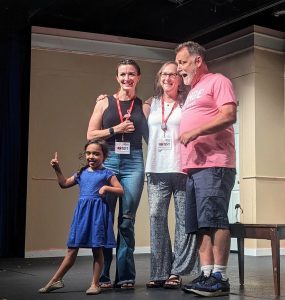 Citrus Circus delighted audiences with their high-flying skills on Saturday and Sunday. Carmen Crussard and the students of Cypress Lake High School brought the magical and interactive world of Alice in Wonderland to life, and AFTA's Fringe Music Venue hosted Bill Veach, Smokey Daytona Band, Bruce Gallant and Bill Metts.
"I am delighted that Fringe was so well received and we look forward to Fringe 'part deux' next year," said Molly Rowan-Deckart, Executive Director of AFTA, who extended thanks to Fringe Fort Myers partner Broadway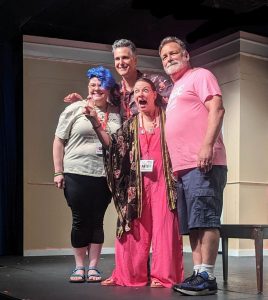 Palm Dinner Theater, which hosted shows and the awards ceremony in its Off Broadway Palm venue and provided meals to for all the performers.
Additional support was provided by Florida Weekly, Suncoast Beverage Sales, Lee County Visitor & Convention Bureau and Wilbur Smith Attorneys at Law, as well as sponsors Bruce and Janet Bunch, Julie Ireland, John MacLennan, and Daniel and Carolyn England.
The Second Annual Fringe Fort Myers has been set for May 30 through June 2, 2024.
June 15, 2023.