The Hunt for Milo Gatto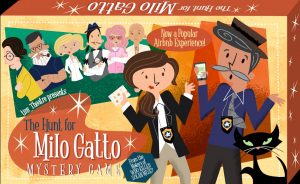 One of the shows included in the inaugural Fringe Fort Myers is The Hunt for Milo Gatto, a Tiny___Theare show that was originally created as a live, online interactive curiosity streamed by two local actors from a tiny closet in a back bedroom of their home during the COVID lockdown. After entertaining more than 7,000 viewers online around the world,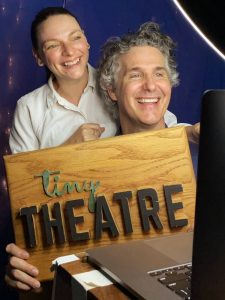 this wackadoodle catch-me-if-you-can mystery now heads to the stage at the inaugural Fringe Fort Myers.
Conceived, written and performed by professional stage and screen actors Brendan Powers and Rachel Burttram, this goofy tour de force has this husband/wife team playing all the roles — and the audience saving the day! When calamity befalls a prominent member of the city, Detectives Lila Bockhorn and Harrison Locke are eager to track down one Milo Gatto. But hurdles are thrown in their paths from the jump, and only the audience can keep the investigation alive by solving a variety of word games, limericks, riddles and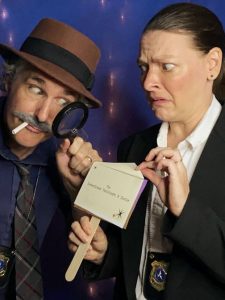 puzzles.
So deputize yourselves and help Detectives Lila Bockhorn and Harrison Locke in this hilarious interactive romp that requires your brain power, not your stage presence!
Before relocating to Alabama, Powers and Burttram were a Fort Myers thespian power couple. Both performed frequently both at Florida Repertory and other area community theater companies.
Some of Powers' Florida Rep credits include Outside Mullingar, How the Other Half Loves, The 25th Annual Putnam County Spelling Bee, The House of Blue Leaves, The Mousetrap, The Cocktail Hour, A Christmas Story,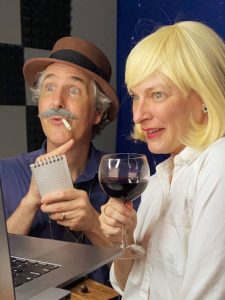 The Unexpected Guest, Dividing the Estate, Around the World in 80 Days, The Fantasticks, Doubt, Opus, Boeing-Boeing, and The Glass Menagerie. Theatre Conspiracy at the Alliance for the Arts audiences are still talking about his performance as Torvald Helmer in Henrik Ibsen's A Doll's House and in New Play Contest winner, Repossessed, in which he starred opposite his real-life wife, Rachel Burttram.
Burttram has been working in regional theater for more than 25 years. She has shared the boards with the legendary Carol Lawrence and Tony-nominated Daniel Sunjata. Her stage work has been seen across the country –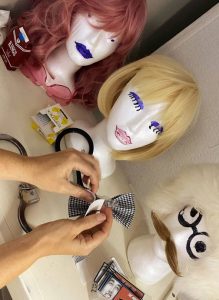 in venues ranging from the Actors' Theatre of Louisville in Kentucky, Penobscot Theatre Company in Bangor, Maine (where she received rave reviews for her fierce, feisty, angry and determined portrayal of a shattered Afghan war vet in Ugly Lies the Bone), Kitchen Theatre in Ithaca, New York (where she appeared in Mark St. Germaine's romantic comedy Dancing Lessons), The Hippodrome Theatre in Gainesville, Florida, Riverside Theatre in Vero Beach, Florida, Gloucester Stage in Massachusetts, Barnstormers' Theatre in New Hampshire, City Equity in Alabama, Geva Theatre, and various stages in New York City, including the prestigious Actors' Studio.
Southwest
Florida theater-goers know Burttram from performances spanning a period of nearly twenty years as a Florida Repertory Theatre ensemble member. Over that period, she performed in more than 20 plays, including Steel Magnolias, Disgraced, Outside Mullingar, The House of Leaves, Mark St. Germain's Best of Enemies, A Christmas Story, the world premiere of Split in Three, Dividing the Estate, Clybourne Park, Other Desert Cities, Miracle on South Division Street, Talley's Folly, August: Osage County, Trying,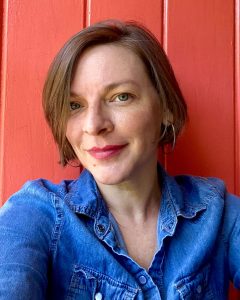 Doubt, and Amy's View.
Rachel's Theatre Conspiracy appearances include productions of Harvey, Dispossessed, Amy and David Sedaris' The Book of Liz and the Lillian Hellman classic Toys in the Attic.
Although the bulk of Rachel's experience is in theater, she is no stranger to film. Her screen work includes three independent films (Emma's Fine, World Traveler, Alchemy) and television (Burn Notice), along with national and regional commercials.
The Hunt for Milo Gatto performs in the Off-Broadway Palm at:
7:30 p.m. on Thursday, June 1;
8:30 p.m. on Saturday, June 3; and
4:00 p.m. on Sunday, June 4.
This production is presented under the auspices of the Actors Equity Association (AEA) Fringe Festival code and is made possible through the indulgence of Rachel and Brendan's feline Tiny__Theatre mascot, Milo.
May 29, 2023.
RELATED POSTS.