Comedic ingénue Holly Hagan makes costume design debut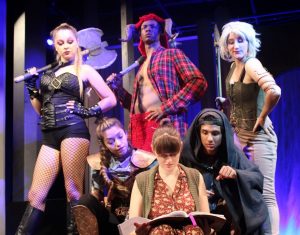 Most Southwest Florida theater goers know Holly Hagan as a comedic ingénue who has delighted audiences at The Lab, Theatre Conspiracy and other area venues. But for the FSW Theatre Program's production of She Kills Monsters, Holly worked behind the scenes creating the costumes for the show. The results were remarkable.
Most of the action in She Kills Monsters takes place in New Landia, a fictitious Dungeons and Dragons module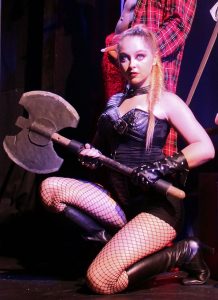 where a dowdy straight-laced twenty-something school teacher goes on a quest to retrieve the lost soul of her younger sister, Tilly, who died tragically in a real-life auto wreck that also claimed the lives of her parents. Besides Tilly (Kiana Pinder), the teach (Gabrielle Landsen) is aided by a Demonic Queen named Lilith (Courtney Sander), a spear-wielding Elf (Faith Deterding), a reluctant orc (Kenny Larmar) and a wry dungeon master (Jorge Luis Cabal).
Sander's costume unquestionably represented Hagan's greatest challenge. But Hagan was up to the task. She leathered up the wholesome FSW freshman, turning her into a sultry Dominatrix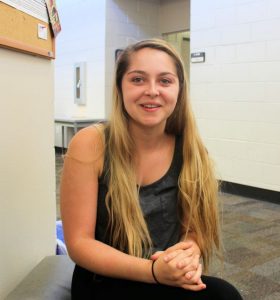 complete with fishnet stockings, knee-high black boots and black mid-forearm spiked gloves. It's quite the transformation as the accompanying photos illustrate.
Like Lilith's, each costume uniquely encapsulates the personality of the character for whom it was created, such as Faith Deterding's elven get-up and Jorge Luis Cabal's Obi Wan-inspired hoodie, the perfect shroud for an accomplished dungeon master like Chuck.
Costume design is a new venture for Hagan, who is one of the area's hardest working actors.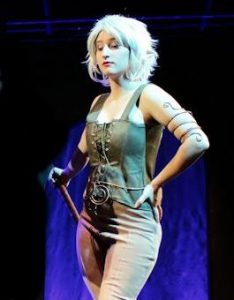 Earlier this season, she killed it as a clueless 21-year-old in Wendy McLeod's Women in Jeopardy at Theatre Conspiracy. But each of her previous roles has been just as memorable. In this regard, her other acting credits include The Lab's summer stock blockbuster, Whatever Happened to Baby Jane: A Parody of the Horror, a very-pregnant 17-year-old in Zalman Velvel's 55 and Over, the app-crazed enchantress in Deborah Zoe Laufer's Sirens, the beautiful young heiress Olivia in The Lab's 2015-2016 season ending production of William Shakespeare's Twelfth Night, the bartender at the North Pole in The Eight: Reindeer Monologues, Angela in Stage Kiss, Thomasina Coverly in Arcadia,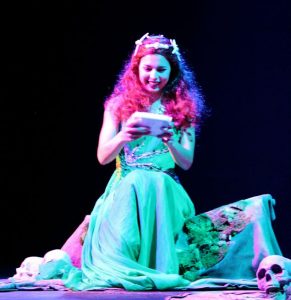 Soupy Sue in Urinetown and Kate Keller in The Miracle Worker. Holly was also a member of the team of actors who performed Ben Lamoureux's one-act play, Bird Flew, which was both the judges' and people's choice in Lab Theater's 24-Hour Playwriting Project on December 6, 2015.
April 6, 2018.
RELATED POSTS.