Gulf Coast Symphony's 'Gypsy' features Jodi Benson and daughter, Delaney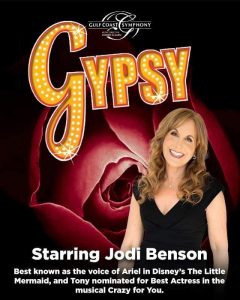 Gulf Coast Symphony's production of Gypsy comes to the Barbara B. Mann Performing Art Hall for two 7:30 p.m. shows, the first on March 17 and the other March 18. With lyrics by the immortal Stephen Sondheim, music by Jule Styne and book by Arthur Laurents based on the memoirs of striptease artist Gypsy Rose Lee, this groundbreaking 1959 musical focuses on her mother, Rose, whose name is synonymous with "the ultimate show business mother."
Gypsy is part of Gulf Coast Symphony's Pops Series and the show Maestro Andrew Kurtz and his creative team are most excited to bring to the stage this season.
"It will be a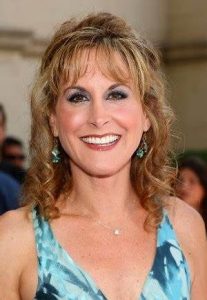 main stage production at Barbara Mann with a large orchestra," teases up Gulf Coast Symphony Artistic Operations Manager Julie Bearden Carver. While the show will include a lot of local performers, the headliners are Jodi Benson in the role of Mamma Rose and her real-life daughter, Delaney, as Louise.
Jodi Benson has received worldwide recognition and critical acclaim as the beloved singing and speaking voice of Ariel in the Academy Award winning Walt Disney animated feature film, The Little Mermaid, as well as the bubbly voice of Tour Guide Barbie in Disney Pixar's Toy Story II, winner of the Golden Globe Award for Best Picture. Jodi's other film projects include The Little Mermaid III, The Little Mermaid II: Return
To The Sea as Ariel, Lady and The Tramp II as Lady, 101 Dalmatians II as Anita, DreamWorks's animated video Joseph: King of Dreams as his wife Asenath starring Ben Affleck, and in Balto II and III as Jenna for Universal Studios. She appears as Sam,(Patrick Dempsey's Assistant) in Disney's feature film Enchanted– as a real live person –with legs! Jodi was honored to introduce the Emmy nominated 30th Anniversary celebration The Little Mermaid Live ABC television special event.
Delaney Benson's professional credits include the roles of Kathy Seldon in Singing In The Rain with The Carnegie Theatre (Covington, Kentucky), Lucy Van Pelt in You're A Good Man Charlie Brown and Phoebe D'Ysquith in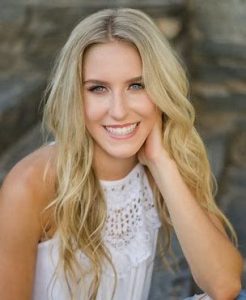 A Gentleman's Guide To Love And Murder with Starlight Theatre (Rockford, Illinois) and Gabrielle in Cinderella with the Red Mountain Theatre Co. (Birmingham, Alabama). She was also a Concert Soloist with the Utah Symphony Orchestra and Concert Soloist for Disney Cruise Line.
A student at the University of Cincinnati College Conservatory of Music, Delaney expects to receive her BFA in Musical Theatre with a Minor in Psychology in April, 2023.
Delaney began singing and accompanying herself on the piano at the age of 10.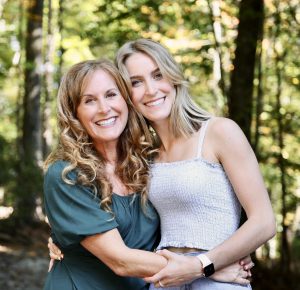 She is passionate about all art forms, not just performing on the stage.
In her free time, she works on writing her own music, choreography, going to the practice rooms, and cultivating her piano skills. But she is excited beyond words to be sharing the stage again with her mother.
March 4, 2023.