Cabaret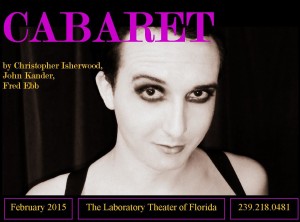 Twelve performances of Cabaret come to the Lab Theater on February 6, 7, 12, 13, 14, 19, 20, 21, 26, 27 and 28 at 8 p.m., and on February 14 at 2 p.m. There will also be an opening night reception, starting at 7:15 p.m. Tickets are $12 for students and $22 for adults at the door. The theater also offers Thursday night discounts to seniors and military, at $18.50 per ticket. Tickets are  available from the theater's website, www.LaboratoryTheaterFlorida.com or by calling 239.218.0481.
In this section, you will find articles about the play, playwright, director and upcoming production of the show at the Laboratory Theater of Florida (posted in date order from oldest to latest).
* * * * * * * * * * * * * * * * * * * * * * * * * * * * * * * * *
Bitter epilogue for the Victor and Bobby and the boyz in the band (02-27-15)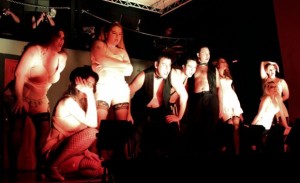 Cabaret ends with the Kit Kat Klub's emcee dressed in a concentration camp uniform and empty orchestra to symbolically underscore that they would have likely perished in one of the Nazi death camps in the years following Hitler's ascendancy to power.
It would have all started on March 13, 1933, just a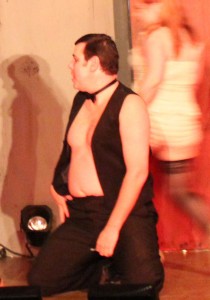 little more than a month after Hitler was appointed Chancellor of Germany. On that date, Joseph Goebbels, Minister of Propaganda and Public Enlightenment, created the Reich Chamber of Culture. All artists, writers, musicians and performers, including singers and dancers, were required to become members. Without a member card, you could not keep or get a job, and Jews, Communists and those whose lifestyles did not conform to Nazi ideals were denied membership. The Nazis especially targeted homosexuals and people whom they labelled "Gypsies."
By 1935, 2,000 actors, singers, and musicians had been driven from their orchestras, clubs and cafes (along with 10,000 public health and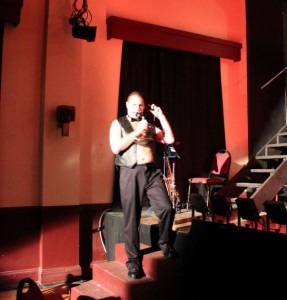 social workers, 4,000 lawyers, 2,000 doctors, 1,200 editors and journalist and 800 university professors). Nearly 25% of the Jews still remaining in Germany had been deprived of their professional livelihood.
So it's likely that Cabaret's ending was literally true, with the orchestra, emcee and Kit Kat Boyz all being driven from Germany or worse, being interred and gassed in one of Germany and Poland's extermination camps.
Andy Savoie plays Bobby (and the German sailor and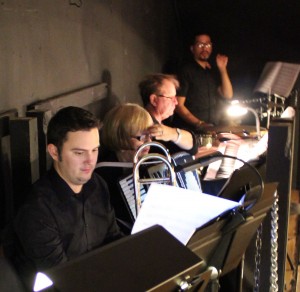 official). He's thrilled to be part of the cast of Cabaret, which is his first show at Lab Theater. Past acting experiences include Charlie Dark Glasses and one of Daddy's assistants, as well as ensemble in Sweet Charity at New Bedford High School, Peter in Jesus Christ Superstar, and Skip Snip and ensemble in Little Shop of Horrors both with Footlights Repertory in Massachusetts.
Viktor is played by Jack Weld, who was last seen at Lab Theater in Glengarry, Glenn Ross last spring. He has also appeared in the chorus of La Boheme with Opera Naples and several musicals with The Naples Players. Look for Jack in The Diary of Anne Frank in April at Lab Theater.
___________________________________________________________
Herr Schultz' bitter epilogue (02-26-15)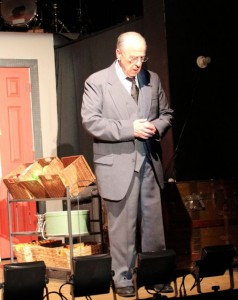 baret resumed tonight at Lab Theater. It's a show replete with perversely sexy dance routines, memorable songs and heartbreaking subplots, like the evolving romance between the spinster landlady Fraulein Schneider and the lonely Jewish fruit vendor Herr Schultz.
As the musical unfolds, the Nazi Party is gaining political capital and Adolf Hitler stands poised to wrest the German Chancellorship from incumbent President Field Marshall Hindenberg. Their impending nuptials are derailed when Fraulein Schneider's Nazi friend Ernst Ludwig tells her to break off her engagement to Schultz, who cannot envision or accept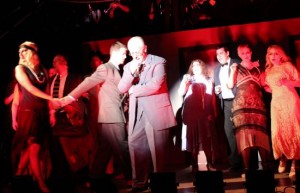 that German Jews will be accorded no place in the Fuhrer's Third Reich.
Hitler became Chancellor on January 30, 1933. That March, his Stormtroopers launched a campaign of terror during which Jewish shopkeepers, rabbis and community leaders were randomly beaten by groups of 5-30 men and left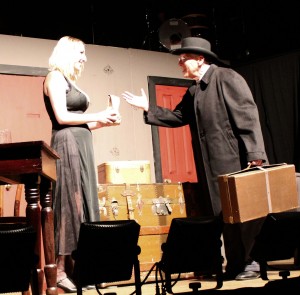 bloody, bruised and semi-conscious laying in the streets. Herr Schultz could have been the victim of one of these Einzeloperationen or "individual operations," but even if not, he would have seen or heard about one or more. And his fruit stand would have unquestionably been among the Jewish shops, cafés and businesses that were subjected to a Nazi-imposed boycott on April 1, during which Stormtroopers stood outside their stores holding placards that urged Germans not to enter. Stars of David in yellow on black were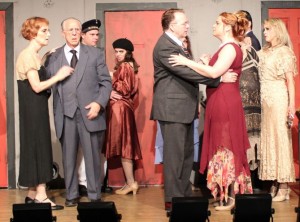 painted on their doors and windows alongside swastikas and the word "Jude" in crude lettering.
To further terrorize political opponents, homosexuals, Communists and Jews, the new government set up concentration camps at Dachau, Sachsenhausen and Esterwegen, where daily beating and harsh treatment were the rule. The prison population there could have certainly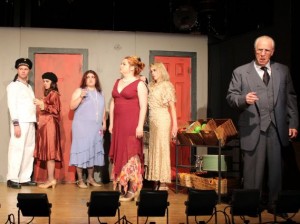 included Schultz, the Kit Kat's emcee, Victor, Bobby and one or more of the boys in the band. Or they could have been one of the German Jews who were singled out for violent assault or targeted by the Geheime Staatspolizei, which was taken over by the Nazis on April 26 and converted into the Gestapo. By the end of July, more than 26,000 people had been placed in "protective custody" in concentration camps and Gestapo prisons.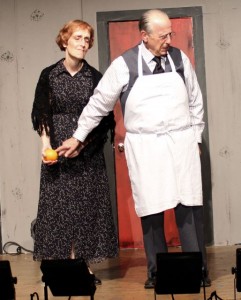 By October's end, placards had appeared on thousands of cafes, sports stadiums and roads leading into towns and villages reading "Jews not wanted."
By Chanukah, Germany's 500,000 Jews had little to celebrate. The past year had seen the murder of 36 Jews, the death of six others during the course of "mob outrages," and the departure of 30,000 for points in Palestine, Britain, the United States and other Western European countries. But believing that "sure a Jew, but a German" and "everything will be fine," it is unlikely that Herr Schultz was one of these emigrants, and in that case he would have eventually been interred in one of the growing number of death camps that included Dachau, Sobibor, Auschwitz, Treblinka and Theresienstadt. While neither Christopher Isherwood nor playwright/directors Sam Mendes/Rob Marshall ever said, the amiable, warm-hearted Herr Schultz would have almost certainly perished before Germany invaded Poland on September 1, 1938.
________________________________________________________________________
Local actor Joseph Loiacono provides perspective on his character and Cabaret (02-25-15)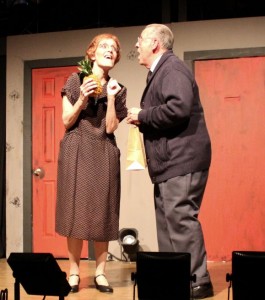 Cabaret concludes its spectacular sold-out run at Lab Theater this Thursday, Friday and Saturday, February 26-28. Central to the storyline of this glitzy musical that's filled with scantily-clad promiscuous Kit Kat Girlz and Boyz, their lewd and lascivious emcee and the singularly beautiful British cabaret singer, Sally Bowles, is the romance between Fraulein Schneider and her elderly Jewish tenant, Herr Schultz.
Theirs is a moving, bittersweet affair in which hope and love and later-in-life companionship are crushed by Adolf Hitler's ascendancy to power. Caught in the tsunami of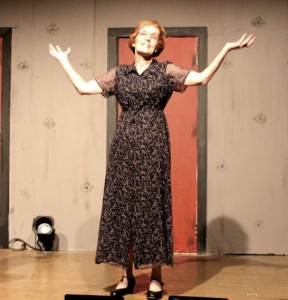 world events that take no notice of their dreams and feelings, all Fraulein Schneider and Herr Schultz can do is watch forlornly as their lives and the world they once knew crumble all about them.
Fraulein Schneider is tenderly portrayed by Beverly Canell. Beverly has been privileged to perform in many shows in Southwest Florida and counts among her favorite musical roles Ernestine Money in Hello Dolly, Miss Flannery in Thoroughly Modern Millie, and General Cartwright in Guys and Dolls. Other favorites include Mary in Mauritius and Renee in The Odd Couple, Female Version.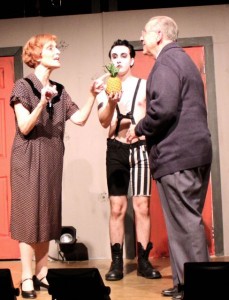 "Beverly and I played Fraulein Schneider and Herr Schultz seven years ago for the Naples Players," points out Joseph Loiacono,  who plays the part of Herr Schultz in the current production. "Their production, though, was based on the original script," which Joe Masteroff adapted for Broadway in 1966 from John Van Druten's I Am a Camera and novelist Christopher Isherwood's Berlin Stories.
Having performed in both versions of the musical seven years apart, Loiacono sees big differences.
"The original is more subdued," Joseph opines. "This one is more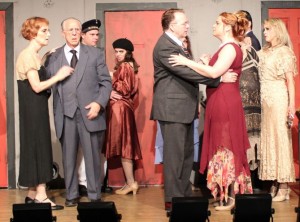 contemporary, up-to-date, a bit more risqué, but I really enjoy both shows equally." The way in which parents lover their children equally although qualitatively differently.
But while the action in the Kit Kat Klub may have intensified and become somewhat more homoerotic, Schneider's and Schultz' characters have remained virtually unchanged from the 1966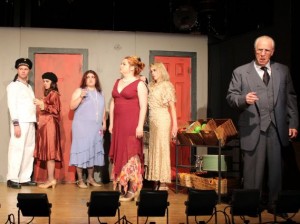 original to the 1998 Sam Mendes/Rob Marshall rebirth. And Loiacono is especially sympathetic to Schultz' all too common myopia in the face of impending cataclysmic political change.
"Herr Schultz may be a Jew by religion, but he is a German, a devoted German first and foremost," shares Loiacono. "He didn't serve in World War I, but he contributes to the German economy as an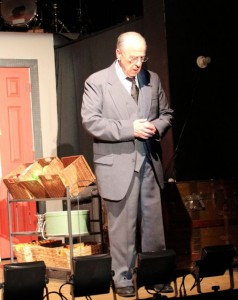 entrepreneur. He's a widower; successful but very lonely, and that explains why he lives in Fraulein Schneider's boarding house. He could afford other accommodations. He's affluent enough to sustain himself anywhere he chooses to live. But he wants to be around people."
And poor Herr Schultz not only becomes infatuated with Fraulein Schneider, he finds himself in the throes of a euphoric Maslow high when she agrees to marry him. So he's not prepared for the double blow he is dealt at his engagement party when Fraulein Schneider's friend, Ernst Ludwig, makes it clear that he's not welcome in Nazi-controlled German society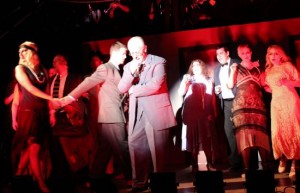 and he's not suitable for marriage to a German national because of his Jewish lineage.
"He's devastated by this because somewhere deep down, he considers himself to be more German than Jewish, and he cannot reconcile the two," says Loiacono. "'Sure, a Jew, but a German,' he keeps repeating. 'It will be fine,' he convinces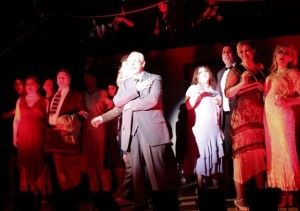 himself. But, of course, it's not and he cannot foresee what will happen to him if he stays in Berlin."
In this way, Loiacono's character serves as a stand-in for the entire German Jewish population in 1931. German Jews were stunned by what transpired in the months leading up to and the aftermath following Hitler's appointment as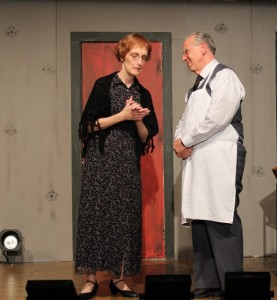 Chancellor in 1933. They had, after all, been among Europe's most assimilated, most cultured, most active contributors to the national life of Germany. Hundreds of thousands of them had become an integral part of German society. They had made significant contributions to German science, medicine, industry, music and the visual arts. But Hitler dismissed all of their contributions in a single compound sentence. In a speech to the German Doctors Union, he railed, "The greatest achievements in intellectual life can never be produced by those of an alien race, but only by those who are inspired by the Aryan and German spirit."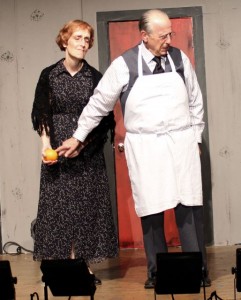 And so, Albert Einstein was forced into exile. Sigmund Freud too (although his sisters Marie (82) and Pauline (80) perished in Treblinka, Rosa (84) in Auschwitz and Adolfine (81) at Theresienstadt). By the end of July, 1933, more than 26,000 Germans had been taken into "protective custody" in concentration camps and Gestapo prisons. Many of these were Jewish businessmen and shopkeepers.
As the pogroms and anti-Semitic vitriol increased, German Jews reacted differently. In despair, a few committed suicide. Thousands left Germany as exiles, abandoning their possessions, friends and lifetime links and associations. More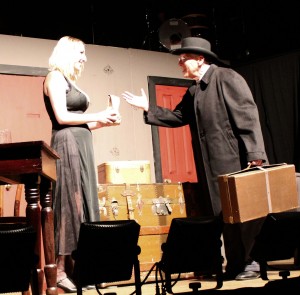 than 5,000 emigrated to Palestine before that country and the United States and England closed their borders to Jewish refugees. But most waited, hoping that the storm would pass and the anti-Jewish excesses would subside. Sure, there might be restrictions and limitations on their freedom and ability to earn a livelihood, but Jews had weathered such storms before. Besides, who really wanted to pick up stakes and move to a strange new land with no job, no home, no family or friends waiting for them. There were even cases of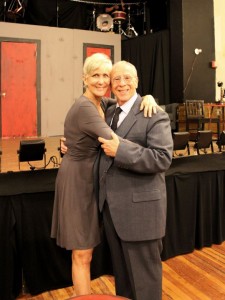 Jews who, unable to adjust to life abroad, returned to Germany.
Within 12 long years, all but a handful of the country's devoted Jewish Germans would be dead, most having perished in death camps like Dachau, Sobibor, Auschwitz, Treblinka and Theresienstadt. While we don't know what happened to Herr Schultz, it's entirely possible he may have met his end in one of them.
Joseph Loiacono has spent over a decade performing in Southwest Florida. The part of Arvide Abernathy in Guys and Dolls started his run with the Naples Players. Other shows include Mame, Anything Goes, Rumors, Arsenic and Old Lace, Fiddler on the Roof, 42nd Street and, of course, Cabaret.
_____________________________________________________________________
Scott Carpenter turns in thoughtful, humanized portrayal of 'Cabaret's' good Nazi Ernst Ludwig (02-21-15)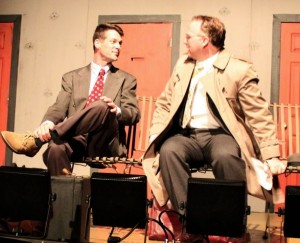 Scott Carpenter has played lots of prestigious roles. He was Roma in Glengarry, Glen Ross, George in Who's Afraid of Virginia Woolf, Billy Flynn in CHICAGO, and Don Lockwood in Singin' in the Rain. But without doubt, the most heinous character that he has played to date is that of Ernst Ludwig in Lab Theater's first musical, Cabaret.
The audience first meets Ernst on a train bound for Berlin, where he befriends wannabe American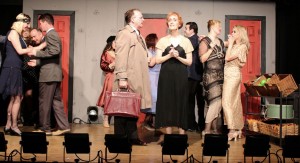 novelist, Cliff Bradshaw, played by Jason Drew. He's an outgoing, gregarious smuggler who takes Bradshaw under his wing and tells him where to find lodging and entertainment, given that it is New Year's Eve. He later gives Bradshaw the chance to make some good money smuggling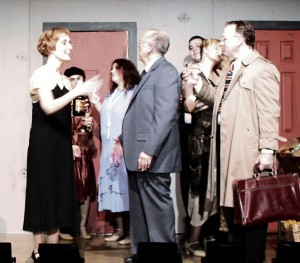 perfume and silk stockings from Paris into Berlin, but it's not until the engagement party of Bradshaw's landlady, Fraulein Schneider, to her elderly Jewish fruit vendor, Herr Schultz, that we learn that the contents of the packages that Ernst and Cliff have been smuggling are currency needed to fund the ascending Nazi Party, which has just won 107 seats in the Reichstag, brandishing a slogan of Deutschland erwache, Judah verrecke (Germany awake, death to Judah).
Ernst and Fraulein Schneider are friends, and when he is told that her fiance' is Jewish, he immediately warns her to call off her impending nuptials or suffer dire consequences. His point is underscored by the swastika armband that's revealed like a gut punch when he removes his topcoat and leads the attendees at the party except Cliff, British cabaret singer Sally Bowles and Herr Schultz, of course, in a fervent rendition of a pro-Nazi-new-Germany patriotic song.
Now inasmuch as musical sold out even before it opened, I'm not giving away any secrets here, but the good fraulein does indeed call off the wedding in a painfully poignant scene in Act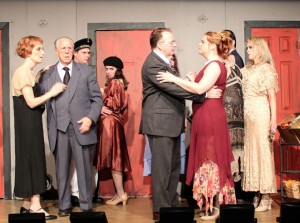 Two. But hate him as you must, Ernst actually saved his friend's life. In their obsession with scapegoating Jews for all the ills of Germany and the world beyond and maintaining the purity of the Aryan bloodline, non-Jewish mates were to suffer the same fate as their Jewish spouses in the years 15 years that transpired as Cabaret draws to an end.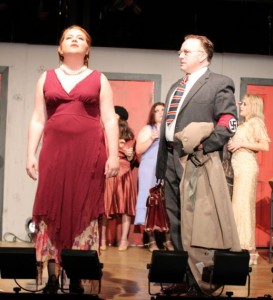 It began officially roughly three years later when, on June 14, 1934, a special court in Nuremberg sentenced the non-Jewish wife of a Jew to four months in prison as a "race-defiling female." A year later, German girls were urged in an article in a national publication to "wake up and not go with Jews any longer." The piece went on to say "German women, if you buy from Jews, and German girls, if you carry on with Jews, then you both betray your German Volk and its Fuhrer, Adolf Hitler and commit a sin against your German Volk and its future." The article spurred a newspaper campaign demanding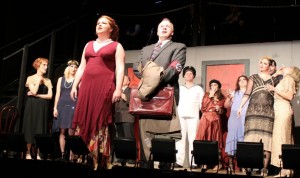 legislation to criminalize sexual relations between Jews and non-Jews that finally culminated in the Nuremberg Laws of September 1, 1935, which Hitler personally signed. Under this legislation, marriages between Jews and German nationals were forbidden and sexual relations were banned "to protect the purity of German blood.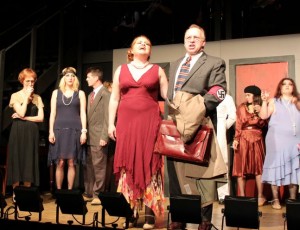 So while the character of Ernst Ludwig metaphorically represents the sort of anti-Semitic who was attracted to the Nazi Party in 1931, Scott Carpenter's humanized portrayal reminds us that many of these men were good fathers, good husbands and good friends and not one-dimensional evil monsters with a penchant for sadism and perversion. They were "terribly and terrifyingly normal" concludes political theorist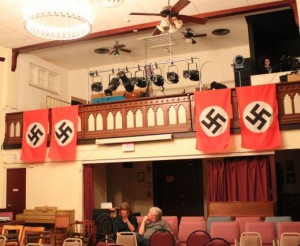 Hannah Arendt, who reported for The New Yorker on the war crimes trial of Adolf Eichmann, who was responsible for implementing the Final Solution that resulted in the extermination of 6 million Jews. One million of them perished in Treblinka and Sobibor, whose commandant Franz Stangl was described as hard-working, resilient, a doting dad and devoted husband. So then how do you explain how such a nice guy as Scott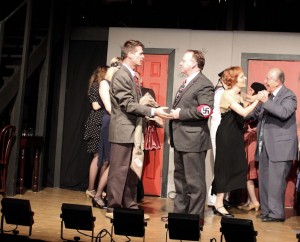 Carpenter's Ernst Ludwig could become a feared and fearsome Nazi? He, like many Germans of the day and people around the globe now, had the infinite capacity to manipulate and repress his own scruples and moral compass.
Carpenter has a BA in Theatre from the William Paterson University and is a member of SAG/AFTRA. In addition to the productions mentioned above, he was seen in Lab Theater's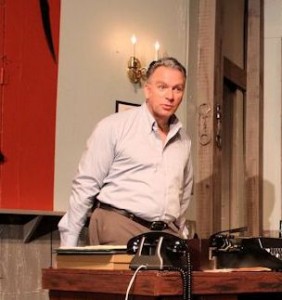 Deathtrap and last summer's hit Standing on Ceremony: The Gay Marriage Plays. Scott is also an accomplished director, and will be directing Lab Theater's next show, Same Time, Next Year. His directing credits include Jekyll & Hyde, the Musical, South Pacific, MAME, The Children's Hour, An Actor's Nightmare, Anywhere From Here and Steel Magnolias.
For more on Cabaret, keep reading.
_________________________________________________________________________
Role of Cliff Bradshaw as problematic as his relationship with singer Sally Bowles (02-17-15)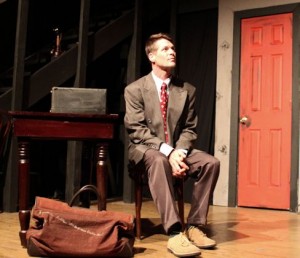 Cabaret is often touted as a story that tracks the fall of Germany's Weimar Republic and the correlative rise of Adolf Hitler and the Nazi Party, but among the musical's myriad subplots is the problematic relationship between British cabaret singer Sally Bowles and American wannabe novelist Cliff Bradshaw, who has come to Berlin in search of something interesting to write about.
Bradshaw is played by actor and radio personality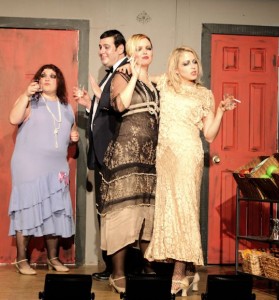 Jason Drew, who is tasked with portraying a character who is confused and ambivalent at one moment and shallow and one-dimensional the next. For example, there'd be no way we'd know that young Cliff is bisexual from his reaction when one of the Kit Kat Boyz makes a pass at him on his first night in the cabaret. He seems indifferent, maybe even a little repulsed, and yet he admits to having enjoyed gay liaisons during his stops in both London and Paris. But it's not like he's had a change of heart or orientation. He's also clearly not in love or lust with Sally even though they are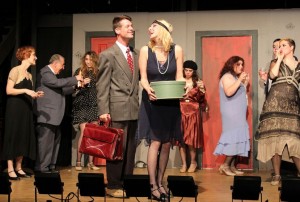 sharing his apartment and his bed. Unlike Kit Kat dancers Lulu and Rosie, who only have eyes and can't keep their hands off each other, Cliff and Sally come off more as friends than lovers in a Will and Grace sort of way.
Even more puzzling is his reaction to Sally's news that she's pregnant. Although Cliff knows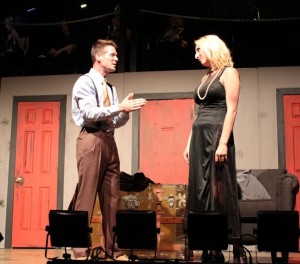 Sally's head has been on more pillows than a hotel mint, he immediately assumes responsibility for both Sally and the baby she's now carrying. And even after he slaps Sally across the face when she tells him that she's aborted the fetus, he still wants to take her home to Pennsylvania although, admittedly, he doesn't insist at all that she leave Germany while she still can.
None of this rings true, and as fiction writer Rick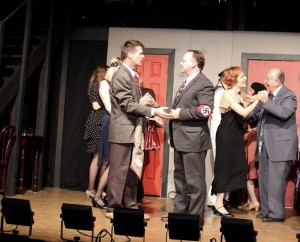 Castle says often on the eponymous television series, "I wouldn't have written it that way."
While the character lacks any real degree of passion when it comes to matters of the heart, he is ready, willing and eager to wax philosophically about political matters. Among his first purchases following this arrival in Berlin is a copy of Mein Kampf, which he devours in order to learn about local politics. And though he is a stranger in a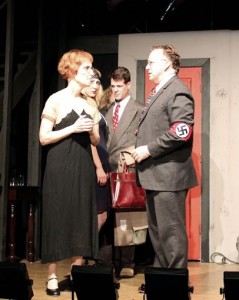 strange land, he is outspoken in his condemnation of Nazi ideology. He does not hesitate to tell his only male friend in town, Ernst Ludwig, that he not only doesn't agree with his views, he won't do anything to help his cause, including smuggling currency into Germany even though Ernst is willing to pay him well for his services. "If you're not against all of this, then you're for it," he tells Sally with more amplitude and animation than he manages to muster in any of their more personal exchanges.
Perhaps the reason for Cliff's surprising verbal heroics is that Berlin Stories author Chrisopher Isherwood based the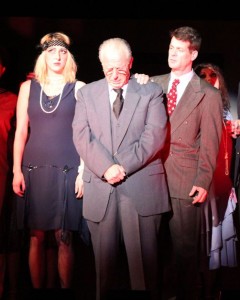 character on himself. Isherwood went to Berlin to write a novel and ended up living a promiscuous cabaret singer by the name of Jean Ross, on whom the character of Sally Bowles is based. And Isherwood needed a foil to voice the reaction that Americans should have had to Hitler and his Nazi minions as they were wresting control of Germany from the decaying and decadent Second Reich in the days, weeks and months leading up to his appointment as Chancellor in 1933. But the character would have been more interesting had Drew been free to deliver more nuanced and layered responses to the people and events he encounters during the course of the story. But alas,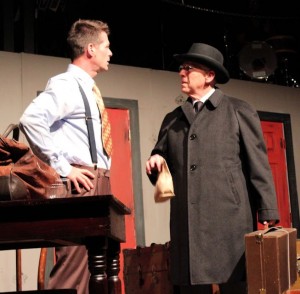 directors and authors are only allowed so much latitude in their interpretation of a scripted part.
Ironically, as portrayed, Cliff Bradshaw becomes a counterpoint to Hitler's own ubermensch.
Jason Drew began his career in the performing arts with musical theater training in New York City. After regional work, Jason discovered another facet of the entertainment world when he landed a role as a radio host. His radio career took him from a tiny station in Connecticut to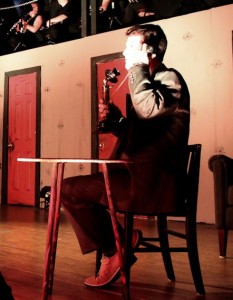 Pittsburgh and then New York, where he became an on-air personality for legendary WPLJ 95.5.
While in New York, Drew landed a syndicated show, Radio with a Twist, as well as several Sirius/XM Radio channels, on which he shined the most on Broadway's Best. On camera, Jason was host and associate producer of AP-RED.com, featuring entertainment news, interviews, red carpet events and the best from Broadway to Hollywood.
Jason moved to Southwest Florida last hear and couldn't be happier to have met the talented team of Cabaret.
____________________________________________
Remaining performances of Cabaret sold out (02-15-15)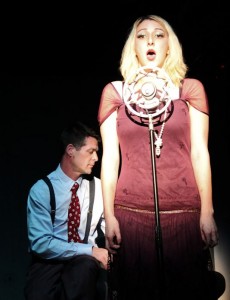 Cabaret is on stage now through February 28 at Lab Theater, which has been converted both on and off stage into Berlin's seedy, seemy, tawdry, bawdy Kit Kat Klub for the production. But if you don't have tickets already, you are not going to get to experience this musical/theatrical event. All remaining performances of Cabaret are sold out.
In fact, every performance of the this spectacular show have sold out since before the opening on February 6. Cabaret joins a long line of sold-out performances that include MacBeth, Hamlet, Romeo & Juliet, Amadeus and Agnes of God. "But those shows sold out after the reviews came out," notes Artistic Director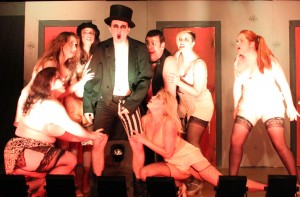 Annette Trossbach. "Cabaret was sold out even before the opening, which has never happened at Lab Theater before."
It's small wonder given the superlative acting, Broadway-quality music and immersive manner in which the production has been staged.
Don't miss out again. Lab Theater has two more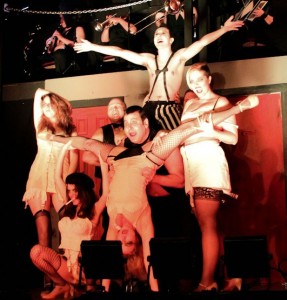 productions remaining in its 2014-2015 season. Bernard Siade's Same Time Next Year opens March 13. This charming romantic comedy tells the story of two people, married to others, who meet for a romantic tryst once a year for 25 years. They develop an emotional intimacy, share their lives and react to the social changes in America.
Lab Theater ends its sixth season with The Diary of Anne Franke by Frances Goodrich and Albert Hackett. Sponsored by Ella Nayor and Jeffrey Cull and Deb Meisenberg and opening April 10, 2015, this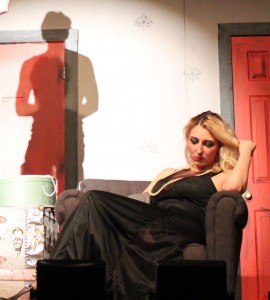 play tells the story of occupied Amsterdam and a family and acquaintances hidden in the sealed-off upper rooms of an office building. Anne Frank began her diary when she turned 13 and 22 days before she went into hiding. This is her story of captivity and fear, but also the burgeoning of a hopeful and beautiful spirit. The Diary of Anne Frank is a play which reminds us of the horrors of war and is a fascinating commentary on human courage and frailty. "I still believe, in spite of everything, that people are truly good at heart…" -Anne Frank.
_____________________________________________________
Kit Kat Girls in tune and at one with 1931 cabaret milieu (02-11-15)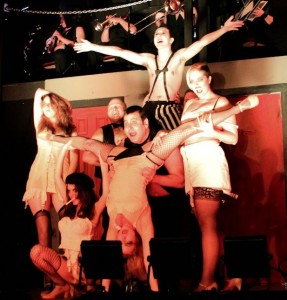 Cabaret is on stage now through February 28 at Lab Theater, which has been converted both on and off stage into Berlin's seedy, seemy, tawdry, bawdy Kit Kat Klub for the production.
As the play opens the Kit Kat Klub's Master of Ceremonies (smartly played by Ty Landers) asks the audience, "Comma ca va? Do you feel good? So life's disappointing? Forget it. We have no troubles here. Life is beautiful. The girls are beautiful. Even the orchestra is beautiful." But if all that is true, then why do the Kit Kat Girls all look so damn sullen, despondent and bored?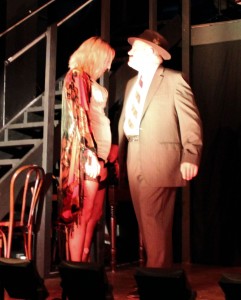 Well, first there's the matter of sexual harassment. "In our pre-production meetings, we all pretty much decided that the only reason they're working there is because they've all screwed Max, the owner," relates director Brenda Kensler. "That's how they got their jobs." And as popular headliner Sally Bowles discovers to her chagrin not too far into the story, that's also the only way they keep their jobs as well.
On top of that, the girls are painfully aware that they are not all that talented and their chances of landing a gig as a singer or dancer at a better nightclub or theater whether in Berlin, Paris, London or Prague is next to nil. Thus, their only way out of the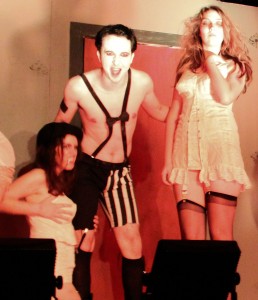 cabaret is to find some man who will give them money and a place to live, but given that the Kit Kat Klub is little more than a glorified strip joint, that's not terribly likely either. And so their desperation is palpable. It's reflected in the empty stares, blank expressions and don't-give-a-shit attitudes of Fritzi, Dallas, the saxophone-playing Helga and the bereted, chain-smoking Frenchie. It's belied by Rosie and Lulu's obsession with each other to the exclusion of everything and everyone around them.
As a consequence of their desperation, each girl possesses a sadness and vulnerability that presents a definitive problem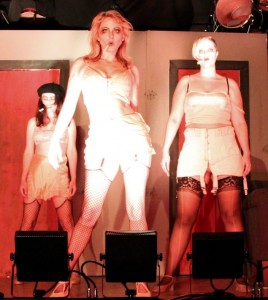 for every man in the audience. Each of the Kit Kat Girls is a sex siren in her own inimitable fashion and her unique combination of sex kitten, sense of sadness and deep-seated vulnerability triggers the male impulse to save and protect the fairer sex. It was this perversely satisfying mix that enabled Cleopatra to subjugate Julius Caesar and Norma Jean Mortensen (better known as Marilyn Monroe) to fell baseball legend Joltin' Joe DiMaggio and the powerful Kennedy brothers.
Yes, individually and collectively these Kit Kat Girls are enticing, enthralling and titillating. It's hard to take your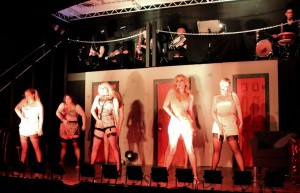 eyes off them – even to watch the Depp-like antics of the Kit Kat emcee or to drink in the nectar of Sally Bowles' beguiling vocals. But is equally clear that they are a scary bunch who'd even give the Sons of Anarchy cause for pause, never mind a less virile, more conscienced guy.
That the Kit Kat Girls are so in tune and at one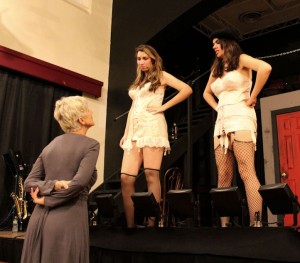 with their milieu is a credit to the directorial skills of Brenda Kensler. "It's hard to take very talented performers who can sing and dance, and tell them that if you really worked at a place like the Kit Kat Klub, you wouldn't be that talented because if you were, you wouldn't be working there," Kensler throws down. "Still, you can't stumble or trip someone [during one of the dance numbers]. You still have to know the choreography, but you have to know it so well that you come across as if you've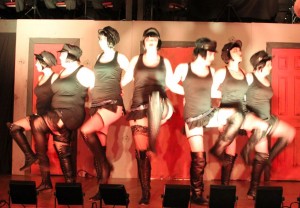 done it a thousand times and can hardly bear having to go out and do it yet again."
To also help the girls get in character, Kensler put them in authentic vintage lingerie. "I started collecting it almost a full year ago, and when I started, I could get an outfit on eBay for just $6 or $8," Kensler laughs. "Then Gatsby came out and suddenly vintage lingerie was all the rage. I paid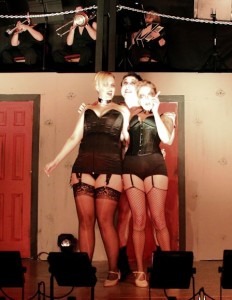 $80 for the last couple of outfits I needed for the show," she adds, with a woeful shake of her head.
To be sure, the lingerie is skimpy. "I put the costumes out for the audition and said, 'If you can't wear these, then don't stay.'" But Lucy Harris, Madison Mitchell, Yoanna Nikolova, Elena Novak, Lauren Redeker and Shelley Rae Sanders did stay and won parts in the production. But their tutelage was only just beginning.
"To give them the proper mindset, I also gave them a four-minute video to watch that consisted of rapid-fire still images from various concentration camps. When they were done, I said, 'Now,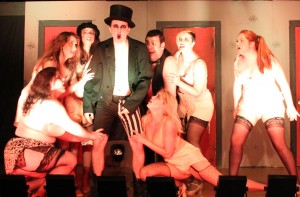 let's focus again because this is where we're at when the show ends."
It made an impression that was reinforced by Ty Landers, who visited a death camp in Germany with a friend whose grandfather died in the camp. Landers also pointed out to the troupe that the 70th anniversary of Auschwitz's liberation was coming up. Each actress carries those sobering insights into each new performance.
"The Kit Kat Girls are real people," Kensler emphasizes, expressing the fervent hope that the audience not view them as a one-fits-all caricature of a dance hall whore. "Different shapes. Different sizes. Different personalities. They're introduced in the beginning and you know who they are throughout the show."
Keep reading to meet the Kit Kat Girls.
_______________________________________________________________
Shelley Rae Sanders plays Kit Kat girl Lulu (02-11-15)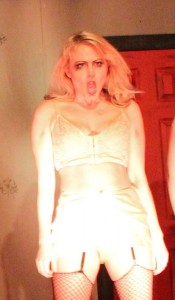 n every chorus line and dance troupe there is one girl who stands out, and in Cabaret, that performer is Shelley Rae Sanders, who plays Lulu. Her dancing is crisp and fluid, her acting expressive and evocative, and she turns in a show-stopping unforgettable performance in Two Ladies. Sanders appeared on the Lab Theater stage just a few short weeks ago in the 24-Hour Playwriting Project as a student by the name of Emily who is working her way through law school as a Craigslist escort in a one-act play written by retired attorney Les Abromovitz that won the prestigious Audience Choice Award. Sanders has also appeared as Cassie in A Chorus Line, Grace Farrell and Lilly St. Regis in two different productions of Annie, Bianca in Taming of the Shrew, Mona in Chicago, Eileen in Moon Over Buffalo, Dinah in South Pacific, Jersey Girls, Fermina in Man of LaMancha, George M., Guys and Dolls, Harvey and Fame. Originally from Friendswood, Texas, Shelley has lived in Florida since 2001.
______________________________________________________________
Elena Novak plays the role of Kit Kat girl Frenchie (02-11-15)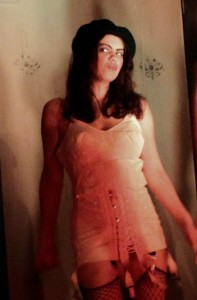 Elena Novak plays the role of Frenchie, and with her black beret, cigarette dangling from her seductively parted lips and condescending shuttered eyes, she really looks the part. This girl is all attitude, and she looks as if she'd just as soon shank you as shag you, so approach her at your own risk.
Novak is thrilled to be included in the cast of Cabaret, and includes in her prior acting credits Dorothy in The Wizard of Oz (seriously?) and Evilene in Once Upon a Time.
See above for remaining play dates, times and ticket information.
____________________________________________________
Fort Myers High senior Yoanna Nikolova plays role of sax-playing Helga (02-11-15)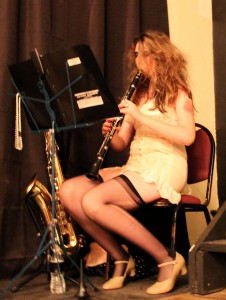 Yoanna Nikolova plays Helga, who vacillates between playing the saxophone at the foot of the stairs leading up to the orchestra and a high-stepping Kit Kat Girl. Because of her proximity to the audience, she is "on stage" the entire play, slouching in her chair, seemingly bored out of her mind, a Kit Kat Girl par excellence. Nikolova's recent musical credits include saxophone in the pit orchestra for Fort Myers High School's production of Les Miserables and Cabaret. The Fort Myers High senior was also 1st chair Tenor Saxophone in the All-County Jazz Band two years in a row.
___________________________________________________
Madison Mitchell plays Kit Kat girl Rosie (02-11-15)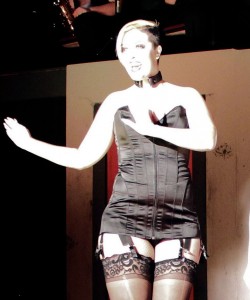 Madison Mitchell plays Rosie, who is Lulu's and the Emcee's love interest (Two Women, One Man). Madison returns to the Lab Theater after last performing in A Clockwork Orange. Among her prior acting credits are Sweeney Todd, My First Time, Something's Afoot, Into the Woods, Noises Off, The Dunes. She has also appeared in numerous commercials and special projects throughout Southwest Florida. Madison attended Herbert Berghof Studio for acting in Greenwich Village before receiving her Bachelors in Political Communications at Florida Gulf Coast University.
________________________________
Lucy Harris plays Kit Kat girl Fritzi (02-11-15)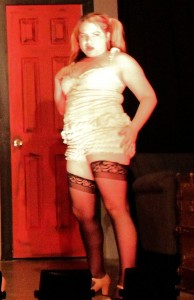 Lucy Harris is Fritzi. You may have seen her at the Lab as Sydney in The Altruists, Cunningham in The Last Days of Judas Iscariot, Germaine in Picasso at the Lapin Agile, or Catherine Givings in The Vibrator Play. She also performed at the Sugden Theater in Naples as Amnesia in Nunsense, Agnes Gooch in Mame, Helsa in The Musical Comedy Murders of 1940 and Annabelle in Steel Magnolias.
She is very excited to get back to her musical roots and loves that The Laboratory Theater is tackling such an amazing show.
___________________________________________________________
Lauren Redeker is Kit Kat girl Texas (02-11-15)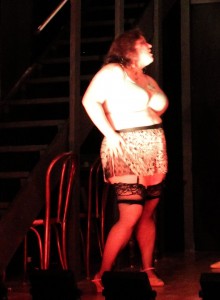 Lauren Redeker plays Texas. A Lehigh University grad, Lauren was a member of the University Choir and the a capella group, The Overtones, with which she toured Russia, Germany, Thailand and China. Lauren is a seasoned stage performer, with appearances as Mazeppa in Gypsy, Sister Mary Hubert in Nunsense, Henrietta in All Shook Up. She also performed with The Naples Players in Les Miserables, Little Shop of Horrors, Smokey Joe's Café and Disney's Beauty and the Beast. Cabaret represents Lauren's debut with Lab Theater, where she recently directed a one-act play as part of the 24-Hour Playwriting Project.
____________________________________________________________
Music alone is reason enough to come to Lab Theater's 'Cabaret' (02-10-15)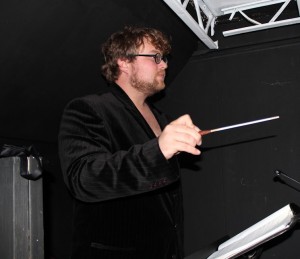 Cabaret resumes on Thursday at Lab Theater, which has been converted both on and off stage into Berlin's seedy, seemy, tawdry, bawdy Kit Kat Klub, where life is beautiful, the girls are beautiful and even the orchestra is beautiful.
The orchestra consists of Kevin Devitt on trombone, Chris Neron on trumpet, Gabe Wallace and Yoanna Nikolova on woodwinds, Bill Dawson on piano, Marian Wegge on accordion and Jesse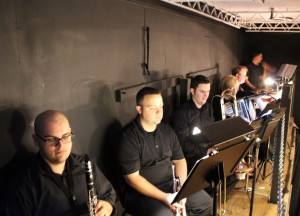 Orozco on drums. They perform flawlessly, no, exquisitely under the direction of Julian Sundby, who also put the band together for the show.
"[Director] Brenda [Kensler] and [her husband] David and I have been friends awhile. In fact, David and I have produced a few songs together. He came to see me at Vibe several months ago and asked me to put a band together, and here we are,"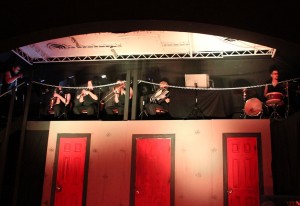 Julian says, providing the backstory. "I'm so excited and honored that they asked me to do this. It combines everything that I do. I got the best people I could, and thank God, they all did it. They play all over the place and they agreed to join me in this project. It's such a massive production, but it's tremendous fun and we're absolutely having a blast."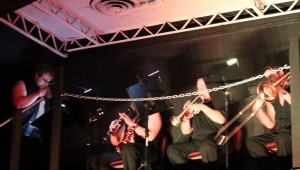 And they are indeed having a blast, especially Devitt, Neron, Wallace and Nikolova. "No one can blow an instrument quite like [them]," observes the Kit Kat Master of Ceremonies (played by Ty Landers) during Cabaret's opening number.
Without question, from within the quaint and cozy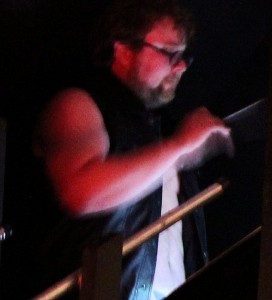 environ of the old church that is home to Lab Theater, the band can make or break a musical as big and as iconic as Cabaret. But thanks to Sundby, the orchestra is up to the challenge. From their floating platform eight feet above the stage floor, they play with passion, fervor and a joie de vivre that infuses the production with a big show feel. Even if Broadway show tunes is not your thing, the music alone is reason enough to come to the Cabaret. And with composer John Kander's brilliant score and the late Fred Ebb's masterful lyrics, as each number ends, you will find yourself wanting to hear it all over again.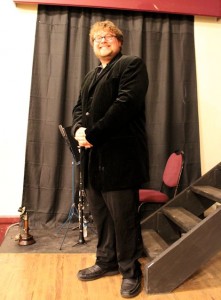 Sundby studied at Indiana University, Florida SouthWestern State College (when it was Edison) and with Dr. David Baker, Mary Griffin-Seal, Helen Niedung, Dr. Dennis Hill, Lynne Arriale and Dr. Luke Gillespie. He was a child member of the Cathedral Choir of Men and Boys in Indianapolis, with whom he performed in St. Paul's Cathedral, Westminster Abbey and the Berliner Dom. Julian was a member of the Indiana All-State Jazz Band and the Indiana University Latin American Popular Music Ensemble and other bands and choirs across the country. He is producer/manager for Vibe Recording studio, music director for Buckingham Presbyterian Church, founder and director of the Lehigh Children's Choir and the President of Sunjewel Records.
Space is limited and performances are selling out. So make your reservations now. See above for play dates, times and ticket information
__________________________________________________________________
Ty Landers turns in Depp-like performance as Kit Kat Klub Master of Ceremonies in Lab Theater's 'Cabaret' (02-07-15)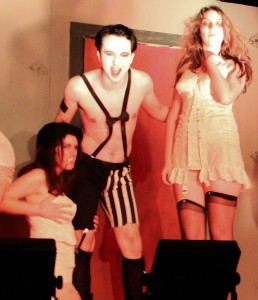 On stage now through February 28 at the Laboratory Theater of Florida is Cabaret, the company's first-ever musical. Produced and directed by Brenda Kensler, the 1998 Sam Mendes and Rob Marshall revival of the 1966 Broadway production stars Ty Landers as the oversexed, androgynous emcee of the Kit Kat Klub, a role that was reprised by both Joel Gray and Alan Cummings.
Gray was the ringmaster in a circus of sexual deviants. Cummings, by contrast, brings the audience inside, seduces them into the Kit Kat Klub's world of debauchery making them co-conspirators, co-criminals, complicit in the horror.
As he aged, Cummings changed from a rent boy to an older, darker character, all the more cynical because of all that he had seen and done.
Landers' emcee clearly relishes the club's decadence, depravity and amorality, but rather than beckoning us to join in the action, he seems to be asking through medley of quizzical, incredulous and farcical facial expressions "Are you really sure you want to do this?" Maybe it's because he knows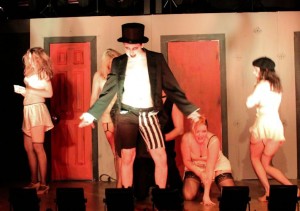 how it all turns out, or perhaps he realizes that once you start down the rabbit hole, there's no turning back. But there is something foreboding, forbidding and stand-offish in this emcee's interactions with the audience.
"I did watch several interpretations of the role, although not the movie, since that's not what we're doing in this production," Landers confesses.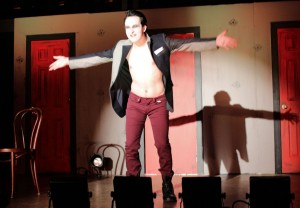 "[Director] Brenda [Kensler] and I are trying to do something fresh and new, realizing, of course, that the audience has certain expectations and there's a fine line between these competing tensions."
Landers maintains this balancing act with the deft and adroitness of a Nik Wallenda crossing the dark, windy-city skies over Chicago on a tightrope without safety net or tether. At times, he gives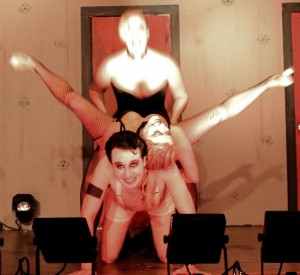 himself over to wanton lechery and lasciviousness, getting deep into the mind and demeanor of his character with a look and intensity that conjures a made-up and costumed Johnny Depp. But at other times, he hangs on the periphery, observant yet strangely detached from the depravity losing command of the club and events spiraling out of control all around him.
The musical number Two Ladies is a point in case.  The lyrics suggest that our oversexed emcee is the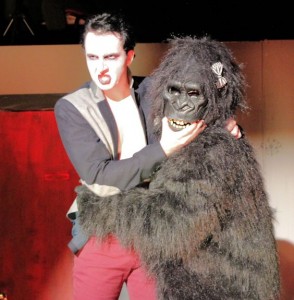 center of an whirling, swirling threesome in which he's the only man. "I like it. They like it. This two for one." But on stage, the girls seem more interested in each other, leaving the emcee on the outside looking in during most of the routine.
And that underscores Landers' qua director Kensler's slant on this Kit Kat emcee. He's a metaphorical stand-in for the German people in the Weimar Republic in 1929-1931, as the Nazis swept to power seemingly overnight, vaulting Adolf Hitler into the office of Chancellor that was the stepping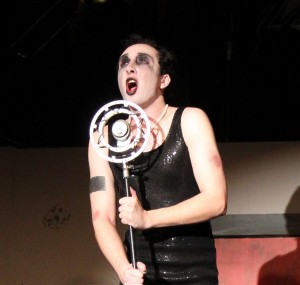 off point for his subsequent power grab in Germany and that Europe beyond. At first, like the vast majority of hedonistic, pleasure-seeking Germans, our emcee deludes himself into thinking that all this politics doesn't affect him. But as it becomes clear that it does, he realizes too late that the democratic republic's disintegration and the Nazi's rise to power spells the end to their freedom and for the orchestra, the Kit Kat boys and him personally, the loss of their very lives. Blunting the pain with increasingly more booze, pills, drugs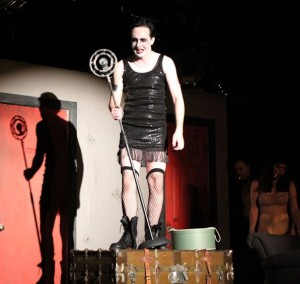 and debauchery, Landers' metaphorical Master of Ceremonies is barely able to make it through the songs and routines he once handled with command, control and confidence.
Landers drives this point home first with his rendition of If You Could See Her, which he performs with a gorilla to parody the Nazi propaganda about Jews, and by virtually disintegrating himself on stage as the play draws to its inevitable soul-shattering denouement which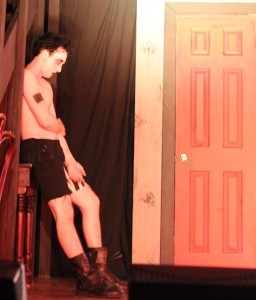 will stick in your heart and mind for days after the performance ends. But as American novelist Cliff Bradshaw warns Kit Kat headliner Sally Bowles midway through Act One, "If you're not against all this, then you're for it!" And, after all, there are consequences to elections.
Whether you love the symbolic content of plays like Cabaret, or just really good singing, dancing and acting, there's much to really, really like about Landers, co-star Taylor Adair (Sally Bowles) and the rest of the cast of Lab Theater's revival of this three-time Broadway blockbuster. See above for play dates, times and ticket information.
____________________________________________________________________________________
Taylor Adair sparkles with evocative, sensitive portrayal of British cabaret singer Sally Bowles (02-07-15)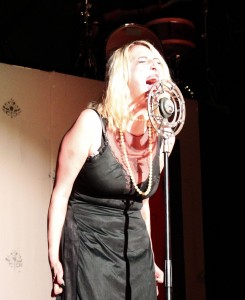 Cabaret opened last night at the Lab Theater. A musical? At Lab Theater? Hell yes! And while there are talented scene stealers, crazy good co-stars and the sullen, perversely sexy Kit Kat Girls, the star of this show is the inimitable Sally Bowles. But we don't really meet the headliner until nearly 20 minutes into the show when the Kit Kat Klub's slithery nameless emcee steps forward to say in his lilting heavily-accented affectation, "And now, meine Damen und Herren… Mesdames et Messieurs… Ladies and Gentlemen- The Kit Kat Klub is proud to present a most talented young lady from England. Yes- England! I give you- and don't forget to give her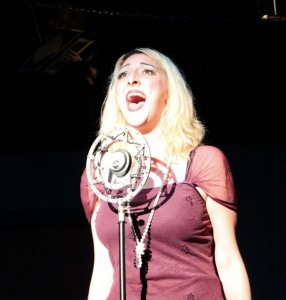 back when you're finished with her- the toast of Mayfair… Fraulein Sally Bowles!!"
Bowles is passionately but sensitively played by Taylor Adair. This is Adair's first lead, and hearing that, you might wonder what would prompt director Brenda Kensler to cast a relative rookie in such a big, important, complex role. And when Adair belts out the first stanzas of Don't Tell Mama ( who "doesn't even have an inkling that I'm working in a nightclub in a pair of lacy pants"), the Simon Cowells in the audience may be questioning Kensler's choice of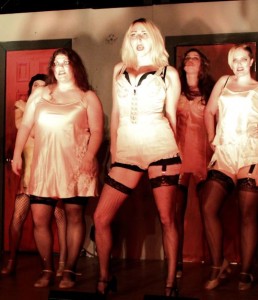 leading lady. Adair is more pitchy than melodic. She shouts more than sings, "And you can tell my Grandma, Suits me fine, Just yesterday she joined the line."
But all doubts about Adair's vocal qualifications to play Sally Bowles become Memorex with Maybe This Time. The girl has pipes. Range, vibrato, tonality and vocal control to spare. But it's her phrasing and musicality that impress. When playing off-stage Sally, Adair captivates with her limitless ability to lay bare her character's cloistered emotions and deepest inner fears.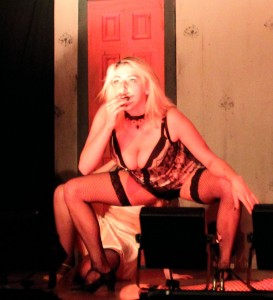 What explains the difference between  the show-stopping Maybe This Time and pitchy, less resplendent tunes like Don't Tell Mama and Mein Herr?
"I' m trying hard to play Sally the way that Christopher Isherwood wrote the character," Adair explains. Isherwood wrote the book (Berlin Stories) on which the play is based. Like the character Cliff Bradshaw, Isherwood went to Berlin to write a novel and ended up living with a promiscuous cabaret singer by the name of Jean Ross, on whom the character of Sally Bowles is based.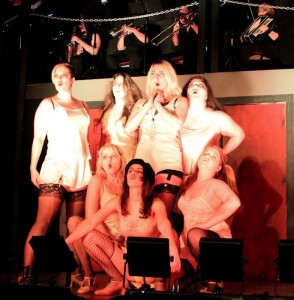 "To prepare for this part, I read the novel and in it, Sally wasn't super talented, which explains why she's performing in a place like the Kit Kat Klub [which was a dive, although one of the better underground cabarets in Berlin at the time]."  But that requires Adair to downplay her vocals when Sally's on stage in the Kit Kat Klub, a task that's complicated by being required to sing with a British accent. "I just get in character and give it over to acting," says the self-deprecating Adair. "If you know how to hit a pitch, then you can not hit the pitch just as well."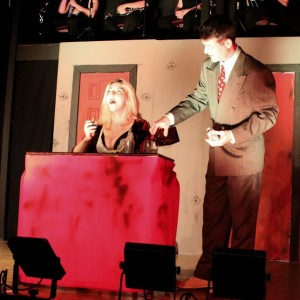 Adair plays Bowles with sensitivity and understanding. "She wasn't truly glamorous. She was stuck in the [1920s] flapper era. But Sally isn't stupid," Adair continues, supplying insight that is informed as well by hours spent viewing and breaking down I Am a Camera, a play that John Van Druten wrote based on Isherwood's Berlin Stories that was performed on Broadway in 1951 and subsequently made into a film.
"Sally has created this persona, this façade," Adair observes. In fact, Bowles tells her love interest,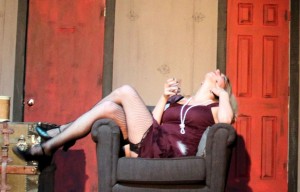 Cliff Bradshaw, "I used to pretend I was someone quite mysterious and fascinating. Then I grew up and realized I am mysterious and fascinating." But Adair knows better. "She's not stupid. She is failing and, deep down, she's knows it. She wants to be great, but it's slipping away, which makes her desperate and willing to do anything to hang on to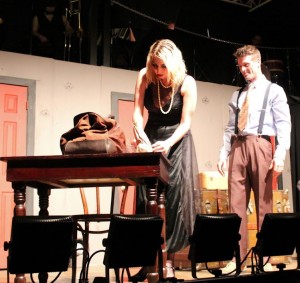 her [perceived] success." Including sleeping with the club's owner, Max, in order to stay employed, and blunting  her guilt and disgust with a continual stream of gin and drugs. "She was a real person, and I'm trying to pay respect to that."
Adair's recreation of Sally Bowles conjures comparisons to real-life cabaret singer turned Hollywood icon, Marlene Dietrich. All angles and androgyny, Dietrich was a sex symbol and fashion icon almost from the first moment she appeared in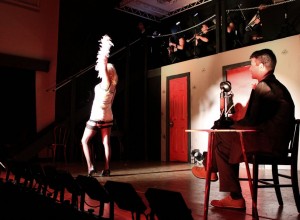 German films in the 1920s. And perhaps Sally Bowles a/k/a Jean Ross may have aspired to follow in Dietrich's footsteps. Adair's Bowles believes with every fiber of her being that if she accepts her limitations, accepts failure and gives up her dreams. She also realizes that her relentless at-any-cost pursuit of her dreams is killing her anyway. "After all, Sally does say in [the title song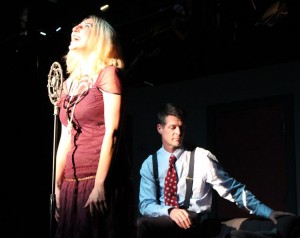 Cabaret] that 'I made my mind up back in Chelsea, when I go, I'm going like Elsie,'" who dies from too much pills and liquor.
And because of the depth and emotion that Adair brings to her adrift, emotionally-broken character, we are reminded that Cabaret is more than just the music, the girls and the orchestra … as beautiful as each may be. Cabaret is a poignant story about the way a handful of lives were affected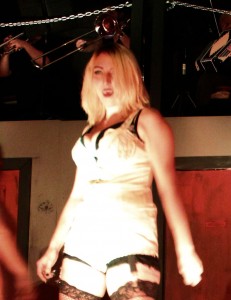 by events in 1931 Germany over which they have absolutely no control. Like an earthquake, like a tsunami, like a Category 5 hurricane, each of the characters in this sad, tragic story are irrevocably altered by a confluence of events that they could not predict, did not expect and could not escape. "And all the while," Adair notes wryly, "Sally does her utmost to remain blissfully ignorant."
Just barely into her twenties, Taylor's playwriting, acting and singing credits are modest to date. She competed in Lab Theater's 2013 24-hour Playwriting Project, and has appeared as an actor in Amadeus and Death of a Salesman. She was also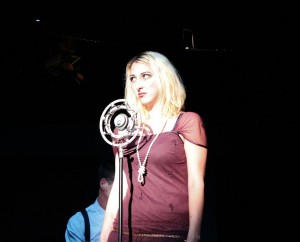 recently seen locally in Mazeltov, the Musical, and has won singing awards as well. But with her breathtaking performance in Cabaret, it's a certainty that Southwest Florida audiences will be seeing a lot more of this emerging talent. This reviewer, for one, will make it a point to see anything in the future that includes Taylor Adair in the cast or as a playwright. You should do the same.
Cabaret is on stage now at the Laboratory Theater of Florida. See above for play dates, times and ticket information.
_________________________________________________________________
Lab Theater's first musical, 'Cabaret', unmitigated, unqualified success (02-05-15)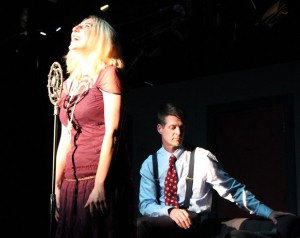 Lab Theater's first-ever musical is an unmitigated, unqualified success. Cabaret opens tonight and in this blockbuster performance, Taylor Adair is fabulous as the mysterious, oversexed Sally Bowles. (Wait to you hear her vocalize.) Ty Landers is tremendous as the leering, lascivious emcee of the Kit Kat Klub. And the Kit Kat Girls and Boys are scary, scary good. But beyond the glitz, the girly action, the lighting, set and music, Cabaret is a tightly crafted, poignant story about lives ruined and relationships lost at the advent of the rise of the Nazi Party in 1931 Berlin. This is life-changing, memory-making theater you don't want to miss. Performances are already selling out. See above for play dates, times and ticket information.
_______________________________________________________
Setting the stage for Lab Theater's production of 'Cabaret' (02-04-15)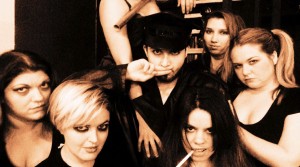 Cabaret opens at the Laboratory Theater of Florida on Friday, February 6. Performances are already selling out for the Theater's much-anticipated first-ever musical.
For this show, Artistic Director Annette Trossbach is going the extra mile to immerse Lab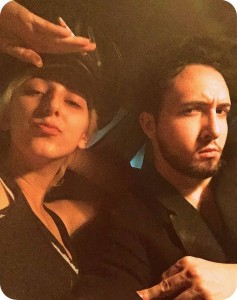 Theater audiences in the seedy, divinely debauched Brechtian world of Berlin's Kit Kat Klub. Instead of traditional theater seats, patrons fill find cozy tables for four where they can sip wine and feel the vibe of the cabaret as wait staff and Kit Kat Girls amble through the club to pull patrons on stage to be part of the show. But to really get a feel for what it was like back then, it helps to reconstruct the socio-political climate that existed in the Weimar Republic in 1931.
The Weimar Republic was the name given to the democratic state that was created in Germany in the aftermath of World War I. By 1926, the future in war-torn Germany looked bright.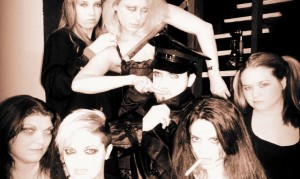 In fact, life was so good that when a fringe extremist by the name of Adolf Hitler published Volume 2 of his autobiographical proclamation titled Mein Kampf, most Germans dismissed his venomous anti-Jewish rants as the ravings of a lunatic with no chance of gaining political influence, never mind any real political power.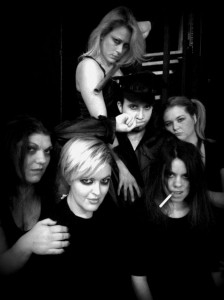 But then the Great Depression hit. Overnight, unemployment skyrocketed and more than 3 million factory workers, skilled artisans and shopkeepers found themselves without jobs or the means to provide for themselves and their families. The Nazi Party seized the moment, offering both a scapegoat and a solution. They denounced Jewish wealth and bankers, demanding that the Republic be purged of this pervasive threat not only to life in Germany, but all life on earth.
On New Year's Day in 1930, black-booted, brown-uniformed Stormtroopers killed eight Jews. In the next eight and one-half months, they accosted Jews in cafes, theaters and clubs like the Kit
Kat. They interrupted religious services in synagogues throughout the country. Rather than punishing the Nazi Party at the polls for their anti-Semitic transgressions, 6 million Germans cast votes for Nazi candidates, increasing their representation in the Reichstag from 12 to 107 seats. Brandishing a slogan of Deutschland erwache, Judah verrecke (Germany awake, death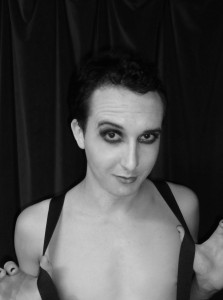 to Judah), the Nazi Party was now the second largest political organization in the Republic.
The Nazis celebrated their win by desecrating more than 50 synagogues, defiling several thousand Jewish tombstones and attacking Jews returning from temple on the eve of Rosh Hashanah a few days later. An eye witness recorded how, in one incident, five young Stormtroopers stood guard, protecting three other youths as they beat an elderly Jew with their fists and rubber truncheons.
While numerous Jews fled or began preparations to leave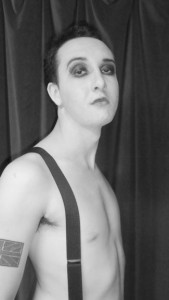 Germany, hundreds of thousands of others remained, convinced that as soon as the economy improved, anti-Jewish sentiment and pogroms would gradually subside. After all, Jews had been a part of German society and culture since Roman times. They had served in the Army, defended the Fatherland and made the same sacrifices as their full-blooded German compatriots in the Great War, and they'd been on the front lines during the post-war rebuilding process. In their minds, they were Germans who were Jewish, not Jews living in Germany.
But what German Jews did not know, could not know, was that two of the most lethal anti-Semites in the entire Nazi Party, Heinrich Himmler and Reinhard Heydrich had been appointed in the final days of 1931 to organize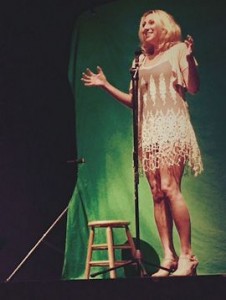 and expand the Sicherheitsdienst (SD) or Intelligence Service. Heydrich would go on to be appointed as Plenipotentiary for the Preparation of the Final Solution of the European Jewish Questions and would be responsible  (notwithstanding his 1942 assassination) for setting the wheels in motion along with Himmler and Adolf Eichmann for the murder of 6 million Jews.
It is against this backdrop that we, the audience, enter the Kit Kat and meet 19-year-old British cabaret performer (played by Taylor Adair), her sexually conflicted American lover and wannabe novelist Cliff Bradshaw, the club's provocative leering emcee (played by Ty Landers) and (of course,) the orchestra and the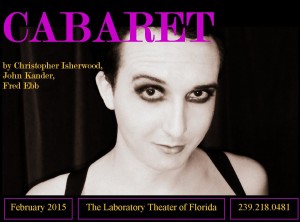 tawdry, Kit Kat Girls. But make no mistake. Cabaret is first and foremost a dark, insidious political story wrapped in a disturbingly exuberant prurient package. It lays bare the decadent excesses and desperation of bohemian Berlin on the precipice of the birth of the Third Reich.
"Welcome to the cabaret!"
See above for play dates, times and ticket information.
_________________________________________________________________
Lab Theater's 'Cabaret' will immerse guests in naughty, tawdry revival (01-30-15)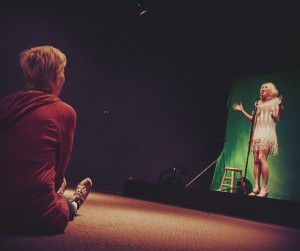 Improvisation, leather, androgyny, homosexuality, honesty… There is the Liza Minelli Cabaret with sequins and glamor. And then there is the 1998 Cabaret revival, gritty, dark and tawdry. What a perfect Cabaret for the edgy, risk-taking Laboratory Theater in Fort Myers. For its revival, the Laboratory Theater will be transformed into the Kit Kat Club, a less-than-savory cabaret club in 1930s Berlin, Germany. Instead of house seating,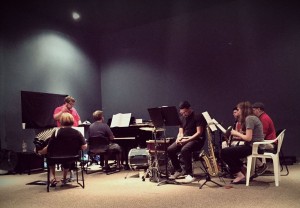 cafe tables will be provided for guests, providing an intimate setting in which cabaret dancers may take to the floor to interact with guests.
Julian Sundby of Vibe Studios is the musical director, veteran actor/singer Taylor Adair will play Sally Bowles and Ty Landers will play the emcee. "This show is an incredible ensemble piece," says Ty. "We have a solid team of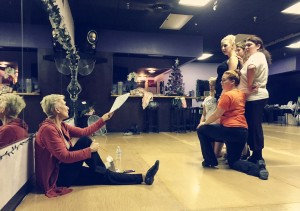 passionate people on board. Their hard work and determination is going to make this a truly memorable experience." Further cast members include Lucy Harris as Fraulein Kost, Lauren Redeker as Texas, Madison Mitchell as Rosie, Shelley Sanders as Lulu, and Joseph Loiacono as Herr Schulz.
Cabaret takes place during the Nazi Party's rise to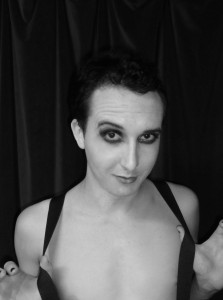 power in 1931 Berlin, Germany. In a seedy nightclub, the emcee oversees a cross-section of tawdry performers and audience in the doomed city. Sally Bowles, the headliner, has a relationship with a young American writer and is caught, as they all are, in the German Jewish trauma of pre-World War II. This award-winning musical recently starred Alan Cumming in its gritty Studio 54 revival.
In its long and illustrious history, Cabaret was:
Winner! 1967, 8 Tony Awards
Winner! 1967, New York Drama Critics Circle Award
Winner! 1998, 4 Tony Awards for the Broadway revival
Winner! 1998, 3 Drama Desk Awards for the Broadway revival
The Star Tribune says of Cabaret, "The action shakes with naughty excitement."
See above for play dates, times and ticket information.
_______________________________________________________
Brenda Kensler has had a lifelong long affair with Cabaret (01-29-15)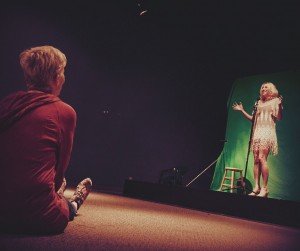 "I was always a musical theater fan," says Cabaret director Brenda Kensler. "When I saw Liza Minnelli and Joel Grey in Cabaret, I was spellbound. She with her green nails, and him with his lipstick and eyeliner made Cabaret my favorite musical. It was different.  It seemed a little naughty. It was fun!"
In 1998, Brenda had the opportunity to see the revival at Studio 54. Green nail polish and men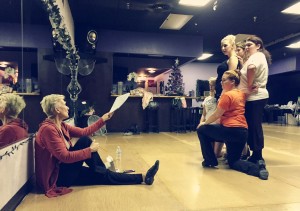 wearing lipstick and eyeliner no longer had the impact, so how to update the show? "Improvisation, leather, androgyny, homosexuality, honesty … the truth about a cabaret in 1933 Berlin and Alan Cumming as the emcee. "I knew then that I wanted to direct Cabaret in a small venue with tables and chairs. I wanted it to be a little raunchier, a little dirtier. I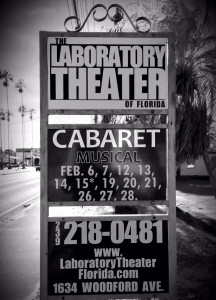 wanted the audience to feel they can interact with the actors."
Kensler showed her directorial mettle in last season's hit show, Frankie & Johnny in the Clair de Lune, and this summer's Standing on Ceremony: The Gay Marriage Plays. Brenda attended Eastern Michigan University, and later taught elementary school. At 47, she returned to dance classes, with an emphasis on performance and musicals. Her first show was 42nd Street, followed by Sweet Charity, Hair and Forum. After making the move to Florida, she was in How to Succeed in Business, but regards her most life-changing role as Ida in Cemetery Club. Brenda's first directing experience was Love, Sex and the I.R.S.
See above for play dates, times and ticket information.
_________________________________________________________
Brenda Kensler to direct Lab Theater's production of Cabaret (11-23-14)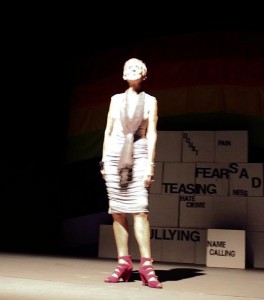 Brenda Kensler is thrilled to be directing her dream show for the Laboratory Theater. Last season, Brenda directed Frankie and Johnny in the Clair de Lune, as well as the summer sell-out show, Standing on Ceremony: The Gay Marriage Plays. Brenda attended Eastern Michigan University, and later taught elementary school. At 47, she returned to dance classes, with an emphasis on performance and musicals. Her first show was 42nd Street, followed by Sweet Charity, Hair and Forum. After making the move to Florida, she was in How to Succeed in Business, but regards her most life-changing role as Ida in Cemetery Club. Brenda's first directing experience was Love, Sex and the I.R.S.
____________________________________________________________________
Lab Theater issues call for musicians for upcoming production of Cabaret (10-30-14)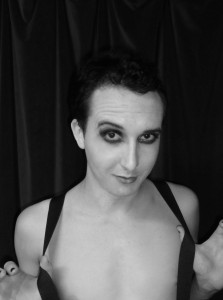 The Laboratory Theater of Florida will be holding auditions for musicians for its upcoming production of Cabaret. The auditions will be at 5 p.m. on Sunday, November 16 at the theater, which is located at 1634 Woodford Avenue and Second Street, in the downtown Fort Myers River District.
Musicians will appear onstage and may be required to sing and move. Musician roles sought are:
Helga………clarinet, tenor sax
Herman……..clarinet, alto sax
Victor …….. trombone
Texas …. Clarinet, tenor sax
Drummer…….not a character part
Trumpet……..not a character part
Bass……..not a character part
Piano….not a character part
Song and dance auditions will be arranged for the following week and will be by invitation only. Rehearsals will begin in late November. For more information, musicians may visit www.laboratorytheaterflorida.com or call 239.218.0481.
The Laboratory Theater of Florida is a 501(c)(3) nonprofit organization dedicated to the promotion of the performing arts through live performance, education, community outreach, experimentation and the development of ensemble work. The company features ensemble productions, produces classic works, takes artistic risks and features and challenges local performers of various skill levels. Stay up to date with its news and events on Facebook and Twitter @LabTheaterFL.  For more information, please call 239-218-0481.