'Heathers' Chloe Tsai is dreamy as 'Anna in the Tropics' Marela Alcalar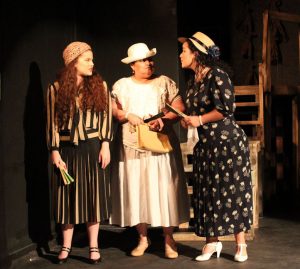 In celebration of Hispanic Heritage Month, the Laboratory Theater of Florida is producing the Southwest Florida premiere of Anna in the Tropics. Playing the role of Marela Alcalar is 18-year-old Chloe Tsai, and oh what a role in which to make her Lab Theater debut!
Anna in the Tropics pits fantasy against reality, progress versus tradition as it explores the transformative powers of literature on the human mind and soul. Nowhere is this more in evidence than in the guise of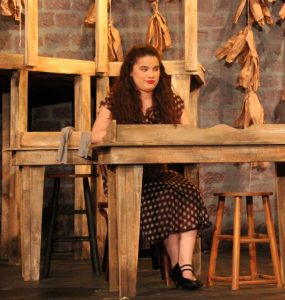 Marela Alcalar, a naïve young dreamer who is so enamored of the promise of romance embodied by a handsome new lector that she leaves a puddle on the ground between her feet when she finally meets him.
As Marela, Tsai gets to utter one of the most lyrical lines that playwright Nilo Cruz has lovingly weaved into the fabric of the play. "Everything in life dreams," Marela tells her big sister, Conchita. "A bicycle dreams of becoming a boy, an umbrella dreams of becoming the rain, a pearl dreams of becoming a woman, and a chair dreams of becoming a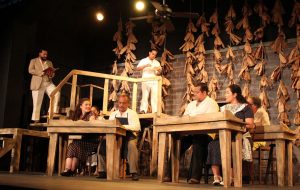 gazelle and running back to the forest."
For her part, Marela dreams of going to Russia and dancing, but she also fantasizes about being able to control her life and surroundings with the alacrity of a seasoned witch, able to brew up potions and concoctions that cast spells on those who enter her orbit.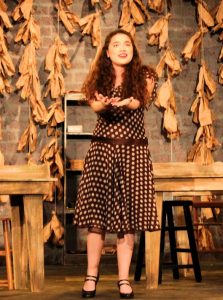 Life seems limitless, full of opportunity and potential, and Tsai channels her character's hope and optimism for a bright future even as her prospects of escaping the confines of the factory seem slim, at best.
There is a scene more than halfway through the play where Marela's father buys her an outfit that resembles the dress worn by Anna Karenina on the night of the ball. Santiago wants to make his daughter the face of the new cigar he has developed – a brand he hopes will help propel the factory to bigger and better sales. For Marela, it is a dream come true, and Tsai ably captures the joy, excitement and satisfaction one would expect from the heart of a 20-something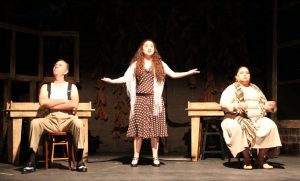 yet to experience life's high and lows.
And that sets up the audience for the tragedy that befalls her a short time later. It's an event so devastating that it causes Marela to harden her heart like December, January and February, those months that cover the earth in most places with snow that leaves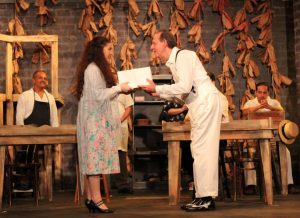 everything cold and still. "That's how I want to be," she laments, "layered and still."
It's a dramatic, flip-of-the-switch transformation that requires Tsai to bury her character's ebullience beneath a hard veneer of disappointment and regret. It's a testament to her own potential as a theatrical actor that she so ably encapsulates the shock and numbness that many women experience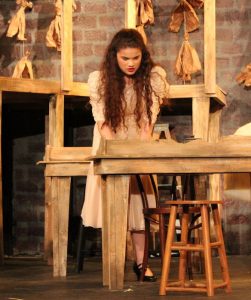 following a sexual assault. But in the specific instance of Marela Alcalar, it's not just confined to the depression, loss of joy, hopelessness and diminished self-esteem that typifies post-assault MDD (major depressive disorder). It's the harsh reality that Marela controls no part of her surroundings, circumstances or future. All of that is dictated by people and circumstances that are entirely beyond her ability to control. All she can control, therefore, are her reactions (who knew Cruz is an existentialist), which Marela chooses to bury beneath an impenetrable plate of emotional armor symbolized by a wintry ankle-length fur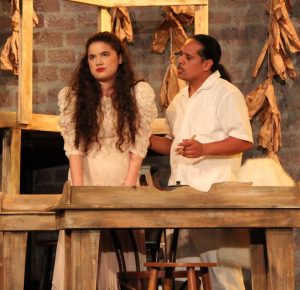 coat.
But Nilo Cruz wrote Anna in the Tropics more than 15 years before the Me Too and Time's Up movements. On top of that, Pulitzer Prize winning playwrights characteristically speak in metaphorical terms. So, then, how might a Lab Theater audience regard what happens to Marela Alcalar?
It is interesting to note that Cruz wrote the play in the months following the 9/11 terrorist attacks on the World Trade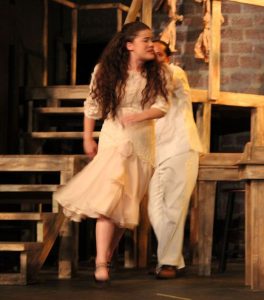 Center and the Pentagon. While there's no indication he meant to comment on the government's knee-jerk adoption of immigration policy measures that targeted immigrants and undocumented residents to counter future threats of terrorism, Cruz did want to tell the story of Cubans who fled to the United States prior to the 1959 revolution.
"These were not immigrants," he stated. "They were exiles who wanted Cuba's independence, and they would have been killed if they had stayed there."
It seems amazingly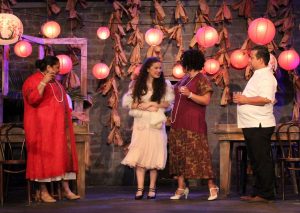 prescient of the dilemma faced by the Honduran, Guatemalan, Columbian and other Central and South American refugees who are being turned away at the border or impounded in family detention centers by the current administration's crack-down on immigrants trying to enter the country along our southern border.
In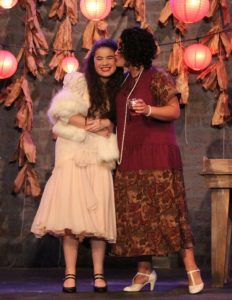 Anna in the Tropics, things did not turn out well for the play's emblematic dreamer, Marela. It remains to be seen whether the future proves any brighter for today's Dreamers in their quest for a happy and prosperous life in American purchased through hard work, determination and initiative.
Theater-goers can hope to see much more of Chloe Tsai, who was seen most recently at Florida Repertory Theatre in the role of Heather Duke (the green goddess) in Heathers: The Musical. She is presently enrolled in her first year of college.
September 14, 2018.
RELATED POSTS.