Lab Theater's Season 15 now includes sensory friendly performances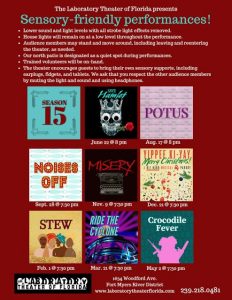 The Laboratory Theater of Florida will offer sensory-friendly performances of each show during Season 15. Starting with the June 22nd performance of Save Hamlet, one performance of each run will be modified to adhere to sensory-friendly practices.
These modifications include:
Lower sound and light levels with all strobe light effects removed.
House lights will remain on at a low level throughout the performance.
Audience members may stand and move around, including leaving and reentering the theater, as needed.
Lab's north patio is designated as a quiet spot during performances.
Trained volunteers will be on-hand.
The theater encourages guests to bring their own sensory supports, including earplugs, fidgets, and tablets. We ask that you respect the other audience members by muting the light and sound and using headphones.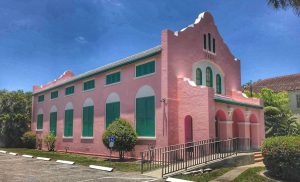 Sensory-friendly performance dates:
June 22 at 8:00 pm – Save Hamlet
August 17 at 8:00 pm – POTUS: Or, Behind Every Great Dumbass are Seven Women Trying to Keep Him Alive
September 28 at 7:30 pm – Noises Off
November 9 at 7:30 pm – Misery
December 21 at 7:30 pm – Yippee Ki-Yay Merry Christmas A Die Hard Christmas Musical
February 1 at 7:30 pm – Stew
March 21 at 7:30 pm – Ride the Cyclone
May 2 at 7:30 pm – Crocodile Fever
Ticket prices are reduced for Thrifty Thursday performances and start at $27 each for adults and $10 for students with valid student IDs. For tickets, please call the box office at 239.218.0481 or online at www.laboratorytheaterflorida.com.
June 18, 2023.