Focus on 'Wings' actress Louise Wigglesworth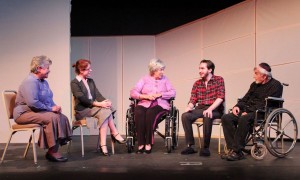 On stage now at Lab Theater is Arthur Kopit's Wings. The play follows a former aerial acrobat by the name of Emily Stilson who suffers a massive stroke in the opening minutes of the very first scene. Playing the dual roles of one of Emily's doctors and a stroke veteran by the name of Mrs. Timmins that Emily later encounters in a speech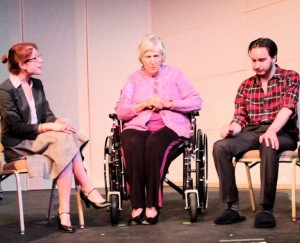 therapy group is Lab veteran Louise Wigglesworth.
The speech therapy group session is one of the most charming interludes in the entire play. Not only does Arthur Kopit underscore the trek stroke veterans are forced to take in their ongoing efforts to find the words that so often elude them as they rush to re-establish their command of language, through this vignette, he injects some much needed humor into the otherwise somber fabric of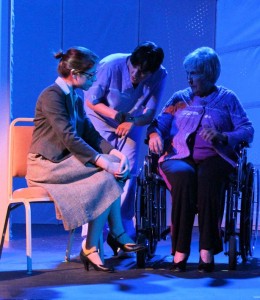 the play.
Wigglesworth is an actor, director and playwright who has worked in theater all of her life. She has a Master of Arts in Theatre from Catholic University, and taught secondary and college theater programs in New Jersey before locating to Florida. Before coming out of a self-imposed hiatus last season to play the role of Alexandra in Eric Coble's Velocity of Autumn, her acting credits included Bernaarda in The House of Bernarda Alba, Mary Winrod in The Rimers of Eldridge, Ethel Thayer in On Golden Pond, Mother in Women Beware of Women, Leda Largo in her own play,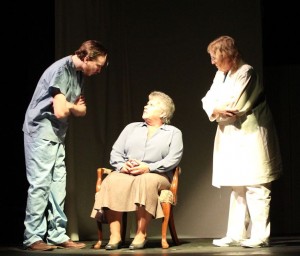 Final Stage, and Mrs. Trotsky in Variations on The Death of Trotsky, all for Laboratory Theater. Other roles have included Mrs. Gottleib in Dead Man's Cell Phone, Lucille in The Oldest Profession for Theatre Conspiracy, and Abby Brewster in Arsenic and Old Lace. Productions of her original full length plays include Coercion by Playwrights Round Table, Seasonal Migrations at Foundation Theater, and her stage adaptation of Albert Camus' The Plague for The Laboratory Theater of Florida.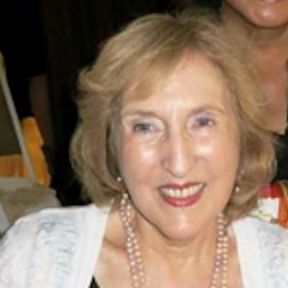 Her play Real Art was produced by City Theatre in Miami and is published by Citywrights Anthology. Two of her 30-minute plays, Penumbra and Play Until You Win have enjoyed staged readings at Theatre Conspiracy.
Louise teaches playwriting at Lab Theater, is a member of the Board, a member of The Dramatists Guild, and of the National League of American Penwomen.
November 13, 2016.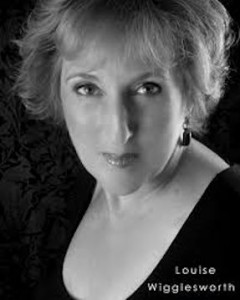 RELATED POSTS