'Talk Back' about strokes to follow November 13 matinee of 'Wings'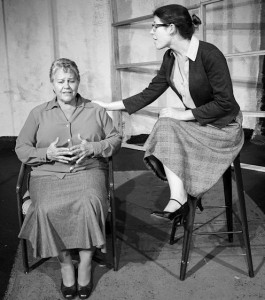 Arthur Kopit's Wings opens at the Laboratory Theater of Florida on November 11. Starring Cindy Chase, the play follows an aerial daredevil and wing walker by the name of Emily Stilson who suffers a massive stroke in the play's opening moments.
Known for pushing the theatrical envelop, The Lab will combine its newly-upgraded lighting and sound system* with Kopit's stream-of-conscious script to take the audience directly into Stilson's head in order to convey her fear and frustration as she struggles to make sense of what's happened to her and fights to re-establish her memory, grasp of language and the mobility requisite for living independently. And to further sensitize local theater-goers to what it's like to suffer and recover from a stroke, Lab Theater will conduct a "talk back" (Q&A) session following the matinee performance of the show on November 13. Panel members will include Dr. Joe Ryan and Registered Nurse Tammy Booth from from Lee Health, stroke veteran Peter Swet, Artistic Director Annette Trossbach, and cast/crew of Wings. Matinee guests are encouraged to stay and listen or participate at no extra charge.
Joe Ryan PT, DPT, c/NDT is the Manager of Rehabilitation Services at Lee Health. Joe received his bachelor's degree in exercise physiology from Florida State University with degree in exercise physiology 2007 and his Doctorate of Physical Therapy from the University of Florida in 2010. He is trained and certified in NeuroDevelopmental Treatment for adults with hemiplegia. Lee Health's Rehabilitation Hospital is designated as a specialty center for the treatment of stroke, and was the first facility ever declared an Center of Excellence by the NeuroDevelopmental Treatment Association.
Tammy Booth, RN, CMSRN has been a registered nurse for 24 years. She is certified in Medical/Surgical Practice. She has a background in Neuro Intensive Care, Neuro Progressive Care Unit, Cardiac Intensive Care, Cardiac Progressive Care Unit, and Trauma Surgery. In her current role, she provides stroke program oversight at Cape Coral Hospital, a process that involves process performance, education, submission to regulatory agencies and compliance for maintaining national certification, as well as system alignment, leadership for the hospital's mission of community awareness for stroke, and reporting overall progress to system leadership.
All tickets are available online at LaboratoryTheaterFlorida.com and by calling 239-218-0481. Purchase tickets HERE
* This show is made possible thanks to a generous grant from the City of Fort Myers
November 8, 2016.
RELATED POSTS