Justin Larsche at his best as lovestruck lawyer Burnette Lloyd in Lab's 'Crimes of the Heart'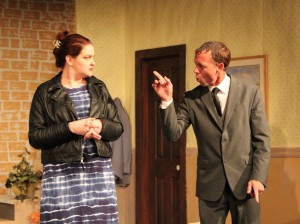 On stage at Lab Theater through January 21 is Beth Henley's Southern Gothic tragi-comedy, Crimes of the Heart.
The story follows three sisters who have reunited for the first time in a decade at their Granddaddy's house in Hazlehurst, Mississippi. Lenny Magrath is the eldest. She actually never left Hazlehurst, remaining in the home to care for Granddaddy,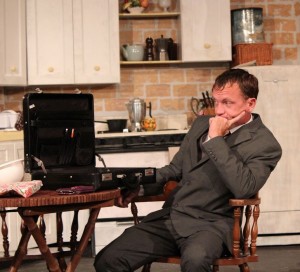 whose health has been steadily declining and who is presently in the hospital with the vessels in his brain all a popping.
The middle girl is Meg. Beautiful, charming and talented as well, she left Hazelhurst for L.A. to pursue a singing and acting career. But L.A. is a hard place in which to find fame and fortune, and following the collapse of her career and a brief stint in a psychiatric hospital following a nervous breakdown, Meg's back home and getting ready to rekindle her
relationship with the man she left behind. Never mind that he's married with two children now, to a Yankee of all things!
Babe is the youngest. Granddaddy married her off to a successful lawyer by the name of Zach. Just one problem – Zach is abusive and Babe detests the sound and sight of him. She just posted bail for Zach's attempted murder. But she didn't shoot him in self-defense. Rather, Babe was defending the 15-year-old African American boy with whom she was having an extramarital affair – and Zach has the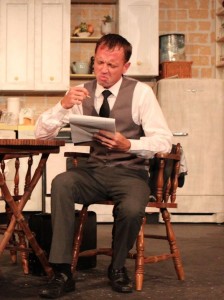 photos to prove it.
The latter factor will make it more difficult for Babe's lawyer, Burnette Lloyd, to keep her out of prison. But he's determined. Not only does he have a personal vendetta to settle with Zach, but he's been carrying a torch for Babe since she sold him an orange pound cake at a church bazaar. He's mad about her still, and not even her extramarital affair with a young black youth (the play is set in the deep South in 1974) can dampen his ardor. But does he have the goods to get her off? Never bet against a lawyer in love.
This is Justin's fourth theater production.
Larsche was seen most recently in Body and Sold, but Lab audiences will remember his memorable portrayal of Count Orsino in Shakespeare's Twelfth Night, where he played opposite Holly Hagan. He played a Russian mobster by the name of Yuri in Geral Godbout's The Trade in 2014. After that, he took on the role of Larry in Patric Marber's Closer for Tellers' Theatre Co. He has also gained experience performing on board the Murder Mystery Train, in short films, and as a member of his own character entertainment company, Heroes and Villains.
Justin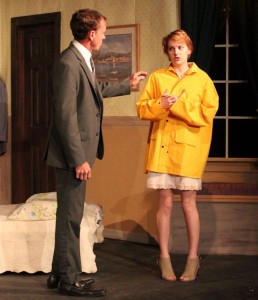 is ecstatic to be playing the fanatical Barnette in Crimes of the Heart.
January 5, 2018.
RELATED POSTS.