Shelley Rae Sanders is Bitsy Mae Harling in Lab's 'Sordid Lives'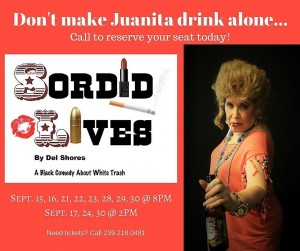 Sordid Lives opens at Lab Theater on September 15. Among the cast is Shelley Sanders, who plays the role of songstress Bitsy Mae Harling.
In a black comedy about white trash, Bitsy Mae Harling prefers any color except orange. She'd had enough of orange during her sixteen months in prison. And it was the bright orange flames that consumed her lying, cheating boyfriend's trailer in the first place that landed her in the Texas penitentiary system for arson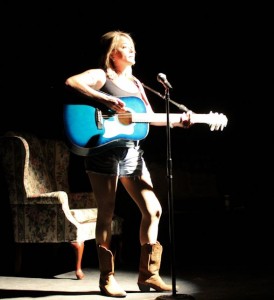 – a crime which, by the way, she didn't commit. Peggy Ingram was the only one who believed in her innocence, and it was Peggy who picked her up when she was released from prison and gave her a place to live when she had nowhere else to go. And now she was gone, just like her mom and her drunk of a father and everyone else Bitsy had ever loved or cared about in the itsiest bitsiest way. Now a lounge singer, it's Bitsy's role to sing at the wake for Peggy's collection of equally damaged family and friends.
This is the role that Olivia Newton John made famous. And it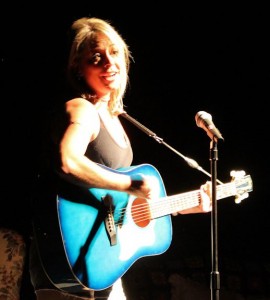 falls on local talent Shelley Rae Sanders to reprise the role for the Laboratory Theater of Florida. Fortunately, Sanders has proven through past performances that she has the street cred to pull off the part.
Sanders is a phenomenal dancer, known for liquid movement possessing the viscosity and kick of a cultured Napoleon brandy. She's a powerful actor who commands the stage and takes full ownership of every scene in which she appears.
And the girl's got pipes.
B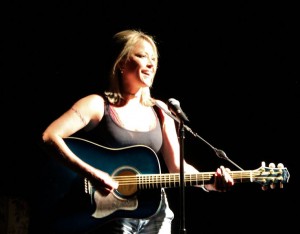 ut for this part, she doesn't merely croon like a minstrel. She accompanies herself on guitar – a feat she had to learn just for this show. It's one thing to challenge yourself to master a musical instrument. It's another to do so in front of a house full of people for a run of nine shows (ten including the dress rehearsal for family and friends)!
Sanders last astounded local community theater audiences as Margery Pinchwife
in Theatre Conspiracy's production of The Country Wife. That character presented Sanders with the challenge of playing a Victorian version of  Norma Jean Mortensen – a combination of sweetly naïve child and sexually supercharged, alluringly dangerous woman for whom a man would risk life, limb and even being cuckolded. She delivered such a sizzling performance that not only kept Jim Yarnes and Mitch Haley tantalizingly off-balance, but would h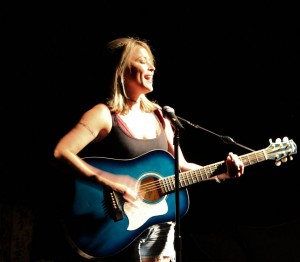 ave even inspired the likes of Giovanni Boccaccio.
Before that, she starred in Theatre Conspiracy's prescient political comedy The Taming. There, she was mesmerizing as an insanely gorgeous Miss America finalist who drugs and kidnaps a lefty environmentalist blogger and a far-right Senate aide, locks them in a hotel room, and tells them she won't release them until they write an updated version o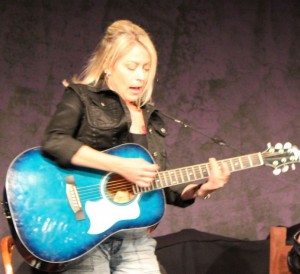 f the U.S. Constitution that eliminates the electoral college and otherwise works in modern times. One of the most memorable scenes from last year's entire theater season depicted a righteously indignant redheaded Sanders, wearing an evening gown and her Miss Georgia sash and tiara, metaphorically grabbing the far right and far left by the shaft of their hair to get their attention to the impending Constitutional crisis in which America finds itself today. (You can find the entire review of S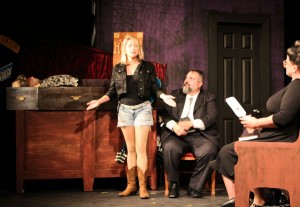 anders' performance in The Taming here.)
In Lab Theater's sell-out production of Cabaret four seasons ago, Sanders played the part of one of the Kit Kat Girls. In connection with that role, this reviewer wrote that "in every chorus line and dance troupe there is one girl who stands out, and in Cabaret, that performer is Shelley Rae Sanders, who plays Lulu.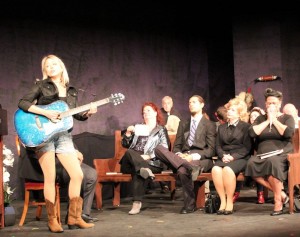 Her dancing is crisp and fluid, her acting expressive and evocative, and she turns in a show-stopping unforgettable performance in Two Ladies."
Prior to The Taming, Shelley was seen by Theatre Conspiracy audiences in last season's Mr. Burns, The Post-Electric Play. Some of Shelley's favorite rolls include Cassie in A Chorus Line, Grace Farrell and Lilly St. Regis in Annie, Mona in Chicago, E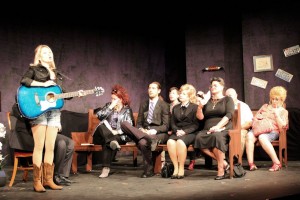 ileen in Moon over Buffalo, Dinah in South Pacific, Sarah in Table Manners, Fermina in Man of LaMancha, and Bianca in Taming of the Shrew. She has also appeared as Suzette in Don't Dress for Dinner and Anna in The Closer, as well as Lab's 24-Hour Playwriting Challenge.
August 28, 2017.
R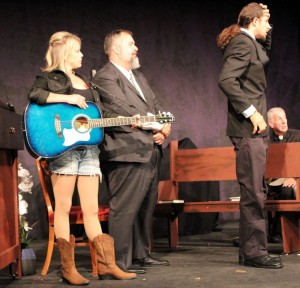 ELATED POSTS.