Holly Hagan is the siren in Deborah Zoe Laufer's 'Sirens'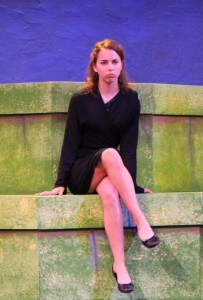 Opening on Friday at Lab Theater is Deborah Zoe Laufer's Sirens, starring Patrick Day as songwriter Sam Abrams, Brenda Kensler as his wife of 35 years, Rose, Holly Hagan as the Siren (as well as Leah Adams and the waitress) and Juan Alejandro as Richard Miller.
After playing bit parts in a handful of Lab Theater productions,Holly Hagan bagged the plum role of Olivia in Twelfth Night. If you're not familiar with this classic Shakespeare comedy, Olivia is a gorgeous sassy-smart heiress who has recently buried both her father and her beloved brother and is now so despondent over the latter's death that the poor girl (whose tears Shakespeare likens to pickle juice) has resigned herself to seven years of cloistered mourning until a handful of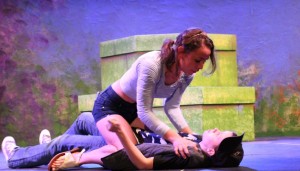 (dis)reputable characters lure her out of her doldrums. Under the direction of Nykkie Rizley, Hagan portrayed Olivia not as a rich heiress consumed with grief and propriety, but as an innocent young girl who has suddenly been freed to discover her sexuality and express her latent carnal desires for the very first time. She sizzled in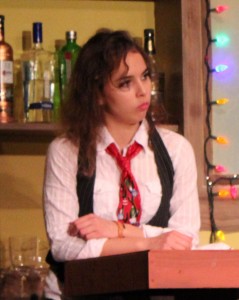 the role and was nothing short of "awesome."
Prior to Twelfth Night, Lab Theater audiences saw Holly serving up drinks to the well-lubricated Eight as they gathered in the Red Nose Inn to meet the press over allegations of sexual harassment and impropriety by the legendary he-ain't-no-saint Nick. And before The Eight: Reindeer Monologues, Hagan was Angela in Stage Kiss. She was also a member of the team of actors who performed Ben Lamoureux's one-act play, Bird Flew, which was both the judges' and people's choice in Lab Theater's 24-Hour Playwriting Project on December 6. Other parts have included Thomasina Coverly in Arcadia, Soupy Sue
in Urinetown and Kate Keller in The Miracle Worker.
If following the progress of the next generation of talented young actors is your penchant, then Sirens is for you because the play also features Juan Alejandro, who has enjoyed a very busy 2015-2016 season. But that's a topic for another story.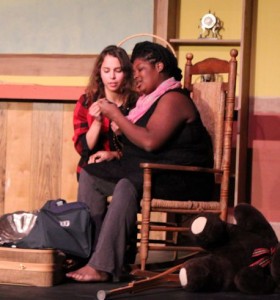 Posted July 14, 2016.
Related Posts: