Tera Nicole Miller has revenge on her mind as Debra in 'Smell of the Kill'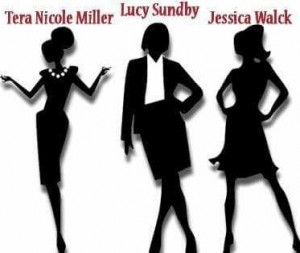 Opening August 4 at Lab Theater is Michele Lowe's murderously funny The Smell of the Kill. The action revolves around three seriously unhappy wives who must suddenly choose between divorcing their despicable, unloving husbands, attempt a reconciliation or let them freeze to death in a cold storage room in the basement in which the idiots have accidentally locked themselves. Tera Nicole Miller plays Debra, whose miserable excuse of a husband is a grab-and-grope real estate broker who's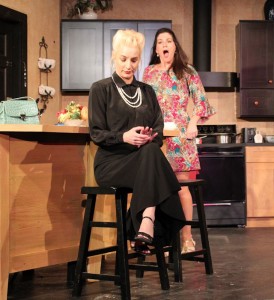 getting ready to leave her for another woman.
"The show is a lot of fun," promises Tera. "It's playful and silly and sarcastic – and a little bit like American Psycho, except with housewives and no violence."
Local audiences last saw Miller at Theatre Conspiracy, where she played Squeamish in William Wycherley's The Country Wife, a Victorian farce that allowed Tera to test her comedic side. She needed a role that was a little on the lighter side because prior to The Country Wife, she starred in Jessica Dickey's somber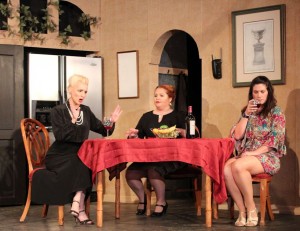 tragedy, The Amish Project, a one-woman show in which she portrayed seven very different characters:
Eddie Stuckey, a 33-year-old milkman who takes ten young girls hostage in a one-room Amish schoolhouse, then shoots them, killing five, before killing himself;
Carol Stuckey, his 31-year-old widow;
Velda, a 6-year-old victim;
Anna, Velda's 14-year-old sister;
America, a pregnant 16-year-old Puerto Rican girl who works at the local grocery store;
Sherry Local, a 53-year-old resident who is the town gossip of Nickel Mines, Pennsylvania; and
Bill North, a 50-something-year-old scholar and professor who's an expert in religion and the Amish culture, as well as a spokesman for several of the Amish families affected by the shooting.
There were no costume changes, and no props or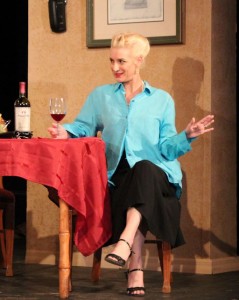 hats by which to distinguish between the characters. Instead, Miller remained dressed in a simple, dark Amish outfit throughout the performance, complete with white bonnet and apron. She changed characters simply by altering her posture, voice and gestures.
Prior to The Amish Project, Miller was in Lab Theater's summer stock play, Happy, where, she had the unenviable task of portraying the middle-aged wife of an unambitious tenured literature professor whose best friend recently got involved with a gorgeous but mean-spirited 20-something-year-old tart who forces her to confront just how unhappy she is in her roles as wife and the mother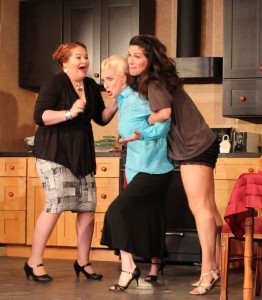 of a severely-handicapped disabled child.
In addition to Theatre Conspiracy, Lab Theater and RSW's Black Box Theater, Tera has performed at the Herb-Strauss Theater on Sanibel and the Sugden Theatre for The Naples Players. Her credits include roles in The Play About the Baby, Extremities, The Exile, Dead Man's Cell Phone, Swell Party, Becky Shaw, The Dead Guy, The Liar, Frankenstein Summer, Last Train to Nibroc, Leap, Love, Loss & What I Wore, House of Yes, Polish Joke, What the Butler Saw, See How They Run, Sylvia and The Altruists,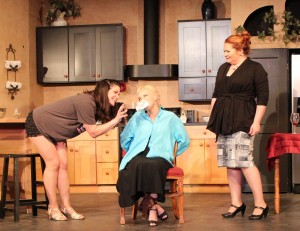 as well as the national tour of Bill W & Dr. Bob. Two Aprils ago, she was also in the cast for a staged reading at Lab Theater of Robert Caisley's The Open Hand and also performed with Shelley Sanders, Stephanie Davis, Mitch Haley, Stephen Hooper and Juan Alejandro in the staged reading of Carolyn Kras' Highness during Theatre Conspiracy's 2016-2017 New Play Contest. Tera made her professional stage debut at the age of 9 in Here's Love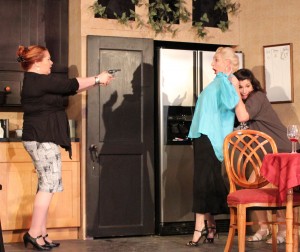 at Michigan's Civic Theater.
When not on stage, Tera can be found behind the scenes as Front of House Manager, Stage Manager, Light/Sound Technician, Box Office Representative and Assistant Director at Theatre Conspiracy. You'll also see her in a different role during Lab Theater's 2017-2018 season, when she occupies the director's chair for An Act of God, opening November 17.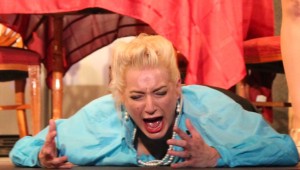 In addition to her immense love of the arts, Tera maintains the Burroughs Home and Gardens, a treasured historic landmark in downtown Fort Myers. As Coordinator, she is blessed to combine her passion for history and theatrical talents while staging the property with The Burroughs Family's irreplaceable artifacts, preserving the archives, ensuring historic integrity is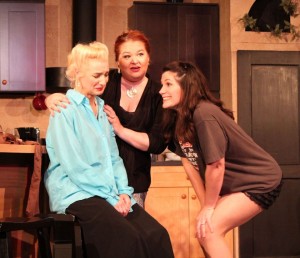 protected, conducting guided historical tours and representing the Home and its lineage through public speaking engagements.
July 26, 2017.
RELATED POSTS.