Melody Lane brings '80s jukebox musical 'Rock of Ages' to Cultural Park Theater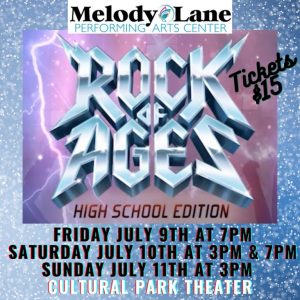 Melody Lane Performing Arts Center is bringing the 80s jukebox musical Rock of Ages High School Edition to Cultural Park Theater for four spirited performances in July. The five-time Tony Award®-nominated Broadway musical smash features fan-favorite '80s rock anthems and power ballads such as "Every Rose Has Its Thorn," "I Wanna Know What Love Is," "Here I Go Again," "Don't Stop Believin," "Wanted Dead or Alive" and more along … with an endearing – and enduring – story of a small-town girl, a big city boy, and a rock 'n' roll romance on the Sunset Strip.
It's the tail end of the big, bad 1980s in Hollywood, and the party has been raging hard. Aqua Net, Lycra, Heavy Metal flow freely at one of the Sunset Strips last legendary venues, the Bourbon Room, a place where legendary rocker Stacee Jaxx takes the stage and groupies line up for their chance at an autograph. Amidst the madness, aspiring rock star (and resident toilet cleaner) Drew Boley longs to take the stage as the next big thing (and longs for small-town girl Sherri Christian, fresh off the bus from Kansas with stars in her eyes). But the rock and roll fairy-tale is about to end when German developers sweep into town with plans to turn the fabled Strip into just another capitalist strip mall. Can Drew, Sherri and the gang save the strip — and themselves — before it's too late? Only the music of hit bands Styx, Journey, Bon Jovi, Whitesnake and more hold the answer.
Jeremy Garzon and Pepper Rhodes star as Drew Boley and Sherrie Christian, with Javen Fischer taking on the role of Stacee Jaxx. Theo Rosso is Lonny Barnett and Spencer Barney plays Dennis Dupree.
Performances are:
Friday, July 9 at 7:00 p.m.
Saturday, July 10 at 3:00 p.m.
Saturday, July 10 at 7:00 p.m.
Sunday July 11 at 3:00 p.m.
Tickets are $15.
June 21, 2021.