Productions you'll see during New Phoenix Theatre's inaugural season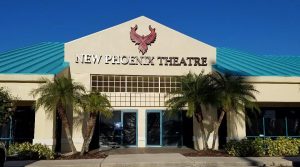 New Phoenix Theatre's inaugural 2019 season will include six productions. Here they are:
Marvin's Room by Scott McPherson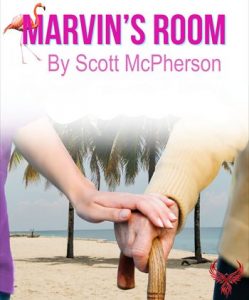 Bessie cares for her pain-ridden aunt and ailing bed-ridden father in Florida. When Bessie is diagnosed with leukemia, she's constrained to contact her long-estranged sister, Lee, to see if their bone marrow is compatible for a transplant. Lee reluctantly makes the trip from Ohio to Florida, bringing along her two sons. The sisters' reunion is uneasy, with long buried recriminations coming to the surface even as love slowly overwhelms Lee's veneer of selfishness and glib denial. Beloved for its mordant humor and unflinching wisdom, Scott McPherson's dark comedy allows us a moving view of one woman's commitment to family and response to despair. Performances are January 10, 11, 12, 17, 18, 19, 24, 25 and 26 at 8:00 p.m., with 2:00 p.m. matinees on January 13, 20 and 27. [Auditions will be held on November 3, 2018 at a time and place TBA.]
La Cage Aux Folles with Music and Lyrics by Jerry Herman & Book by Harvey Fierstein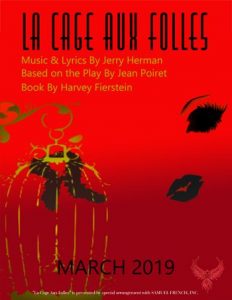 In this beloved 1983 Broadway hit, the sparkling "Cagelles" (men in drag) perform lively musical numbers, but it's Georges and Albin's enduring love for each other and the family they have created that's at the heart of this show. The Tony-winning music and lyrics are by Jerry Herman, who composed the music for both Hello, Dolly! and Mame. Performances are at 8:00 p.m. on March 7, 8, 9, 14, 15, 16, 21, 22, 23, 28, 29 and 30, with 2:00 p.m. matinees on March 10, 17, 24 and 31. As the song says, "The Best of Times" is always now to see La Cage aux Folles. [Auditions at time and place TBA.]
The Shadow Box by Michael Cristofer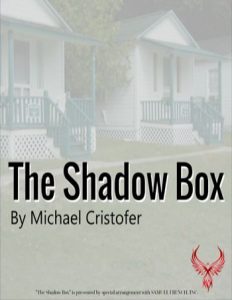 In this compelling dramatic triptych, three terminal cancer patients dwell in separate cottages on a hospital's grounds. The three are attended and visited by family and close friends: Agnes and her mother Felicity, estranged further by the latter's dementia; Brian and Beverly, whose marital complications are exacerbated by Brian's new lover, Mark; and Joe and Maggie, unready for the strain of Joe's impending death and its effect on their teenage son. Performances are at 8:00 p.m. on May 2, 3, 4, 9, 10, 11, 16, 17 and 18, with 2:00 p.m. matinees on May 5, 12 and 19. [Auditions at time and place TBA.]
Rumors by Neil Simon
At a large, tastefully-appointed Sneden's Landing townhouse, the Deputy Mayor of New York has just shot himself. Though only a flesh wound, four couples are about to experience a severe attack of Farce. Fathering for their tenth wedding anniversary, the host lies bleeding in the other room, and his wife is nowhere in sight. His lawyer, Ken, and wife, Chris, must get "the story" straight before the other guests arrive. As the confusions and mis-communications mount, the evening spins off into classic farcical hilarity. Performances are at 8:00 p.m. on June 13, 14, 15, 20, 21, 22, 27, 28 and 29, with 2:00 p.m. matinees on June 16, 23 and 30. [Auditions at time and place TBA.]
Posted August 1, 2018.