'Rumors' play dates, times and ticket information
Playwright: Neil Simon
Synopsis: At a large, tastefully-appointed Sneden's Landing townhouse, the Deputy Mayor of New York has just shot himself. Though only a flesh wound, four couples are about to experience a severe attack of Farce. Gathering for their tenth wedding anniversary, the host lies bleeding in the other room, and his wife is nowhere in sight. His lawyer, Ken, and wife, Chris, must get "the story" straight before the other guests arrive. As the confusion and mis-communication mounts, the evening spins off into classic farcical hilarity.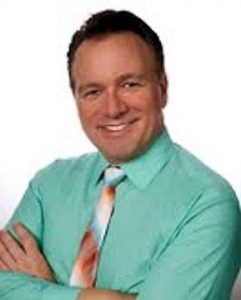 Awards: Winner of two Tonys in 1989.
Director: Scott Carpenter (right)
Stage Manager: Joey Bostic
Cast:
Chris Gorman – Darlyne Franklin
Ken Gorman – Greg Wojciechowski
Claire Ganz – Laura Vlach Licata
Lenny Gant – Sam Bostic
Cookie Cusack – Jackie Patterson
Ernie Cusack – John Strealy
Cassie Cooper – Stella Zuri
Glenn Cooper – Marshall Prater
Officer Welch – Bill Allenfort
Officer Pudney – Rosie DeLeon
Play Dates and Times: Performances are at 8:00 p.m. on June 13, 14, 15, 20, 21, 22, 27, 28 and 29, with 2:00 p.m. matinees on June 16, 23 and 30.
Tickets: Please call 239-284-5214 or visit info@newphoenixtheatrefortmyers.org.
Place: The theater is located at 13211 McGregor Blvd. #1,2, Fort Myers, FL 33919.
May 24, 2019.