'Dining Room' actors play multiple roles and venues to make Players Circle production unqualified success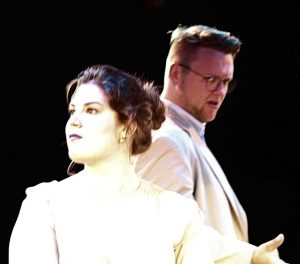 A.R. Gurney's The Dining Room comes to a close on Sunday, so it is with apologies to cast, crew and the theater-going public that this commentary comes so late in the run. Nevertheless, there is still time to catch the show if anything that follows piques your interest or inspires you to drive out to The Shell Factory in the next three days.
Gurney wrote The Dining Room in 1982, and it was criticized for being dated even back then since most people during the era of MTV and cable television ate their meals in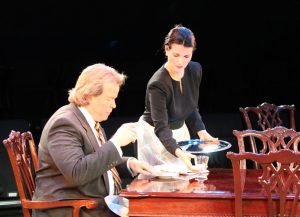 their family rooms and dens on stack tables in front of their television sets. Dining rooms are even less in use today than they were 40 years ago, and fewer and fewer people consume their meals as a family unit. But that's okay. The Dining Room plays into a trend that Gurney could hardly have anticipated four decades ago. The Dining Room, you see, is ideal for anyone and everyone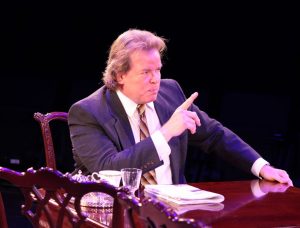 whose attention span has been truncated over time by endless exposure to staccato bursts of information compliments of sitcoms, streaming services like Hulu and Netflix and 30-second ads densely packed into two-and-a-half minute commercial breaks.
The Dining Room features a string of unrelated vignettes in which six actors – Carrie Lund, Paul Graffy, Angela Watson, Matt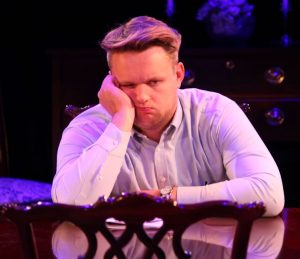 Michael, Elizabeth D'Aiuto and Andrew Scoggin – play nearly 60 characters, some of whom enter the set before the current scene has ended. Each vignette presents a snapshot of a family in transition, but there's no cohesive, overarching story. If you don't care for the episode taking place currently, no worries. Before your impulse to grab the clicker and surf the channels can be triggered, a new short story will unfold on stage before your wondering eyes!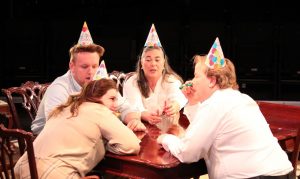 In all seriousness, each of the 18 vignettes presented by Gurney in The Dining Room is compelling in its own right. Some are poignant. A few are painful. And each is intended by Gurney to illustrate how white Angelo-Saxon Protestant culture has declined over the 50-year span beginning in 1930 and extending into the 1980s.
From that vantage,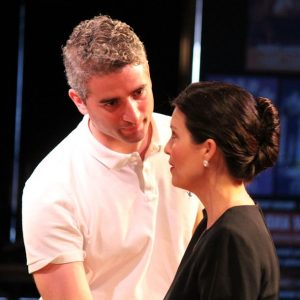 the portraits painted by Gurney in The Dining Room take on a nostalgic, somewhat Norman Rockwell historical bent. But while their subject matter may seem anachronistic by today's standards (like the dad (Andrew Scoggin) who's preparing to call out some guy down at the club who slurred his brother and therefore their entire family because of his brother's "bachelor associations"), they nonetheless underscore problems that persist to this day – like adultery and sexual orientation (like the daughter (Elizabeth D'Aiuto)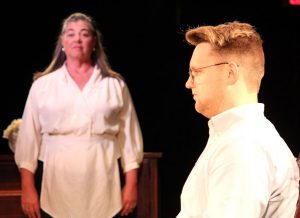 who must tell her dad that her marriage is over because she's bisexual).
And to ensure that no one miss his point, Gurney even provides a vignette that operates as a summation piece for the entire play – in which a smug, supercilious young man (Andrew Scoggin) interviews his very proper and dignified aunt (Angela Watson)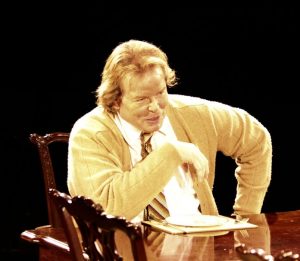 about finger bowls and other arcane china and cutlery for an anthropology paper on antiquated WASP dining practices. Ouch!
While there's little time for character development because of the structure of Gurney's play, The Dining Room still affords ample opportunity for vivid and evocative character studies, as in the story of a presumably terminally ill old man (portrayed with stunning sentimentality and sensibility by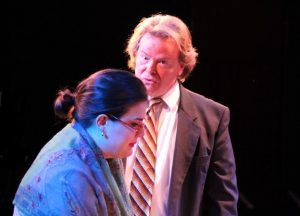 Paul Graffy) giving directions to his son (Matt Michael) for his impending funeral and eulogy or the family who's Thanksgiving feast is spoiled because mom/grandma (Elizabeth D'Aiuto) doesn't recognize any of them and just wants to go back to a home that no longer exists.
Each of The Dining Room's ensemble does a superb job with the various roles they're assigned. In fact,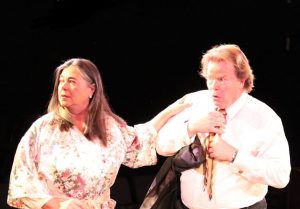 a large part of the fun and entertainment value associated with this show is watching the actors change roles, demeanor, accent and perspective at such a head-snapping, dizzying pace.
On the heels of his remarkable portrayal of Judge Thomas Danforth in The Crucible, Paul Graffy turns in characteristically superb performances in The Dining Room,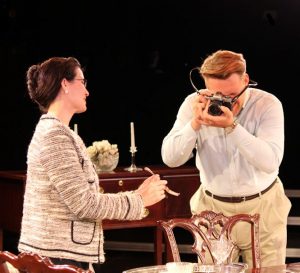 but perhaps his best – in a sardonic sort of way – is that of the creaky, cantankerous wealthy grandfather who delights in toying with his hapless grandson when the young man comes seeking the money he needs in order to go to the college of his choice. Lund, Michael and Scoggin are outstanding as well, but special note must be taken of Angela Watson's uncanny ability to reprise button-downed maids full of propriety and reserve and the rivulets of crocodile-sized tears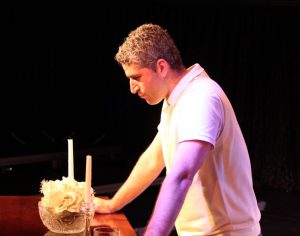 that Elizabeth D'Aiuto musters as the daughter forced to confess not only infidelity, but that she has a lesbian lover in an effort to induce her father to let her move back home – with her three kids – until she can get back on her feet.
With no unifying storyline and roughly ten parts each to learn for this show, The Dining Room would be a difficult undertaking for any cast and crew. But this cast and crew have endured rigors far beyond those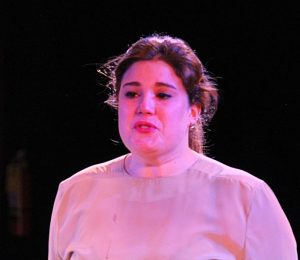 routinely encountered in putting on a show. Because of permitting and inspection delays, they've been forced to perform The Dining Room in multiple venues that lacked the lighting and sound technology they enjoy in The Shell Factory Theatre. So aside from the sprightly drama and exemplar acting you'll see in The Dining Room, supporting these stalwart, dedicated and committed theatrical souls for jobs well done is yet another good reason for catching this show.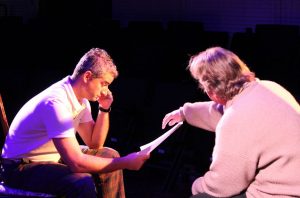 The Dining Room resumes with evening performances tonight and Saturday night, before closing on Super Bowl Sunday with a 2:00 p.m. matinee.
January 30, 2020.
RELATED POSTS.
Spotlight on 'Dining Room' actor Paul Graffy
Spotlight on 'Dining Room' actor Angela Watson