'Dining Room' play dates, times and ticket information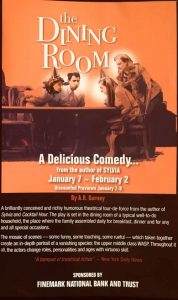 Play:  The Dining Room
Playwright:  A.R. Gurney
Synopsis: Set in the dining room of a well-to-do household, the play is broken up into 18 short vignettes that provide a slice of life view of many different families. Funny, touching and uncomfortable, they grapple with every emotion of domestic life from adultery, vanishing customs and the treatment of domestic help to homosexuality, Alzheimer's, sex, drugs, women's education and family values.
Director: TBA
Cast: TBA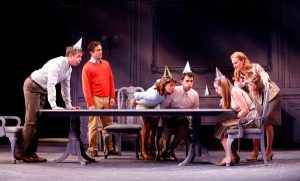 What the Critics Say:
"…hilarious and touching…as comic sketch crazily succeeds comic sketch a whole pattern of American life emerges…" —New York Post.
"The Dining Room serves a banquet of theatrical riches." —New York Daily News.
"…a thoughtful and superbly written comedy…" —Variety.
"…often funny and rueful and, by the end, very moving." —New York Times.
Play Dates and Times:
8:00 p.m. performances:  January 7, 8, 9, 10, 11, 14, 15, 16, 17, 18, 21, 22, 24, 28, 29, 30 & 31 and February 1
2:00 p.m. matinees: January 8, 12, 15, 19, 22 and 29 and February 2
Tickets:  $35 for previews and $50 for all other performances may be purchased by calling the box office at 239-800-3292 Monday through Saturday between noon and 5:00 p.m. and 1 hour prior to showtimes.
Location: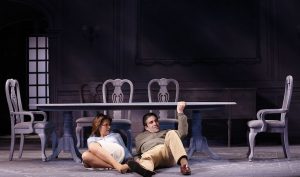 Shell Factory, which is located at 16554 N. Cleveland Ave. in North Fort Myers five miles and a 10-minute drive north of downtown Fort Myers.
December 18, 2019.